VWU Ranked 20th Nationally in Ethnic Diversity by U.S. News
Virginia Wesleyan has been recognized by U.S. News & World Report in two categories
News Release | September 12, 2017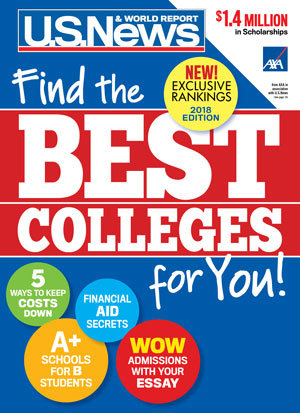 Virginia Wesleyan University has been recognized by U.S. News & World Report in two categories of its 2018 Best Colleges rankings, released Sept. 12. Virginia Wesleyan is ranked 20th in "Ethnic Diversity" among National Liberal Arts Colleges and is featured among U.S. News' 229 "Best National Liberal Arts Colleges."
To identify colleges where students are most likely to encounter undergraduates from different ethnic groups from their own, U.S. News factored in the proportion of minority students—omitting international students—and the overall mix of groups in each institution's 2016-17 academic year student body. The largest ethnic group at Virginia Wesleyan is African-American, representing 26 percent of the University's student population.
"We are proud to hold this designation, as it represents the diverse, global community in which our University is located," says Virginia Wesleyan University President Scott D. Miller. "We are a welcoming, inclusive campus with an outstanding, nationally prominent academic reputation—and we take pride in fostering the kinds of values and traditions that make our students proud to have chosen us for their career and life success."
Pacific Union College is top-rated in the "Ethnic Diversity" category, and rounding out the top 10 are Soka University, Agnes Scott College, Pine Manor College, Harvey Mudd College, Wellesley College, Pomona College, Amherst College, Swarthmore College, and Whittier College. The top 20 include Austin College, Occidental College, Bryn Mawr College, Fort Lewis College, Bloomfield College, Pitzer College, Williams College, Barnard College, Claremont McKenna College, and Virginia Wesleyan University.
U.S. News also classifies Virginia Wesleyan University among its 229 "Best National Liberal Arts Colleges." Methodology for these rankings focuses on academic excellence, with schools evaluated on hundreds of data points and up to 15 measures of academic quality. Overall, the rankings emphasize student outcomes—such as graduation and freshman retention rates—which carry the most weight at 30 percent. The top National Universities and National Liberal Arts Colleges have significantly higher graduation and freshman retention rates than other schools.
U.S. News & World Report's annual Best Colleges rankings help prospective students and their families research more than 1,800 U.S.-based universities.