Faculty and Staff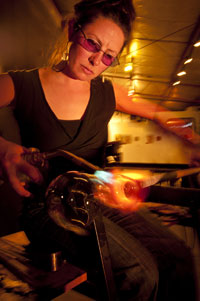 Biography:
Charlotte Potter is a conceptual artist and designer born in the spring of 1981 to a small town in Vermont. She received a BFA from Alfred University in 2003 and Honors MFA from the Rhode Island School of Design, Glass Department in 2010. Traditionally trained as a glass blower, Charlotte has traveled extensively, working in glass studios in New Orleans, New Jersey, Jackson Hole, Santa Fe and Austin Texas, honing her skill. In 2008, she co-founded the Cirque De Verre, a performance glass troupe that has performed at numerous studios and museums including the Toledo Museum of Art and the Corning Museum of Glass. Her work has been shown internationally and is in the permanent collection of the American Museum of Glass and the Henry J. Neils, Frank Lloyd Wright house. In 2010 Charlotte traveled to New Zealand and Australia where she exhibited and was a visiting artist and lecturer at the Australian University. Currently she is the Glass Studio Manager at the Chrysler Museum of Art in Norfolk, Virginia. This summer Charlotte exhibited her work at the Oklahoma City Museum of Art, in the show entitled FUSION as well as Gallery S12 located in Bergen Norway.
Published Reviews & Television Interviews
2012 Bergens Tidende, Glassmenasjeriet, Aug 11
Art Daily, OKCMOA organizes FUSION: A New Century of Glass for 10th anniversary downtown
Glass Quarterly Hot Sheet;
Group Exhibition at Norway open-access glass studio S12, Aug 8
Charlotte Potter explores social networking as conceptual art strategy, Jun 22
2011 Art Daily, Charlotte Potter Joins the Chrysler Museum of Art, June 2011.
Inside Business, First Person Charlotte Potter, July 15th
Glass Quarterly Hot Sheet;
Top artists to visit the new Chrysler Museum Glass Studio, Feb 9th
OPENING: The story behind the Chrysler Museum of Art's new glass studio, Nov 1st
A Conversation with the head of the Chrysler Museums Glass Studio, June 17th
The Virginian Pilot:
Scenes; Chrysler Museum Glass Studio Opens, Nov 1st
How Hampton Roads became the center for Glass Art, Nov 6th
Chrysler Bring new heat to Glass, Oct 29
Chrysler Museum Picks Artist to Run Glass Studio, Jun 10th
2010 The Boston Phoenix, Celebration of Sensation, Greg Cook. May 27th 2010. Exhibition Review.
The Glass Quarterly Hot Sheet, Seen: Diverse materials in RISD MFA graduate thesis exhibition, Andrew Page.
New Glass Review # 31,The Corning Museum of Glass. Featured Artist, page 41.
American Style, Artists' Spaces; The Potter's Place, Angelo Lynn, pages 44-49.
2009 Glass Quarterly Magazine, Adventures in The Lands, Judith Schaechter, Exhibition Review
Glass Quarterly Magazine, Rebecca Park, Performance Art, the next wave; Cirque de Verre
Vermont Public Television, The Late Night Show with Tim Kavenaugh, The Potter Family
2008 NJN Public Television, State of the Arts Series, New Glass at Wheaton, winner of the CINE Golden Eagle Award
Wheaton Arts, Robin Rice, Online Critical Essays, Charlotte Potter
2007 Mountain Living Magazine, Contemporary Art in Jackson Hole, Sept
2006 -2009 The Planet Jackson Hole: Potter Returns, July 09'. Not just another Genius Waitress, Oct. 23rd 08'. Potter at Artlab, April 30th 08'.
Jackson Hole News and Guide Articles: The Tourist Trap