Faculty and Staff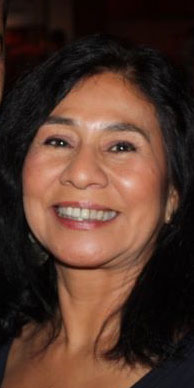 Mavel Z. Velasco Ph.D., is a native of Bolivia where she was exposed to the Quechua and Aymara indigenous communities, and where she first developed an understanding and the desire to fight for human rights. Velasco has traveled extensively around the world and has lived in Saudi Arabia, Spain, and Japan. She moved to the United States during her teen years and has lived in the Hampton Roads area for over 20 years. Velasco is a professor of Latin American Literature at Virginia Wesleyan College. She earned her bachelor's, master's and doctorate from Rutgers University in New Jersey, where her high academic performance led to her being selected a teaching assistant and later hired as an adjunct professor. Her doctoral dissertation dealt with feminine archetypes in the literary works of Uruguayan writer Cristina Peri Rosi. She has published numerous articles, and given talks on issues of higher education, literature, and women. Velasco has continuously involved herself in the community to promote diversity, acceptance, and higher expectations from our elected officials. Her efforts were recognized when in 1998 she was the recipient of a Virginia Beach Human Rights Commission award.
latin American Culture and Civilization
Latin American Women
Bolivian Society and Politics

This represents a sample of recent courses taught by this professor. For the most current course information, consult WebAdvisor "Search for Courses".
Spring
SPAN*111*01;SPAN*112*01;SPAN*307*01;SPAN*321*01
Beginning Spanish I;Beginning Spanish II;Tpc: Short Films;Political Writings-Latin Amer
Summer
SPAN*111*01;SPAN*112*01;SPAN*213*01;SPAN*471*01;SPAN*471*90;SPAN*490*01
Beginning Spanish I;Beginning Spanish II;Intermediate Spanish;TU:Practicum in Teaching Span;TU: Practicum in Tchg Spanish;GS:Study of Language Teaching
Fall
SPAN*111*01;SPAN*112*01;SPAN*213*02;SPAN*329*01
Beginning Spanish I;Beginning Spanish II;Intermediate Spanish;Latin America thru the Cinema
Winter
SPAN*270*01
Latin American Music and Dance