Faculty and Staff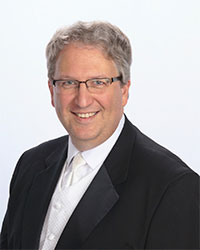 Robert Shoup holds a Bachelor's degree in Music Education (voice) from Duquesne University, and a Master's degree in Conducting in the studio of Grammy winning conductor Robert Page at Carnegie Mellon University.  The Pittsburgh Post Gazette called him "an especially fine tenor," and his vocal performance credits have included the role of John Adams in the world premiere performance of Adolphus Hailstork's Crispus Attucks, Mahler's Kindertotenlieder with the Virginia Symphony Orchestra, and Beethoven's Ninth Symphony with the Fort Collins (CO) Symphony.
He is the Chorus Master and Staff Conductor of the Virginia Symphony Orchestra, a post he has held since 1997.  He has conducted the VSO on all of its various performance series, including live telecasts and the annual Holiday Pops performances.  His national and international conducting credits include the Louisiana Philharmonic Orchestra, Breckenridge Music Festival Orchestra, ensembles from the Prague Radio Orchestra and Czech State Philharmonic, and numerous choral ensembles. He served as the Music Director of the all professional Virginia Chorale from 1997-2007.
Mr. Shoup's choruses have been described by critics as "totally enthralling" and "completely mesmerizing," and he has spearheaded a variety of cultural collaborations that have included music, dance and visual arts. His ensembles have been featured on numerous recordings, including two discs with the Virginia Symphony Orchestra for the Naxos label (Hailstork and Stravinsky). He served as Assistant Music Director for the Virginia Symphony and Virginia Arts Festival's highly acclaimed production of the Leonard Bernstein "Mass" and coordinated the collaborating choruses for 2012 performances and recording of Mahler's Eighth symphony known as the "Symphony of a Thousand."
His achievements include the creation and coordination of "American Voices", a two week-long festival of American choral music with the Virginia Chorale and the VSO. The project earned one of seven major National Endowment for the Arts "American Masterpieces: Choral Music" grants. Shoup also prepared a nationally recruited choir of over 1,800 singers for the 400th Anniversary celebration of Jamestown.
Mr. Shoup is the founding Artistic Director of CREATOrS, Inc., for which he is composing the score for a major theatrical project related to a true story in subsaharan Africa.  He also serves as the Director of Music Ministry at Freemason Street Baptist Church in Norfolk.