Marlin Directory
---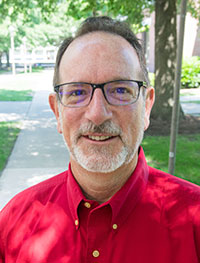 Wayne Pollock
Associate Professor of Recreation and Leisure Studies
Education
B.S., West Chester University
M.S., University of North Carolina at Chapel Hill
Ph.D., Old Dominion University
Office Location: Batten 206
Phone: 757-455-3369
Email: wpollock@vwu.edu
Department/s: Recreation

Wayne Pollock came to Virginia Wesleyan in the fall of 2000 after working as a certified therapeutic recreation specialist in various healthcare settings. He received his B.S. from West Chester University and taught Health & Physical Education for seven years. He received his M.S. from the University of North Carolina in Recreation Administration, with a Therapeutic Recreation concentration and his Ph.D. in Educational Leadership from Old Dominion University. Wayne's passion for helping improve the quality of life for individuals with disabilities is exemplified in his years of work as a recreational therapist working with adults with intellectual disabilities and both adolescents and adults with mental illness and substance abuse problems. At Wesleyan, Wayne teaches all courses in the recreational therapy track and core curriculum courses as needed. Current research interests involve measuring functional outcomes of individuals with dementia using a technology based intervention and promoting the ethical practice of recreational therapy. Wayne remains professionally enaged, serving on regional and national boards of directors that work to advance recreational therapy.
Guidelines for the Ethical Practice of Recreational Therapy, A Training Manual
Sagamore- Venture Publishing, 2018
This represents a sample of recent courses taught by this professor. For the most current course information, consult WebAdvisor "Search for Courses".
Spring
REC313*01 Rec Therapy Mgmnt & Organtn
REC409*02 Sr Intrnshp Rec & Leisure Stu
REC309*01 Intrnshp Prep in Rec & Leisur
REC101*03 Intro to Rec & Leisure Servcs
---
Summer
REC313*01 TU:Rec Theapy Mgmnt & Organtn
---
Fall
REC101*02 Intro to Rec & Leisure Servcs
REC212*01 Intro to Recreational Therapy
REC305*08 TA:Intro to Recreational Ther
REC305*09 TA:Rec Therapy Analy & Assess
REC309*02 Intrnshp Prep in Rec & Leisur
---
Winter
REC219*01 Disability in the Media