Marlin Directory
---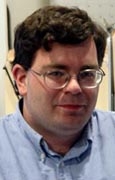 Richard Bond
Associate Professor of History and Chief Assessment Administrator for
Academic Programs
Education
B.A., Fordham University
M.A., Ph.D., Johns Hopkins University
Office Location: Blocker 24
Phone: 757-455-3355
Email: rbond@vwu.edu
Department/s: History

Dr. Bond received his Ph.D. from Johns Hopkins University in Baltimore, MD, where he specialized in the history of the colonial Atlantic world. His teaching interests range broadly, and include slavery and African American life, religion, colonial culture, and even pirates. Bond's current research focuses more narrowly on free and enslaved African Americans in colonial New York. "Moving to a small, liberal arts college is very exciting for me because the college fosters an environment of exchange and learning," he says. "Teaching in such a place permits me wonderful opportunities to know my students, to teach them, and to learn from them."
"How to Create a Cult: Reflections on Make-Believe and Historical Contingency in the History Classroom", The History Teacher, 46.4 (August 2013): 531-46
"Failing Lessons: Tales of Disastrous Assignments," Perspectives on History (January 2013
From Jamestown to Jefferson: The Evolution of Religious Freedom in Virginia, Paul Rasor and Richard E. Bond, eds. Charlottesville: University of Virginia Press, 2011
"Piratical Americans: Representations of Piracy and Authority in mid-Twentieth-Century Swashbucklers," Journal of American Culture 33:4 (December 2010): 309-21
Perspectives On Life After the History Ph.D. Richard Bond and Pillarisetti Sudhir, eds., Washington D.C.: The American Historical Association, 2006
"Shaping a Conspiracy: Black Testimony in the 1741 New York Plot," Early American Studies Volume 5, Number 1 (Spring 2007): 63-94
This represents a sample of recent courses taught by this professor. For the most current course information, consult WebAdvisor "Search for Courses".
Spring
HIST250*01 Tpc: American Slavery
HIST360*01 Junior Research Seminar
HIST250*04 HNRS: Tpc: American Slavery
---
Fall
HIST116*01 History of the US
HIST349*01 Tpc: The Founding Fathers
---
Winter
HIST250*01 Tpc: The History of Piracy