Neil Britton Gallery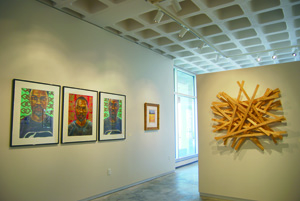 The 1,200 square-foot Neil Britton Gallery opened in 2009 and is committed to engaging both the Hampton Roads and University communities in the visual arts. Changing exhibitions and programs include the work of both professional artists and students.

Phone: 757.455.3257
Admission: Free and open to the public
Operating hours:
Monday-Thursday: 9 a.m.-8 p.m.
Friday: 9 a.m.-5 p.m.
Saturday & Sunday: noon-5 p.m.
For more information, contact Curator of Art Exhibitions John Rudel at 757.455.3257.
2017-18 Exhibits
PlantBot Genetics – Cross Pollination
August 12 - October 27
The artist team of Wendy DesChene (Canada) and Jeff Schmuki (USA) work as PlantBot Genetics Inc., a parody of the Monsanto Corporation and other Big Ag Firms who skillfully manipulate food production and distribution systems. The satire and parody of PlantBot Genetics comments on aggressive, misleading practices of biotech companies. The artists question and humorously comment on actual biotech products, research and development, corporate graphics, and marketing techniques.
PlantBot Hacking Workshop: (W) Sept 6 – 1:00 - 3:00 p.m.
*registration required, numbers limited
Exhibition Reception: (W) Sept 6 – 6:00 - 8:00 p.m.
Neil Britton Art Gallery
PlantBots Unleashed: (Th) Sept 7
Posing as farmers in a biotech research lab, and using transgenic seeds from Monsanto, genetically modified plants are grafted onto remote-controlled bases creating PlantBots that are released to an unsuspecting audience.
Where does your food come from?Where will it go?
The Moth Project: (Th) Sept 7 – after sunset
Moths play a vital role in announcing the health of our environment. Found in diverse habitats and sensitive to ecological changes, they indicate climate change resulting from farming practices, pesticides, and air pollution. DesChene and Schmuki present a solar powered community-based intervention focusing on the importance of insects in our environment.
Other than Real
November 9 - January 5
"Art is not truth. Truth conforms to reality. Art invents reality." (Walter Darby Bannard) Art as an aesthetic expressionism of ambiguity and intuition that continuously expands upon the mysterious imperative of being alive forms the work of this exhibition.
See the world in new ways through the artworks of Robyn Bailey, Nicole Harp, Christine Harris, Wade Mickley, Greta Pratt, John Roth, and Susan Tolbert.
Panel Discussion and Opening Reception: November 9th, 6:00 - 8:00 p.m.
"Reality is only an illusion, albeit a very persistent one." -Albert Einstein
VWU Faculty Art Show
January 15 - March 9
Faculty members of the Virginia Wesleyan University Art Department display their work.
Reception: (Th) February 8, 6:00 - 8:00 p.m.
Opening reception: February 9, 2017 from 6:00 - 8:00 p.m.
Art Majors Portfolio Review
March 13 - 15
All Virginia Wesleyan Art Majors are invited to submit 5 works for display.
Art Major Portfolio Group Discussion (Th) March 15 - 11:00 a.m. to 1:00 p.m.
Student Juried Show
March 13 - 15

This juried exhibition highlights the work of VWU student artists regardless of major or media.
Reception: March 22, 11:00 a.m.- 12:00 p.m.
Senior Exhibition
April-May

This annual exhibition highlights the work of VWU senior art majors.
Reception; TBA