First-Year BHC Orientation
Virginia Wesleyan University and the Batten Honors College (BHC) make it a priority to welcome and prepare students for their first semester through engaging, collaborative, and fun activities and presentations. Students will arrive in June for Marlin Nation Orientation and then return in August for the Batten Honors College orientation before classes begin.
Marlin Nation Orientation (June)
Every incoming first-year student at Virginia Wesleyan University will arrive on campus in late June for Marlin Nation Orientation. They will have the opportunity to meet future friends, explore campus organizations, understand the move-in process, learn more about campus resources, and participate in a BHC breakout session.
Batten Honors College Orientation (August)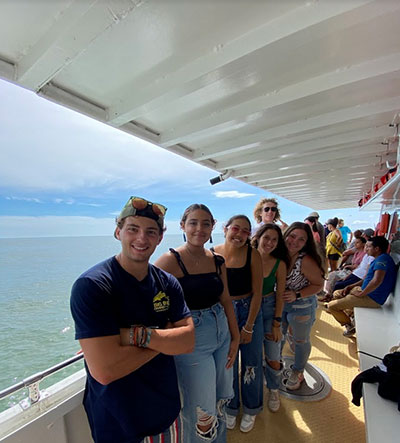 First-year students move in and experience campus several days prior to the rest of the VWU community arriving on campus. The Batten Honors College Orientation's purpose is to allow students to acclimate to campus, become aware of campus resources, and create a strong community with their peers before their first semester in college begins. Through a service learning project, excursions in the surrounding area, and interactions with local community members, students will better understand the mission of the Batten Honors College and be well-equipped to embody this mission in their personal, academic, and professional endeavors.
BHC students are then invited to join up with the rest of the first-year students and the VWU community for the second portion of the Marlin Nation Orientation. This allows students the opportunity to engage with others outside of the BHC, and enjoy fun and engaging campus activities.
2022 Schedule - August 19-21
Day 1
Move-in to Honors Village
Pick up your key and BHC swag and receive assistance from Residence Life to bring personal items to the townhouses.
Matriculation Ceremony
Each of the students comes forward to pen their name in the matriculation book. The signatures mark the students' commitment to being responsible and contributing members of the Batten Honors College academic community and to realize the full potential of their own unique gifts and abilities. This can also be viewed for friends and family online via VWU's Digital Broadcasting Network.
Dinner and Evening Social
Day 2
Breakfast in the Boyd Dining Center
Service Learning Project
Planting trees with the Elizabeth River Project to mitigate coastal flooding in residential areas.
The BHC Experience: Planning for your Education
Presentation by the Dean and Assistant Dean about campus resources, advice, and support for the adjustment to college.
Group Dinner & Activity
Students travel to Apex and experience camaraderie while bowling and playing the 95+ arcade games.
Day 3
Breakfast in the Boyd Dining Center
Travel to the Virginia Aquarium
Dolphin Cruise
Students go on an aquatic life cruise to further investigate the wildlife that inhabits Virginia Beach.
Lunch catered by TASTE
Marlin Nation Orientation begins