First-Year BHC Orientation
Virginia Wesleyan University and the Batten Honors College (BHC) make it a priority to welcome and prepare students for their first semester through engaging, collaborative, and fun activities and presentations. Students will arrive in June for Marlin Nation Orientation and then return in August for the Batten Honors College orientation before classes begin.
Marlin Nation Orientation (June)
Every incoming first-year student at Virginia Wesleyan University will arrive on campus in late June for Marlin Nation Orientation. They will have the opportunity to meet future friends, explore campus organizations, understand the move-in process, learn more about campus resources, and participate in a BHC breakout session.
Batten Honors College Orientation (August)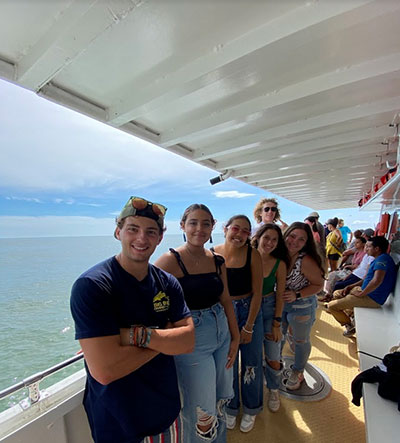 First-year students move in and experience campus several days prior to the rest of the VWU community arriving on campus. The Batten Honors College Orientation's purpose is to allow students to acclimate to campus, become aware of campus resources, and create a strong community with their peers before their first semester in college begins. Through a service learning project, excursions in the surrounding area, and interactions with local community members, students will better understand the mission of the Batten Honors College and be well-equipped to embody this mission in their personal, academic, and professional endeavors.
BHC students are then invited to join up with the rest of the first-year students and the VWU community for the second portion of the Marlin Nation Orientation. This allows students the opportunity to engage with others outside of the BHC, and enjoy fun and engaging campus activities.