Living and Learning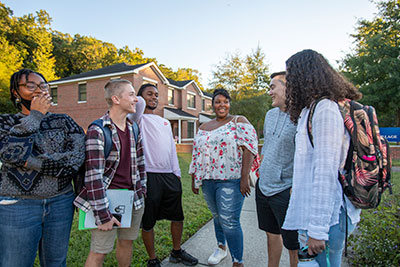 The Batten Honors College offers a Living-Learning Community to expand the student learning experience beyond the classroom, strengthen student engagement in campus life, and develop meaningful social connections. This inclusive community-centered environment supports the personal and intellectual growth of each scholar.  BHC students live in five-person townhomes in Honors Village.  Comprised of six different buildings, each Honors Village townhome consists of three single rooms, one double room, two full baths, a fully-equipped kitchen, living room area, and essential furniture. Ample parking is located nearby.

Within the Living-Learning community, the Batten Honors College provides tickets for off-campus events to students. Past events have included the Halloween Festival at Hunt Club Farm, Norfolk Tides games, Broadway in Norfolk, behind-the-scenes tours of the Virginia Aquarium, and Virginia Symphony performances. Attending these events is at no extra cost to scholars.
The living and learning experience helps students navigate the challenges of of engaging with diverse community members while developing the skills to lead on campus and in the regional community. All members of the Honors College are given the opportunity to expand their horizons and achieve their full potential as students, leaders, and humans.