Virginia Wesleyan believes that a safe, secure environment is essential to learning and to the peace of mind of our students, their parents and our faculty. For this reason, we employ a staff of full-time security officers available 24/7 to assist our campus community.
A security officer is stationed at the DeFord Gatehouse, the University's only vehicular entrance, at all times throughout the year. A team of Campus Security officers patrols the campus by foot, bicycle and vehicle 24 hours a day, seven days a week.
Our security staff maintains a friendly and supportive relationship with state and local law enforcement that assist us if the need arises. The end result is a campus that is secure as possible while allowing students the freedom to fully enjoy the campus and the Tidewater area surrounding it.
Security officers can also assist students with such services as jump starting a dead battery, after hours escort, providing parking decals and dorm ID cards.
Contact Campus Security for any of the following reasons
Crimes, other emergencies or suspicious behavior
After-hours escort services
Motorist assistance with a dead battery or with opening vehicles with keys left inside (Note: Campus Security cannot open a locked car for you)
Lost and Found
Parking Decals and information on Campus Parking
Student, faculty and staff ID cards
Key card access to residential dorms
Hours and Location
A staff of full-time officers is available 24 hours a day to meet the needs of Virginia Wesleyan's growing campus.
Located in Bray Village (Village I). Open from 8:30 a.m. to 4:30 p.m. Monday - Friday.
Officers are stationed at the DeFord Gatehouse and patrol the campus by foot, bicycle and vehicle.
Emergency Contact Numbers
Campus Security Emergency Number
757.233.8888 (On campus x8888)
Campus Security Non-emergency Number
757.455.3349 (day), 757.455.3289 (evening)
Front gate, University Entrance
757.455.3289
Inclement weather Hotline/Emergency Closing
757.904.1991
The University's Emergency Website
https://emergency.vwu.edu
Annual Security and Fire Safety Report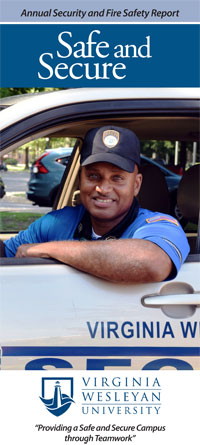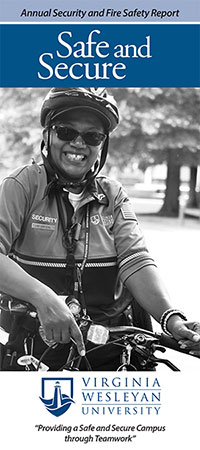 (Flipbook)