Academic Affairs
Vice President for Academic Affairs
Dr. Maynard Schaus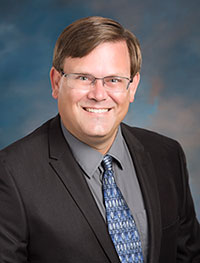 Dr. Maynard Schaus is the Vice President for Academic Affairs at Virginia Wesleyan University. He has a Ph.D. in zoology from Miami University (Ohio) and a B.S. in biology from California Lutheran University. Previously at Virginia Wesleyan, he served as Associate Provost and Dean of University College, Chair of the Division of Natural Sciences and Mathematics, and Director of Undergraduate Research. A member of the VWU faculty for over 20 years, he is also a professor of biology and has taught courses such as Principles of Biology, General Ecology, Humans and the Environment, and Topics in Tropical Biology.

Dr. Schaus' research has primarily focused on the role of fish in freshwater nutrient cycles. He has received funding from the St. Johns River Water Management District to investigate the impact of gizzard shad on the water quality of Lake Apopka, Florida. He has also involved students in research projects examining salt marsh bird community composition, runoff from green roofs, and the behavior of harvestmen (daddy longlegs) in Costa Rica and Belize. His work has been published in journals such as Freshwater Biology, Ecology, Limnology & Oceanography, and the Transactions of the American Fisheries Society.

Dr. Schaus is originally from Southern California and lives in Norfolk, with his wife, Kathy. They have three children.
---
Associate Vice President for Academic Affairs
Dr. Susan Larkin
Assistant Vice President for Academic Affairs and Director of the Learning Center
Dr. Loren Loving Marquez
Dean of the Batten Honors College
Dr. Joyce Easter
Dean of VWU Global Campus
Dr. Deirdre Gonsalves-Jackson
Dean of the Birdsong School of Social Science
Dr. Leslie Caughell
Kenneth R. Perry Dean of the Joan P. Brock School of Mathematics and Natural Sciences
Dr. Victor Townsend
Dean of the Susan S. Goode School of Arts and Humanities
Dr. Steven Emmanuel
Dean of the D. Henry Watts School of Professional Studies
Dr. Ben D. Dobrin
Contact
Administrative Assistant to the Vice President for Academic Affairs
Christine Pritchard
757.233.8728
cpritchard@vwu.edu