2024-2025 FAFSA Available in December 2023
The FAFSA has typically been available beginning October 1st each year. Due to significant changes to the FAFSA form, the 2024-25 FAFSA will be available by December 31, 2023.
Students will be sent an email and a postcard reminder to apply for financial aid as soon as the FAFSA is available online.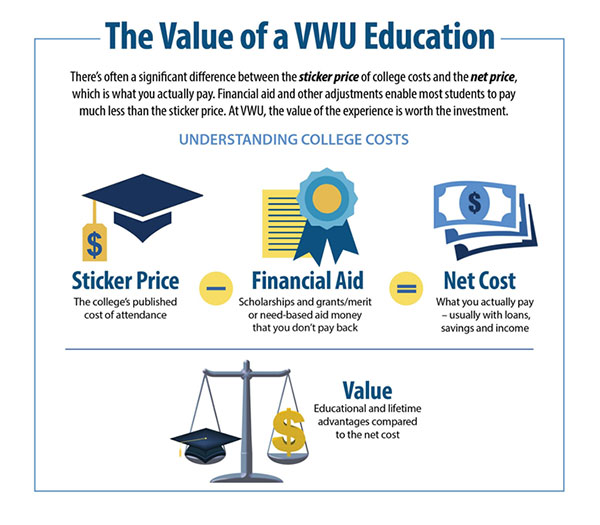 Affordability is a top priority at Virginia Wesleyan University. VWU offers a multi-faceted plan of affordability that includes freezing tuition for the sixth consecutive year, a renewable merit scholarship program, an expanded Work & Learn Program for student employment, and affordable out-of-semester 12-month course options.
We offer aid through a variety of means such as merit scholarships, need-based grants, non need-based grants, state and federal funds, and the Visit and FAFSA grants. We know finances are a crucial part of the college decision, so we encourage prospective students and families to connect one-on-one with a financial aid counselor to learn more about the financial aid process, understand your award package, request changes to your award, and much more. Set up a virtual appointment today.
VISIT CAMPUS
EARN $1,000

Receive a $1,000 Visit Grant when you take a campus tour organized by the Enrollment Office
FILE THE FAFSA
EARN $1,000

Receive a $1,000 FAFSA Grant when you list VWU on your FAFSA