Financial Aid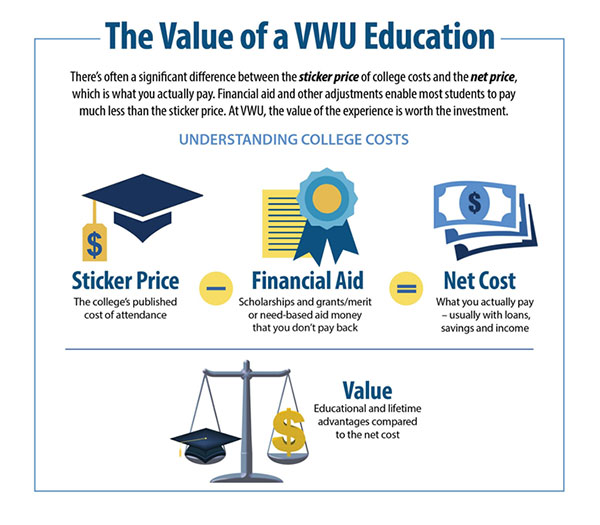 Affordability is a top priority at Virginia Wesleyan University. VWU offers a multi-faceted plan of affordability that includes freezing tuition for the fourth consecutive year, a renewable merit scholarship program, an expanded Work & Learn Program for student employment, and affordable out-of-semester 12-month course options.
We offer aid through a variety of means such as merit scholarships, need-based grants, non need-based grants, state and federal funds, and the Visit and FAFSA grants. We know finances are a crucial part of the college decision, so we encourage prospective students and families to connect one-on-one with a financial aid counselor to learn more about the financial aid process, understand your award package, request changes to your award, and much more. Set up a virtual appointment today.
How and When Should I Apply for Financial Aid?
The first step toward receiving merit-based scholarships and other financial aid information is to apply for admission to Virginia Wesleyan University. The application for spring 2022 and fall 2022 is open now! 
The next step is to complete the FAFSA (Free Application for Federal Student Aid), which must be completed after October 1 of each academic year in order to be considered for need-based institutional, state and federal grants, federal student loans, the Federal Work-Study Program, and the federal Parent PLUS Loan. The FAFSA application can be found at https://studentaid.gov/ (School Code: 003767). Once we receive your FAFSA and you have been admitted, an award package will be created for you.
VISIT CAMPUS
EARN $1,000

Receive a $1,000 Visit Grant when you take a campus tour organized by the Enrollment Office
FILE THE FAFSA
EARN $1,000

Receive a $1,000 FAFSA Grant when you list VWU on your FAFSA