Residence Life
Living on campus is about comfort, convenience and community.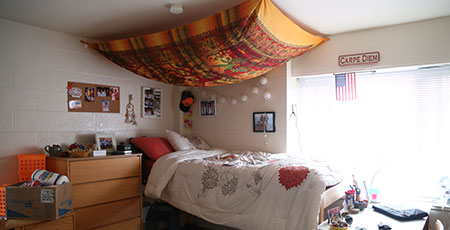 Five minutes. That's probably the longest it will take you to get to class from where you live on campus at Virginia Wesleyan University. Residence halls at Virginia Wesleyan are designed to foster a sense of community. It is in the residence halls that students find opportunities for cultural, educational, social, and recreational enrichment. The campus comprises academic villages patterned closely after Thomas Jefferson's adaptation of the Oxford- Cambridge plan. A village includes classrooms, faculty offices, and student residences.
There are countless benefits to living on campus. With 67 percent of our students residing on campus, one of the real advantages of Virginia Wesleyan is being part of a community. If you haven't already done so, tour our campus and explore the variety of housing options. Campus tours are conveniently offered throughout the year and can be scheduled with our Admissions Office. Overnight visits can also be arranged during the school year for students who have been accepted to the University.
Note: Virginia Wesleyan requires all students to live on campus in the residential housing facilities. Exceptions are granted to those students who:
Elect to live at home with a parent or guardian in the Hampton Roads area;
Are married;
Are carrying less than a full- time course load (fewer than 12 semester hours);
Petition Virginia Wesleyan and are granted permission to live off campus. Students who have been residents of the Hampton Roads area of Virginia for the year prior to their initial application are considered commuter students. They have the option of commuting from their local residence or residing in the residence hall facilities. Students who are under the age of 18 or are 23 years of age or older must request permission to live in the residential facilities.