Share this Story
A Degree for the People
College's new Bachelor of Social Work built on old standard of excellence

By Kristen De Deyn Kirk | May 19, 2014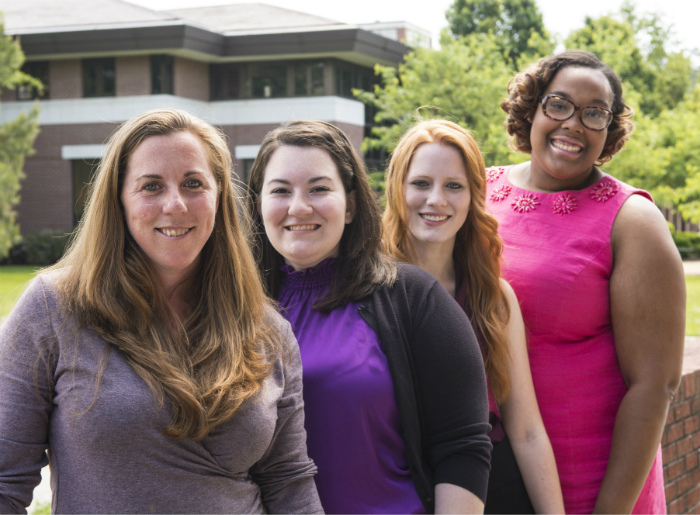 A group of four women—the first ever to receive Bachelor of Social Work degrees from Virginia Wesleyan College—could easily be dubbed "The Fab Four."
Class of 2014 graduate April Christman is headed to Smith College School of Social Work, where she'll study for her master's degree and work at Creative Alternatives at Johns Hopkins Bayview Medical Center in Baltimore. Jasmine Motley is traveling to Atlanta to work as a child protective services case manager. Rebecca Edwards will focus her efforts on a lifetime goal: ending homelessness; and Kyle Austin wants to build on her internship where she worked with emotionally disturbed children.
"The new Social Work department expects professionalism from its students," Austin shares. "Behaving professionally and being aware of professional standards has prepared me a great deal, so much so that at my internship I was consistently mistaken for a graduate student."
Professor of Social Work Benjamin Dobrin would be proud. He has worked in partnership with Batten Professor of Social Work Sharon Payne to earn accreditation for the new degree from the Council on Social Work Education (CSWE). The College will receive word on the national organization's decision in June.
"We wanted to make the change from a health and human services degree because we see the Virginia state legislature moving toward a requirement that state-funded agencies hire new staffers who have social work degrees," Dobrin says. "We also see many of our students going on to earn master's degrees in social work. With a BSW first, they'll receive advanced standing. That can greatly shorten the process of earning their master's and make it less expensive."
The accreditation process has taken several years, yet professors Dobrin and Payne did not need to make significant changes to Virginia Wesleyan's course offerings.
"We were a strong program when we started as a health and human services degree in the '70s," says Dobrin. "We found we needed to make small changes, such as renaming 'Intro to Human Services' to 'Intro to Social Work.' Other adjustments came along with planned changes as we overhauled the whole College from three-credit classes to four-credit classes."
For the most part, Dobrin found himself preparing paperwork, communicating exactly how VWC meets the required 10 competencies and 41 practice behaviors set by the CSWE. A great deal of effort indeed, but Dobrin was up to the challenge. He has taught at the college for 19 years, and long before that, he saw his mother's commitment to the school as well. Dora Dobrin started the College's human services degree and taught from 1974 until 2000.
"She's still an active social worker," says Dobrin. "And interested in all that's happening at the College. I give her updates on the students."
Just before graduation, Christman was presented with the Dora H. Dobrin Award for Excellence in Social Work. In addition to earning a high grade point average, she established the school's social work club and the Tau Alpha Chapter of the Phi Alpha Honor Society.
It wasn't until the first induction ceremony in spring 2013 that she learned from Dobrin that his mother is a charter member of the honor society—and one of its founders.
"I unknowingly was able to further establish the footprint she made at Virginia Wesleyan," Christman says.
A footprint Dobrin and Payne are also furthering with their final work on the accreditation process.
"In most cases, colleges receive a one-year approval and then a four-year approval later," says Dobrin. "We expect that to happen and are confident. We know we have a tough program, a very good one. We have a great reputation, and our students go to the best grad schools. We help them all be successful by focusing on their strengths."
The new degree and the soon-to-be renovated Floyd E. Kellam, Jr., Social Science Lab in Village II—which will include versatile classroom space, an upgraded computer lab and interview and observation rooms—provides the direction and facilities needed to fully engage students and set a foundation for excellence in course work and future careers.