Share this Story
Marlins Read Receives Literacy Award
Partnership with Diamond Springs Elementary garners recognition from the Virginia Beach Reading Council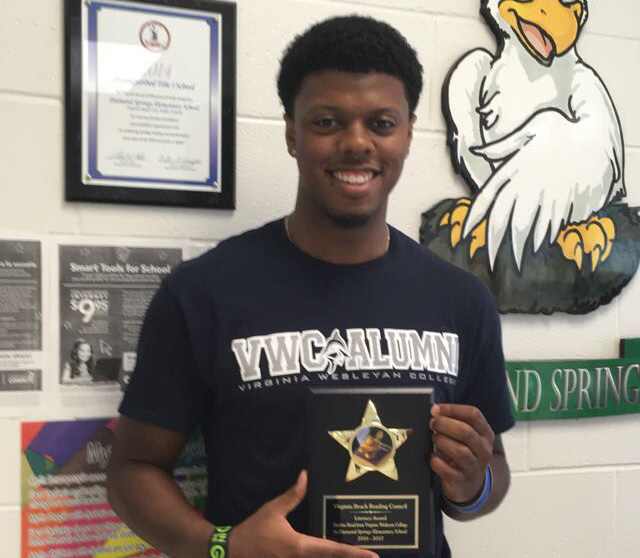 Featured News | June 21, 2017
Virginia Wesleyan's Marlins Read was awarded the 2017 Virginia Beach Reading Council Literacy Award at the organization's annual banquet in May.
Since 2008, Virginia Wesleyan's Office of Community Service, under the leadership of Diane Hotaling, director of community service, has coordinated a partnership with local elementary school, Diamond Springs Elementary School (DSES). The focus of the relationship between VWU and DSES has been Marlins Read, a program designed to assist DSES students struggling with reading and math by connecting them with Virginia Wesleyan students who serve as tutors, mentors and volunteers.
During the 2016 -17 academic year, VWU Senior Andre' Banks served as the coordinator for Marlins Read. Each week, Andre' and his fellow student volunteers traveled the short distance to DSES, one of 55 elementary schools in the Virginia Beach City Public School Division, to work with about 20 elementary students in reading and math. The extra, often individualized attention that Wesleyan student volunteers provided helped to improve not only skills in literacy and numeracy, but also enhanced the elementary students' self-esteem and motivation to learn. The mutually beneficial partnership also had positive impacts on the older students, many of whom were preparing for careers in helping professions such as teaching, recreation, and criminal justice.
"The students at Diamond Springs look up to the Marlins Read volunteers from Virginia Wesleyan as role models and examples of what they, too, can accomplish with effort and perseverance," said Karen Farquer, Partners in Education/Volunteers in Education Coordinator at DSES. "We truly appreciate the time, talents, and tender loving care that the Marlins Read students of VWU demonstrate towards our students."
The Virginia Beach Reading Council annually recognizes outstanding literacy programs. The Council has focused efforts on promoting literacy in Virginia Beach for more than 44 years. Founded and operated completely by volunteers, the Council strives to support reading educators and work closely with Virginia Beach City Public Schools. Their mission is to help all of the children of Virginia Beach to become quality life-long readers.