A Happy Homecoming
Marlins returned to campus October 1-3 for tradition, togetherness, and team spirit

University News | October 2, 2021
Photo Gallery: Homecoming & Family Weekend 2021
It was an especially happy Homecoming and Family Weekend for Virginia Wesleyan University in 2021 as Marlins returned to campus following a gap year due to the pandemic.
Fans showed their love for VWU on Friday, October 1, as part of Marlin Spirit Day, kicking off the weekend by putting on their favorite Wesleyan gear and sharing photos of their school pride on social media.
The day also included the 20th Annual Virginia Wesleyan Golf Outing at Cypress Point Country Club, a meeting of the Parents Council, the annual Marlin Alumni Social at Shorebreak Pizza & Taphouse (co-owned by JB Maas '01), and a Homecoming Dance on campus for students.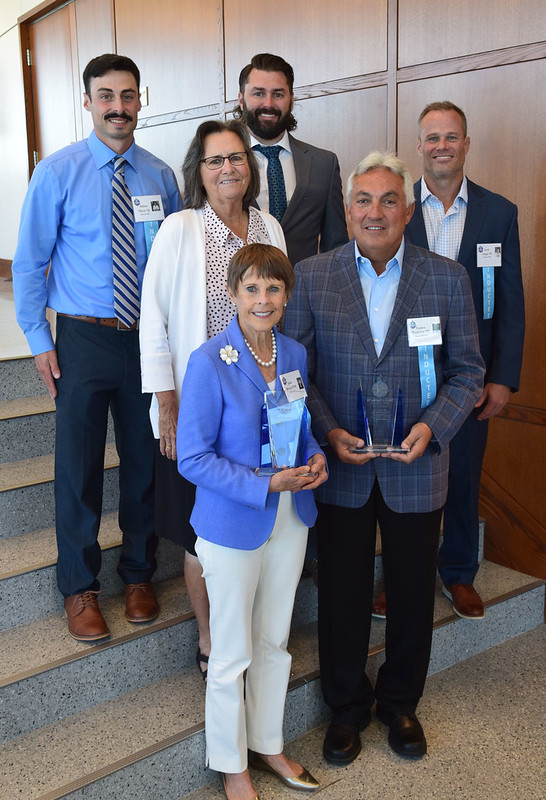 The festivities continued on Saturday, October 2, with the Athletic Hall of Fame Induction Ceremony, held in the Watts Gallery of the Goode Fine and Performing Arts Center. Benefactors Joan P. Brock H'10 and Tassos J. Paphites '79, and longtime coach and athletic director Joanne Renn, were recognized along with three former Marlin athletic greats: John "Jack" E. Lingo III '01 (Men's Lacrosse, 1998-2001); Brandon M. Massie '11 (Men's Soccer, 2006-2009); and Adam L. Nycz '12 (Men's Lacrosse, 2009-2012). Read more about the 2021 inductees.
Conference Athletic Games were also part of the action Saturday, with competitions from women's soccer, men's soccer, field hockey and volleyball. Annual Alumni Games brought back Marlins for some friendly competition in softball and men's and women's lacrosse. The Homecoming Court crowning of Marlin Majesty—junior Jordan Gilliam and sophomore Ashleigh Lockard—took place during halftime of the field hockey game on Birdsong Field.
Tastebuds were tickled with the 5th Annual Chili Cook Off during FinFest on Marlin Way. The top prize went to Trish Doherty, a staff member from VWU Athletics, whose chili also took home the trophy in 2019. FinFest also featured a picnic-style lunch with refreshments from Hoffman Beverage and desserts from Kona Ice and Astro Concessions Funnel Cakes. Kids enjoyed inflatable bounce houses while Marlins mingled with friends and favorite faculty members, and Astro DJ kept the party going with great music.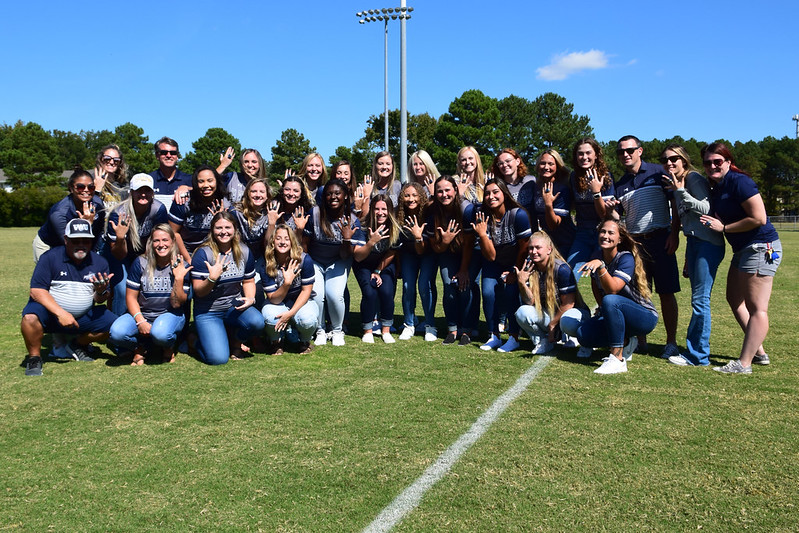 The VWU National Championship Softball Team was presented with championship rings during a special ceremony on Foster Field prior to the women's soccer game. A Toast to the 2021 National Champions followed on Marlin Way.
A late afternoon Performing Arts Showcase took place in the Goode Fine and Performing Arts Center with student choral and instrumental performances and a sneak preview of the fall theatre production, Nickelodeon's "The SpongeBob Musical." View the Fall 2021 Arts Calendar.
Homecoming and Family Weekend comes to a close on Sunday, October 3, with a Christian Homecoming Worship Service at Heritage United Methodist Church led by Chaplain Kotosha Griffin.