Share this Story
A Feather in Your Cap
Annual celebration of faculty and staff accomplishments recognizes professional work
University News | May 2, 2019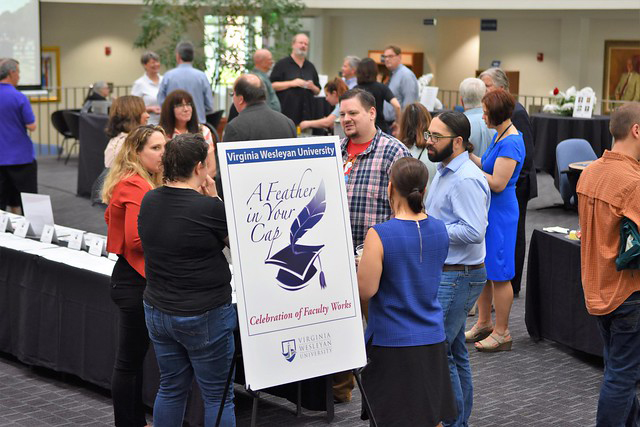 Faculty and staff accomplishments were celebrated during Virginia Wesleyan's annual "Feathers in Your Cap" event on April 25 - 26. Hosted by the Center for Innovative Teaching and Engaged Learning (INTEL) and Hofheimer Library, the event recognized VWU faculty, adjunct professors and staff members for their professional endeavors in the last year. Accomplishments included publishing books and articles, professional presentations, garnering grants and awards and designing community engagement activities and events. The event also provided an opportunity for networking and community-building.
Denise Wilkinson, Professor of Mathematics and Associate Dean for INTEL, Sherry Matis, Research Librarian, and Sue Erickson, Director of Hofheimer Library, planned and coordinated the recognition event with help from Christine Pritchard, Administrative Assistant to the Acdemic Schools.
"Collectively, it is amazing to see all of the fine work accomplished by our talented faculty and staff," said Wilkinson. "Both the volume and substance of professional work is so very impressive."
Print works recognized included publications such as Professor of Communication Kathy Merlock Jackson's ninth book, "Shapers of American Childhood: Essays on Visionaries from L. Frank Baum to Dr. Spock to J.K. Rowling," which features her essay as well as chapters by Professor of English Sue Larkin, Professor of Communication Lisa Lyon Payne and Professor of Sociology Kathy Stolley; Professor of Psychology Gabi Martorell's books, "Life, an account of development from conception to death," and "Child," second edition; and Professor of History Dan Margolies' book "The Extraterritoriality of Law: History, Theory, Politics."
Faculty and staff traveled near and far to share their expertise as presenters and panelists at events such as the International Conference of the National Association of Congregational Churches in San Diego where Professor of Communication Terry Lindvall was the keynote speaker; the Association for Applied and Clinical Sociology Annual Conference in Norfolk where seven VWU faculty and staff presented in October; the International Association for the Study of Irish Literature Conference at Radboud University, Nijmegen, The Netherlands where Associate Professor of English Jennifer Slivka presented a paper and chaired a panel; the University of Copenhagen's The Eyes and Ears of Power: Surveillance, History, and Privacy Conference in Copenhagen, Denmark where Professor of History Sara Sewell presented a paper; and the 11th Annual Conference on Higher Education Pedagogy at Virginia Tech in Blacksburg, Virginia where ten VWU faculty members presented.
Community Engagement activities were also applauded including events such as the Downstream Collaborative Project, a semester-long partnership between VWU and Virginia Beach City Public Schools, which brings fourth graders to the VWU campus each semester for hands-on, environmental science learning activities coordinated by Professor of Ocean and Atmospheric Sciences Elizabeth Malcolm, Associate Professor of Chemistry Maury Howard, Assistant Professor of Physics and Earth and Environmental Sciences Katrina Henry, and Professor of Education Bill McConnell and students in his INST 203 Applied Technology for Innovative Instruction.
Grants, awards and professional postions were celebrated as well. Accomplishments included Associate Professor of English Kellie Holzer's election as Vice President of the Victorian Interdisciplinary Studies Association of the Western United States (VISAWUS); a multi-faculty member grant for $15,000 awarded by the U.S. Environmental Protection Agency's P3 program; and a $400,000 grant from the NCF to produce and edit a documentary feature film on "Hollywood, Teach Us to Pray: A Century of Prayers in Hollywood Films" awarded to Professors of Communication Stu Minnis and Terry Lindvall.
"It was a pleasure for me to display my own publications along with the stellar works and accomplishments by VWU professionals." said President Scott D. Miller. "I was extremely impressed by both the quality and quantity of work displayed, and I am honored to work among a talented faculty and staff who are so strongly committed to excellence in both teaching and scholarship."