A Fine Way to Treat a Steinway
Perfect concert grand piano selected for the Goode Fine and Performing Arts Center
University News | November 28, 2018
By Laynee H. Timlin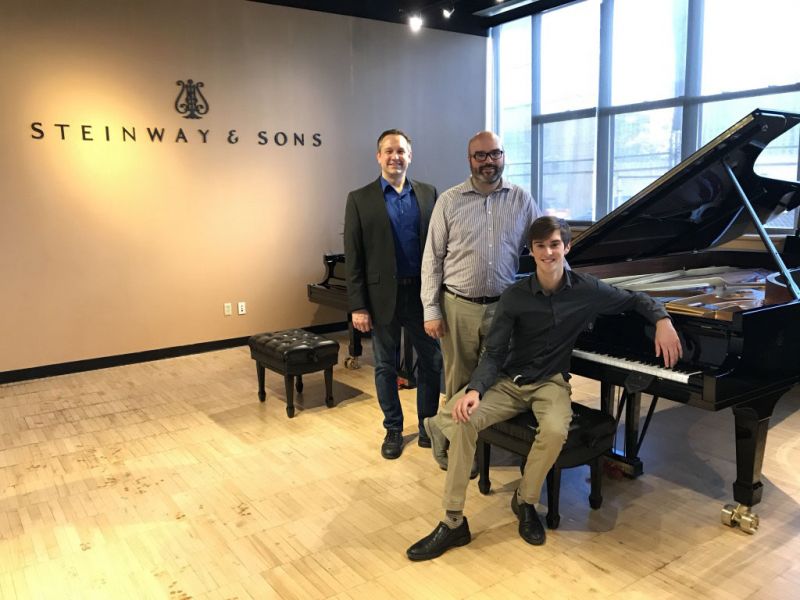 When the Susan S. Goode Fine and Performing Arts Center opens next spring, there will be a sparkling new Steinway Model D Concert Grand Piano in the Joan and Macon Brock Theatre, thanks, in part, to a grant from the E.K. Sloane Fund of the Hampton Roads Community Foundation received last January to help underwrite the purchase.
Steinway Concert Grand Pianos are considered the gold standard of musical instruments, so to select the best Steinway for VWU, Assistant Professor of Music and Director of Choral Music Bryson Mortensen, Professor of Theatre Travis Malone, and VWU freshman Ryan Fissinger '22 recently traveled to the Steinway & Sons factory and showroom in Astoria, New York.
Their experience began with a tour of the factory where they learned more about the customized process for the careful design of each Steinway. Then it was off to the selection room to play and critically assess the five stately Concert D Steinways awaiting their perusal before making a final decision about which one would be just right for Virginia Wesleyan.
"Going to the Steinway factory was an awesome experience," said Mortensen. "Our real goal in selecting a piano was to make sure that we had one that would sound good in all the different ways that we will use the piano in the Goode Center."
During the selection process, they decided not to share their individual assessments and preferences until they each had the opportunity to play, listen, and evaluate the pianos.
Mortensen said that he took notes while Fissinger played a few measures of a solo piece on each. Then, Mortensen played a selection of choral accompaniment on each instrument. Finally, Fissinger, a double major in music and theatre, sang some solo repertoire while Mortensen accompanied him on each piano.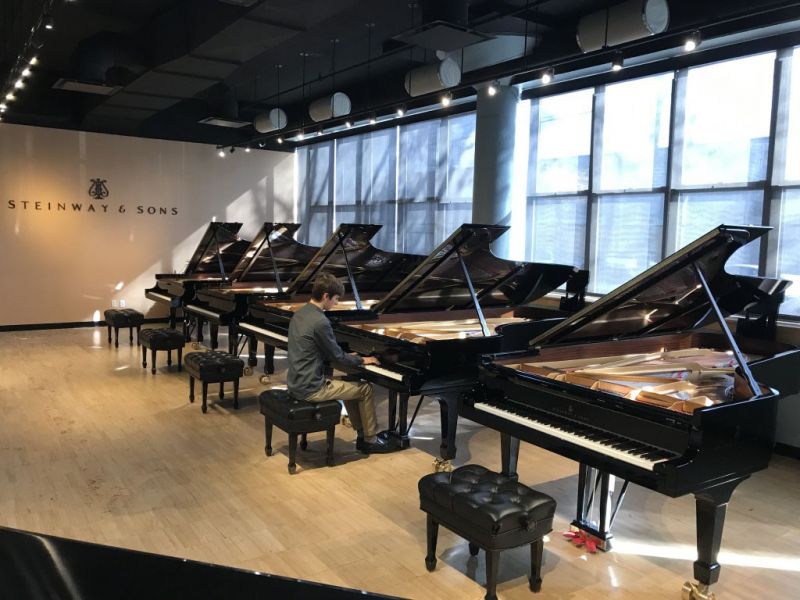 "It was amazing to me how different each piano sounded," noted Mortensen. "Each one had a different voice and a different character."
Their process immediately enabled them to eliminate two of the five pianos based on their collaborative preferences. And after more discussion and time trying out different scenarios on the three remaining pianos, they agreed on the best sounding piano for Virginia Wesleyan. It was the fourth piano.
"After we'd made our decision, I went back and looked at the notes I had written while Ryan was playing," said Mortenson. "On many of the pianos, I wrote in detail about the different colors in the various ranges of the piano, all I had written under the fourth piano was 'I like THIS one.' It was exciting and validating to see that my first instinct about the one I liked was the one that we settled on in the end."