Fall Marlin Prestige Business Conference Promotes "A Networking Experience"
The student-led conference brings speakers and events to campus November 14-18
Featured News | November 11, 2016
By Laynee H. Timlin
Students in the Principles of Management Class host the Marlin Prestige Business Confe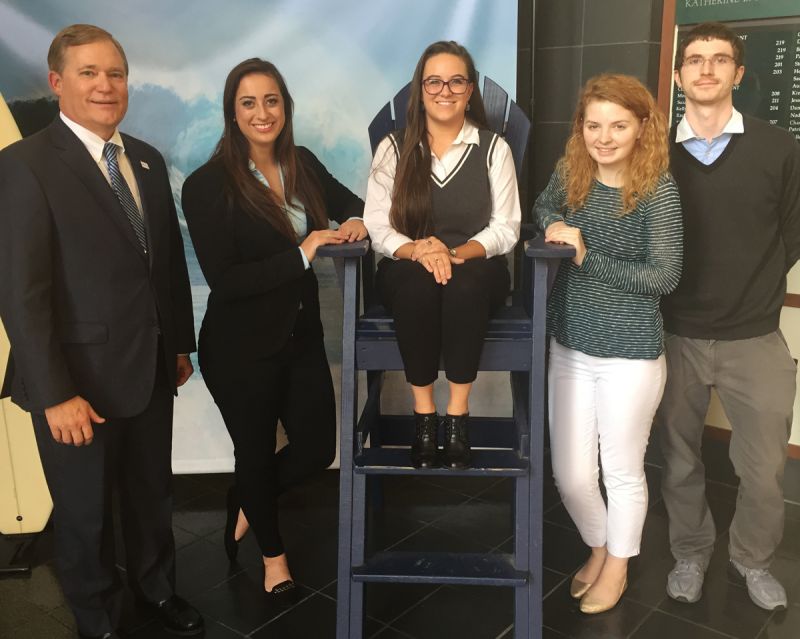 rence on campus
November 14-18.
The fall 2016 conference theme is "A Networking Experience," and for the past three months, the students have been working to make it so. They have planned and organized an entire week of networking events, which include seminars, interactive workshops, a career fair and team competitions.
The mission of "A Networking Experience" is to provide beneficial information to college students, high school students and the surrounding community about building and maintaining a professional network.
"Networking is a vital component of the professional world, it creates endless opportunities to further oneself and connections between industries" says VWC junior Heidi Brinker, Chief Executive Officer of the Marlin Prestige Business Conference. "Our conference goal is for the students and the community to learn important networking skills that they apply to their future careers. Even in the planning of the conference, the students have used and expanded their own networking contacts."
This semester's conference features a variety speakers such as The Brooklyn Baking Barons; Tony Lanuza and Chris Poeschl, entrepreneurs and business owners; Tony DiSilvestro, founder of Ynot Italian Cuisine; J.C. Brinker, Associate Director of the Center for Enterprise Innovation at Old Dominion University; and Steve Renz, Executive Director and Owner of Business Networking International of Southeastern Virginia.
The Virginia Maritime Association Career Fair will be held
on Wednesday, providing an
opportunity for high school students, college students, transitioning service members and current maritime employees to speak with representatives from companies that are looking to fill jobs and connect with schools offering training for those jobs. Companies at the Fair will be CMA-CGM, Cornerstone Systems, Givens Logistics, McAllister Towing, NOAA, Opp, Inc., Norfolk Dredging, and the Port of Virginia. Colleges represented will be Chesapeake Marine Training Institute, Mid-Atlantic Maritime Academy, Old Dominion University, Richard Bland College, Tidewater Community College, and Virginia Wesleyan College.
American Production and Inventory Control Society (APICS), Northwestern Mutual, and the Career Development department at Virginia Wesleyan will also present a networking workshop called, "The Marlin Mixer," which will include interactive stations on resume building, interview tips, professionalism and what not to wear. There will be a chance to practice networking and branding yourself as well.
The conference will also include the popular "Shark Tank" presentations, similar to ABC's Shark Tank TV show. Participants prepare an entire business plan and present it to the "sharks" who are Virginia Wesleyan College alumni. The winners will then go on to the Shark Tank Tournament on Friday.
Finally, the Information Systems Programs (ISP) class will present their proposals to their client, The Norfolk Admirals. The teams have worked with the Admirals all semester to learn the day to day operations of the company in order to choose software programs that are the best fit for their organizational goals and mission.