A Wesleyan Christmas: Letters to Santa
Bryson Mortensen and the Virginia Wesleyan Choirs present their first holiday concert in the Goode Center December 6-7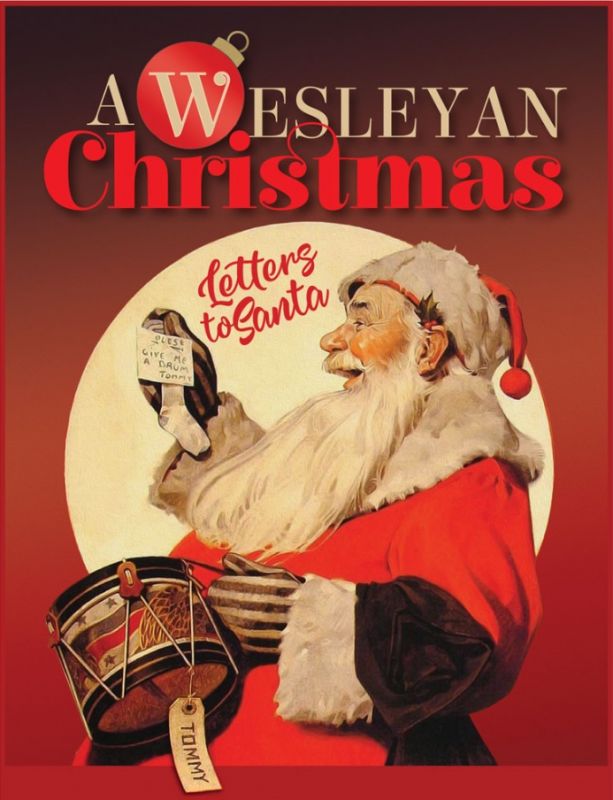 University News | December 6, 2019
By Sandi Billy
The Susan S. Goode Fine and Performing Arts Center will ring with Christmas cheer December 6-7 as the Virginia Wesleyan University Choirs present their first holiday concert in the new space. Dr. Bryson Mortensen, Assistant Professor of Music and Director of Choirs, is excited to share this heartfelt program, "A Wesleyan Christmas: Letters to Santa," with the community.
"Christmas has always been special to me," he said, "and I looked for a way to bring back the nostalgia of it—happy memories, magical moments. I discovered this collection of letters to Santa, and they tell a really neat story about the ways we approach Christmas. They'll be read by the singers in the concert; I tend to think of choral music as a form of storytelling so I'm always looking for stories that will engage the students and present a message worth sharing with an audience."
The concerts will take place at 7:30 p.m. on Friday, December 6, and Saturday, December 7. Admission is $15 for adults and $10 for seniors, alumni, and students from other schools. It is free for the VWU community. Tickets may be purchased at www.vwu.tix.com, and free tickets may be reserved at theatretix@vwu.edu. Reservations are strongly encouraged.
Now in his fourth Christmas at VWU, Mortensen has settled into the rhythm of the campus and made numerous unique contributions. As co-chair of the Department of Music, developments have included the addition of a Certificate in Music Technology and Sound Recording, expansion of the choral program into three distinct choirs, and enhancement of the major to meet the needs of liberal arts students as well as those anxious for further refinement with goals of continued graduate study. In addition, his efforts along with the support of the Mary Morton Parsons Foundation have led to VWU's distinctive designation as an All-Steinway School.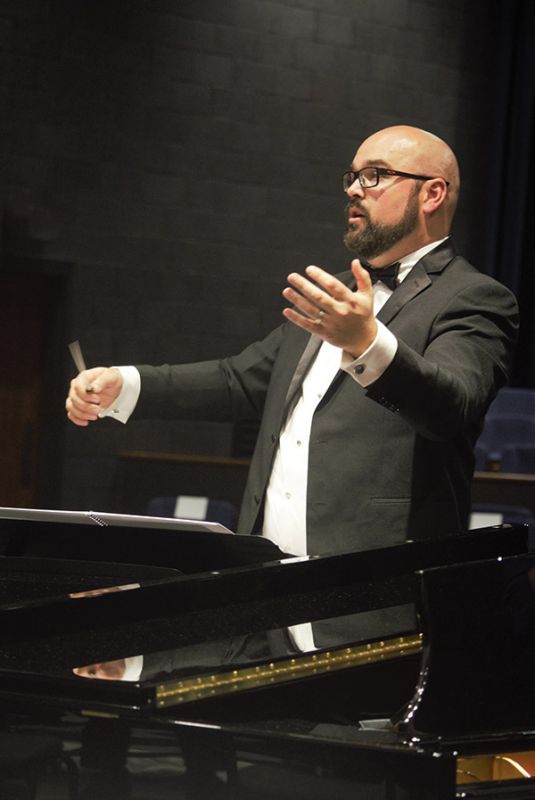 In October, Mortensen hosted VWU's first "Choral Invitational" which featured 161 singers from four high schools on the Peninsula and Southside for a day of instruction with the VWU Voice Faculty. At the conclusion of the day, VWU's Camerata performed and the high school choirs sang individually and together under Mortensen's direction.
"Prior to the opening of the Goode Center, we had no place to hold such a group, and certainly couldn't include an audience," said Mortensen. "It was great to have their families be able to enjoy the finished product."
Mortensen earned degrees from Brigham Young University and the DMA in Conducting and Performance Literature from the University of Illinois, Urbana-Champaign. He particularly loves the classroom and close interaction with the students.
"I love working with students who are excited, engaged, and curious," he said.
"Music education and conducting courses are my favorite," which is easy to see as Mortensen's eyes brighten at the idea of it. "It's exciting to get into the nitty-gritty of the conducting experience and watch students get what it's like on the other side of the podium. It's great being part of a liberal arts setting where we focus on integrating all areas of study."
Having come from the University of Wisconsin-Rock County, Mortensen has enjoyed seeing the growth of students over the four-year process.
"Rock County served as a two-year feeder school into the UW system and I much prefer having the chance to experience the 'finished product' instead of losing students after two years."
Beyond the campus, Mortensen is active as vocalist and conductor. Upon arriving in Coastal Virginia, he performed with the Virginia Chorale for several seasons and led their Young Singers Project through "Life in 140 Characters," an award-winning documentary produced by WHRO-TV and aired nationwide. This fall he was named Artistic Director of the Virginia Choral Society, a 100-voice community adult chorus based on the Peninsula and one of the oldest continuously performing choral organizations in the Commonwealth. The group will perform their holiday concert at VWU on December 13.
As for this first Christmas in the Goode Center, Mortensen says, "It's wonderful! I love how we were able to create a space that welcomes more audience members but still offers a sense of intimacy to the back row."
That sense of intimacy will be important in the performance of his favorite selection in the weekend's concerts—'There is a Star' by Joseph Martin, which Mortensen remembers singing in college himself. Martin is a composer of international repute who has visited the VWU campus three times as lecturer and conductor for the Center for Sacred Music's Sacred Music Summer Conference.
Ever attentive to what works for the singer, he added, "When I was in school, I was really touched by the text of this piece, and its message of hope. I think it will be very good for these students."
". . . There is a star in Bethlehem, a pure and holy light, a sacred flame from heaven's lamp to warm the deepest night and a fire to lead the way."