Share this Story
Abigail Mahoney: A Pioneer in Virginia Wesleyan University's Growth and Transformation
Appointment as Graduate Assistant Highlights University's Commitment to Providing Practical Experiences to Complement Academic Pursuits
University News | September 21, 2023
In 2017, Virginia Wesleyan University embarked on an extraordinary journey of transformation. What was once an aspiring local college became an internationally acclaimed institution. At the heart of this metamorphosis was the introduction of five highly sought-after graduate programs, meticulously crafted to meet the ever-changing aspirations of students and the dynamic demands of the job market. Central to this remarkable evolution was the establishment of a robust and comprehensive graduate program.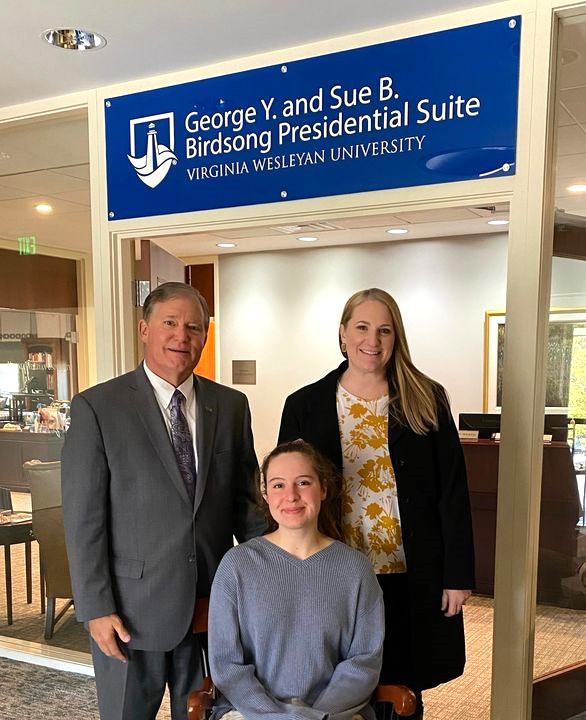 Abigail Mahoney's appointment this year as one of the first graduate assistants marked her as a pioneering figure in the university's history and highlighted the university's commitment to providing practical experiences to complement academic pursuits.

Abigail came to VWU from San Diego and graduated from the Batten Honors College last year with a major in International Studies and a focus in Business. She returned this year as a graduate student and is completing a Master of Business Administration while working in the Office of the President. She is also utilizing her "COVID year" of eligibility to finish her women's volleyball career.

The introduction of graduate assistantships marked a significant step forward, allowing students like Abigail to gain valuable work experience while pursuing their advanced degrees. These compensated positions ensured that students could actively contribute to the university's mission while also supporting their academic journey.

Abigail is able to balance her work, graduate courses, and athletics by taking classes through VWU Online, underscoring the importance of accessibility and flexibility in higher education. Since President Scott D. Miller joined Virginia Wesleyan, the University has embarked on the development of a major online program, making quality education accessible to a wider audience beyond the physical campus.

According to Heather Campbell, Vice President for Enrollment, the traditional College of Arts and Sciences of the university enrolled over 1,600 undergraduate students in 2022-23. The university's dedication to diverse educational pathways was further evident as the total enrollment soared beyond 4,500, including non-traditional students from VWU Global Campus, graduate programs, the Tokyo campus, and non-credit programs.

"Abigail Mahoney embodies the spirit of innovation and ambition that defines Virginia Wesleyan University's evolution," said Kelly Cordova, Chief of Staff and Abigail's direct supervisor in the Office of the President. "Her tireless dedication to her studies and her commitment to contributing to our university's mission as a graduate assistant is a testament to the quality of our students and the opportunities we provide."

Cordova went on to emphasize how Abigail's unique academic background, coupled with her pursuit of a Master of Business Administration, reflects the diverse and interdisciplinary nature of the university's new graduate programs.

"Abigail's interdisciplinary approach to her education mirrors our commitment to providing a well-rounded and adaptable academic experience," Cordova noted. "Her journey highlights our dedication to shaping graduates who can excel in a rapidly changing world."

President Miller also expressed his vision for the future, stating, "As our graduate programs continue to grow, I see the graduate assistant program expanding as well. It's a vital component of our mission to provide students with both a solid academic foundation and practical, real-world experiences."

Abigail Mahoney's story continues to inspire her peers and faculty members, symbolizing Virginia Wesleyan's dedication to excellence and its unwavering support for students' personal and professional growth.