Alex McComb, Class of 2017, Selected a Schwarzman Scholar
VWC political science major chosen for prestigious scholarship to study in China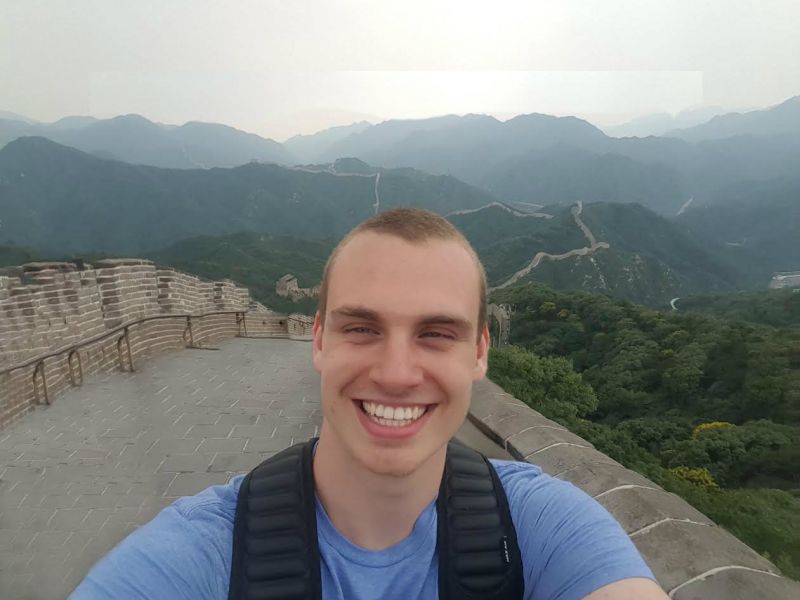 News Release | December 1, 2016
By Leona Baker
Virginia Wesleyan College senior political science major Robert "Alex" McComb has been selected for the prestigious Schwarzman Scholars, the master's degree program founded by Blackstone Chairman, CEO and Co-Founder Stephen A. Schwarzman. McComb is among 129 men and women chosen to represent the Class of 2018. The second class of Schwarzman Scholars is composed of students from 30 countries and 75 universities in the United States, China and around the world.
Schwarzman Scholars is quickly becoming the premier training ground for future leaders, educating and preparing the world's most exceptional men and women to confront the most difficult challenges of the coming century and develop an understanding of China necessary to lead in the future. Expenses for each Scholar are fully funded by the program, which is housed at Tsinghua University in Beijing, one of China's premier institutions.
Scholars will study Public Policy, Economics & Business, and International Studies, and spend a year immersed in an international community of thinkers, innovators and senior leaders in business, politics and society. In an environment of intellectual engagement, professional development and cultural exchange, they will learn from one another and pursue their academic disciplines while building their leadership capacities. The Schwarzman Scholars experience will expand students' understanding of the world and create a growing network of global leaders for the future.
A native of Maryland, Alex McComb is part of the Honors & Scholars Program at Virginia Wesleyan College, completed an internship with the Norfolk NATO Festival, participated in VWC's Model United Nations, and is currently studying abroad in France as part of the College's Global Scholars program. McComb traveled to China in summer 2016 along with other VWC students and faculty to participate in a project called "Saving China's Cultural Heritage." He is also a member of Chi Beta Psi fraternity.
"I am so excited for this experience and am honored to have been chosen," McComb said. "I feel ready in that every experience I have had at VWC has been preparing me for an opportunity like this. What I most want to say is thank you to every member of the VWC family that helped build me up and guide me along the way. I promise to carry the Marlin spirit forward with me."
The 129 Schwarzman Scholars were selected through a rigorous and thorough selection process designed to evaluate leadership experience and potential, intellectual and academic ability, including the capacity to understand emerging trends, design solutions, and inspire others to a vision, as well as strength of character. The applications were reviewed by a distinguished team of readers from around the world with 300 semi-finalists invited for in-person interviews in Beijing, Bangkok, London or New York before international panels composed of CEOs, former heads of state, university presidents, non-profit executives, journalists and other leaders.
"I am overjoyed with the caliber of students who will make up the second class of Schwarzman Scholars. It has been truly inspiring for me to meet these people, who at such a young age have already started to make an impact on the world," said Stephen A. Schwarzman. "Cleary their journey is just beginning, but it is our hope that the Scholars of the inaugural class, the Class of 2018, and every class thereafter will leave Schwarzman College with a better understanding of how to foster friendship, cooperation and collaboration among the peoples of the world."
The scholarship is fully funded for all participants, including travel costs and a personal stipend, and is supported by the program's endowment which is expected to total $450 million, with $435 million raised to date. Scholars will live and study together at Schwarzman College, the dedicated state-of-the-art academic and residential building built exclusively for the program.
About Schwarzman Scholars
Schwarzman Scholars was inspired by the Rhodes Scholarship, which was founded in 1902 to promote international understanding and peace, and is designed to meet the challenges of the 21st century and beyond. Blackstone Co-Founder Stephen A. Schwarzman personally contributed $100 million to the program and is leading a fundraising campaign to raise an additional $350 million from private sources to endow the program in perpetuity. The $450 million endowment will support up to 200 Scholars annually from the U.S., China, and around the world for a one-year Master's Degree program at Tsinghua University in Beijing, one of China's most prestigious universities and an indispensable base for the country's scientific and technological research. Scholars chosen for this highly selective program will live in Beijing for a year of study and cultural immersion, attending lectures, traveling, and developing a better understanding of China. Admissions opened in the fall of 2015, with the first class of students in residence in September 2016. Learn more at www.schwarzmanscholars.org.