Share this Story
Alum Chosen to Create Poster for Harborfest 2023
Ryan Jones follows his father and grandfather in this family tradition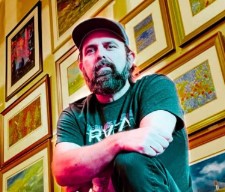 University News | May 30, 2023
Artist Ryan Jones '06 was recently chosen by the leadership of the 47th Annual Norfolk Harborfest® to create the poster for Harborfest 2023. Jones earned his bachelor's degree in art from Virginia Wesleyan and has since become the co-owner of the 30-year-old Jones Art Gallery, located in Town Center in Virginia Beach.
By creating this year's Harborfest poster, Jones continues a family tradition. His grandfather, artist Herb Jones, created the poster 30 years ago, and his father, artist Louis Jones, did so 26 years ago.
Jones said inspiraton for his poster design came from being an avid waterman.
"This year's poster is inspired by the feeling of excitement while sailing into Harborfest with anticipation of the festivities to come," he said. "I used my bright palette of water colors that I've become known for in the art world to create an uplifting painting that embodies the excitement of Harborfest."