Andrea Hoover-Erbig Named VWU Executive Director of Intercollegiate Athletics
Hoover-Erbig currently serves as Head Volleyball Coach, Senior Woman Administrator, and Academic Integration Coordinator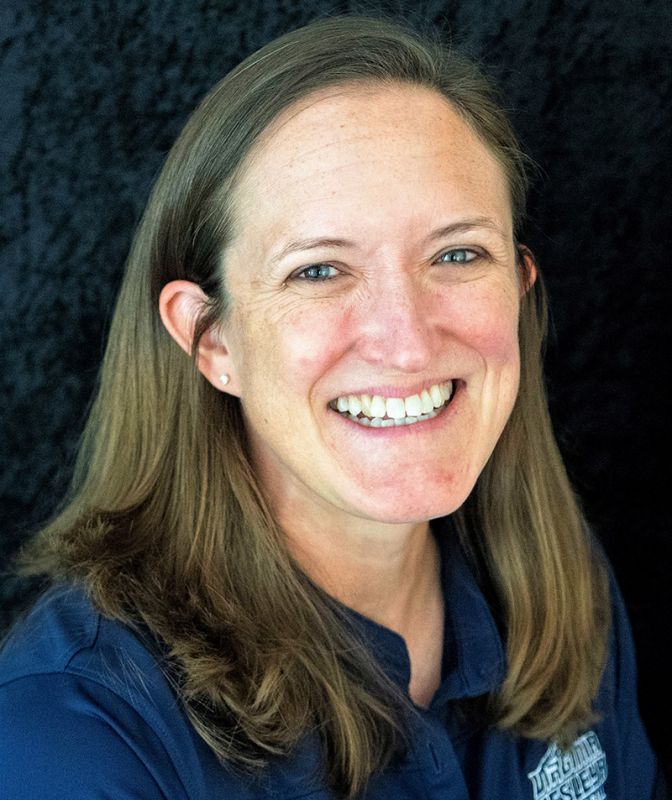 University News | February 22, 2021
Andrea Hoover-Erbig has been named Executive Director of Intercollegiate Athletics at Virginia Wesleyan University, according to Dr. Scott D. Miller, VWU President. Hoover-Erbig currently serves as Head Women's Volleyball Coach, Senior Woman Administrator, and Academic Integration Coordinator at the University.
"After our national search was suspended last spring because of unique circumstances created by the pandemic, we concluded that the best candidate was right here," Dr. Miller said. "She has a history of winning, and winning with integrity. As our senior woman administrator and academic integration coordinator, she has demonstrated a deep passion for aspects of the department that are critical to our University mission."
Hoover-Erbig is in her 15th season leading the Marlin volleyball program and is the most successful coach in program history with 281 wins and just 161 losses, including a 96-42 record in ODAC play. Six squads won at least 20 games in a season during that period, and she was twice named ODAC Coach of the Year.
"I am thrilled to lead a program I deeply believe in and thank President Miller and Joanne Renn (chair of the screening committee) for their confidence," Hoover-Erbig said. "Marlin fans have an expectation of success and I am deeply committed to continuing the traditions while elevating our level of success with top-notch student-athletes."
After COVID suspended the normal fall season, VWU volleyball will return to the court this spring to defend their 2019 Old Dominion Athletic Conference championship title. The Marlins posted a 28-8 overall record in 2019 and also made the program's first appearance in the NCAA Championship Tournament.
Hoover-Erbig holds a Bachelor of Science degree in physical education with a minor in adapted physical activity and rehabilitation from Slippery Rock University (PA) in 1999 and a Master of Arts in education from Marietta College (OH) in 2006. She was a four-year letter winner at Slippery Rock.
Prior to Virginia Wesleyan, Hoover-Erbig served as an assistant coach at Marietta College. She was also head coach of Northern High School in Maryland for two seasons, leading the squad to the Maryland Regionals both seasons. She served as an assistant at Northern before becoming head coach, helping the squad to state championships in 2000 and 2001.
She is a four-year member of the Regional Advisory Committee (RAC) for NCAA volleyball through December 2021 and also was a member of the all-region selection committee of the American Volleyball Coaches Association (AVCA) from 2010-2014.
Hoover-Erbig will succeed Wesleyan's current athletic director, Joanne Renn, who came out of retirement last year to serve as the interim athletics director during the pandemic. Before retiring in 2018, Renn had served for 11 years as VWU's athletics director and for 25 years total (1993-2018) with the Marlins.
"I am delighted that Andrea will have the opportunity to continue her young administrative path as the next leader of the athletic department," Renn said. "I am sure she will represent VWU with integrity and honor. She and I have so many complementary approaches to leadership, which should help ease the transition for the University."
During the past six years, VWU has unparalleled success in athletics. Evan Cox was the NCAA III National Champion for men's golf in 2016; the Virginia Wesleyan softball team won the NCAA Division III National Championship in 2017 and 2018 with a national record 55 wins; and Marissa Coombs was a four-time All-American in cross country and track and field.
The program has had similar success off the competitive venue in fundraising, including the expansion and improvement of the institution's athletic facilities.
Construction of Birdsong Field, the Betty S. Rogers Track and Field Center, Broyles Field at TowneBank Park, a new East Gate campus entrance to the adjoining Marlin Way, development of the outdoor athletic complex, and upgrades and naming of Kenneth R. Perry Field were all made possible by private gifts. This past spring/summer, Convocation Hall in the Jane P. Batten Student Center was fully renovated and renamed TowneBank Arena.
Other recent successes for athletics include the men's basketball team winning the NCAA Division III National Championship in 2006 and the following year returning to the championship game. They also made it to the final four in 2015. The women's soccer team made it to the final four in 2006. Former lacrosse All-American Josh Currier is now playing professionally with Archers Lacrosse Club in the Premier Lacrosse League, and former basketball National Player of the Year Brandon Adair is an official in the National Basketball Association.
Hoover-Erbig is married to Chris Erbig, and they have four children: Alex (13), Peyton (10) and twins Sam and Sophie (2).