Batten Honors College Competition Begins
Prospective students compete for a place in the fifth cohort
University News | November 6, 2020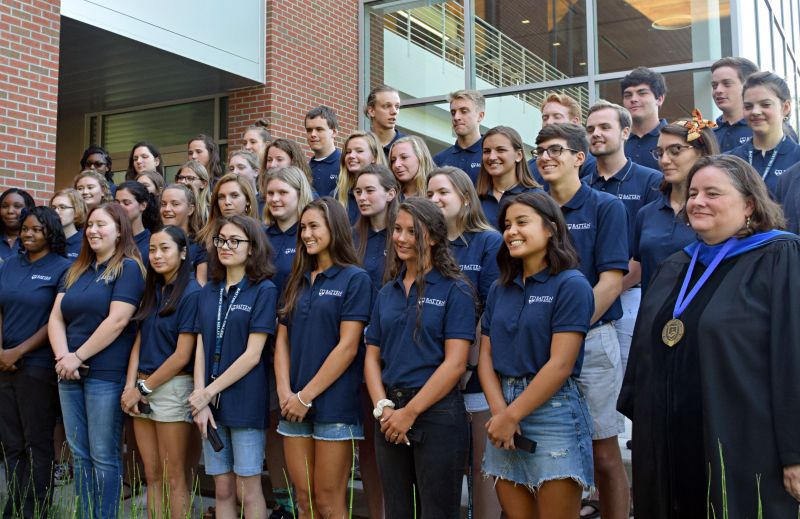 Sixty-five selectively invited, prospective first-year students will participate in competition for the fifth cohort in the elite Batten Honors College (November 6 and 13). The second part of the competition, which will follow the same format, will occur February 12 and March 5.
This year's cohort will come from a potential student pool of 20,000 eligible students, approximately 200 of whom completed a supplemental application process. Overall, 120 students with outstanding academic backgrounds are invited to compete each year for a seat in the Batten Honors College (BHC).
The first cohort of distinguished Batten Honors College students arrived in fall 2017 in conjunction with the opening of the Greer Environmental Sciences Center. With the fourth cohort matriculating this fall, the Batten Honors College has grown to 160 total students, reaching the program's full capacity for the first time.
This year's competition will be virtual because of the COVID-19 pandemic.
"Applicants will rotate through six different virtual sessions throughout the day," said Director of Enrollment for the Batten Honors College Brooke Novkovic. "They will have the opportunity to meet with a faculty member in their intended area of study, learn from current BHC students during a panel discussion, sit in on a presentation from The Lighthouse: Center for Exploration and Discovery, participate in a group interview and collaborative activity. The intent is to connect with the group and provide the same opportunities as previous competitions while keeping everyone safe."
Twenty students will be selected to receive the Batten Fellowship, a prestigious scholarship renewable for four years and covering the full amount of tuition plus funding for a study-away experience. The Batten Honors College will also recognize the academic merit and leadership potential of an additional 20 Shumadine Scholars, who will receive scholarships equal to two-thirds tuition. Shumadine Scholars have opportunities to study away as well. This selective academic program is made possible by generous support from Virginia Wesleyan University Trustee Emerita Jane P. Batten H'06 and her late husband, Frank Batten, Sr.
Through small class sizes, personalized instruction and especially vigorous faculty-student interaction, the Batten Honors College is designed to prepare leaders and environmental stewards. The curriculum explores diverse disciplines within the natural sciences, humanities, social sciences, and mathematics.
Learn more about the Batten Honors College of Virginia Wesleyan University.