Batten Honors College Competition: November 2021
Prospective students compete for a spot in the highly selective program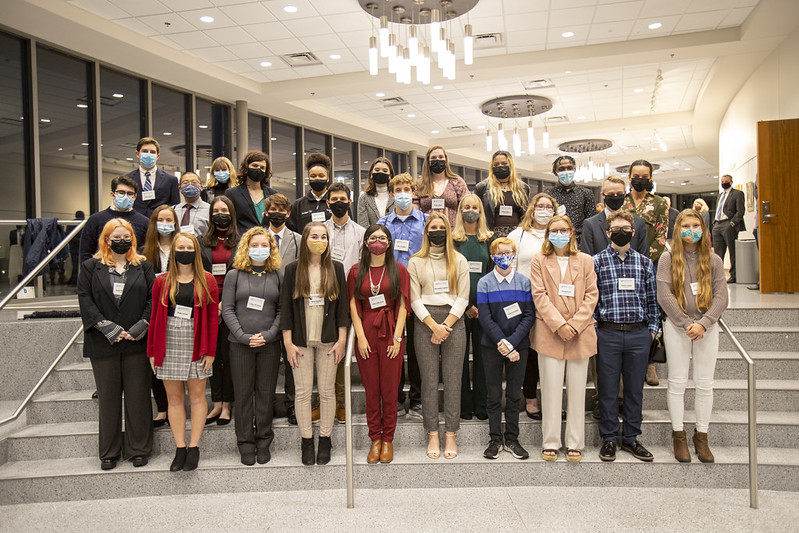 University News | November 8, 2021
Photo Gallery: Batten Honors College Competition November 2021
The selection process for the next class of Batten Honors College scholars is underway. Virginia Wesleyan University welcomed the first of three competition groups to campus November 4-5.
"Our first group of competitors was impressive in so many ways, not only academically but also in their co-curricular interests, civic engagement and leadership activities," VWU President Scott D. Miller said of the prospective students.
The competitions provide an opportunity for VWU faculty and staff to meet top candidates, ascertain their interest in Virginia Wesleyan and the program, and determine those who are the best fit. Out of the 30,000 eligible candidates, only one-tenth are deemed eligible in meeting preliminary requirements for the program, and approximately 120 students are invited to compete for the highly coveted seats each year.
The first cohort of distinguished Batten Honors College students arrived at VWU in fall 2017 in conjunction with the opening of the Greer Environmental Sciences Center. Forty students are selected each year to receive a prestigious scholarship renewable for four years, covering full or partial tuition plus funding for a study-away experience.
This selective academic program is made possible by generous support from Virginia Wesleyan University Trustee Emerita Jane P. Batten H'06 and her late husband, Frank Batten, Sr. Through small class sizes, personalized instruction and especially vigorous faculty-student interaction, the Batten Honors College encourages environmental stewardship, global engagement, and leadership. Of the 147 honors colleges nationwide, initial indications show that the Batten Honors College may be the only honors college with a focus on the environment.
"We are so glad to have the best and brightest join us in the elite and selective Batten Honors College," noted President Scott D. Miller. "From the students to curriculum to the graduation requirements, our program is truly a national niche for VWU."
Learn more about the Batten Honors College of Virginia Wesleyan University.