Batten Honors College Holds Traditional Pinning Ceremony
The event represents the completion of orientation, matriculation, and full integration as VWU community members
University News | September 10, 2021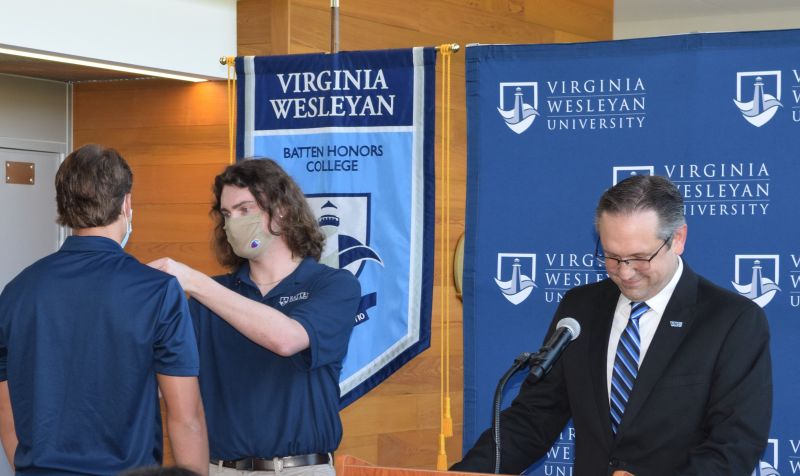 Virginia Wesleyan University held the traditional pinning ceremony for the newest class of its Batten Honors College on September 10. The annual Batten Honors College Recognition Ceremony, held in the atrium of the Greer Environmental Sciences Center, represents the completion of the scholars' orientation, matriculation, and full integration as members of the University community.
VWU President Scott D. Miller addressed the class and shared the significance of this special event.
"The pins you will be given today represent the mission and ideals of this highly selective program," he said. "I know you will wear them with pride, on campus and off, and with the recognition that you richly deserve as the newest scholars to enroll in this prestigious program."
The Batten Honors College is one of just 147 honors college programs nationally and the only one, it is believed, to carry an environmental focus. Out of a pool of over 30,000 potential students, just 40 students are chosen each year to join the highly selective program. Members of this year's class were invited on the basis of academic performance, compelling personal essays, and remarkable service and extracurricular activities.
"Thank you to the Batten family for their belief in Virginia Wesleyan and the three pillars of the Batten Honors College—environmental stewardship, global engagement, and leadership," said Dr. Miller. "We host this traditional ceremony in recognition of the mission for all Batten Honors College scholars: To become impactful leaders and environmental stewards in the global community."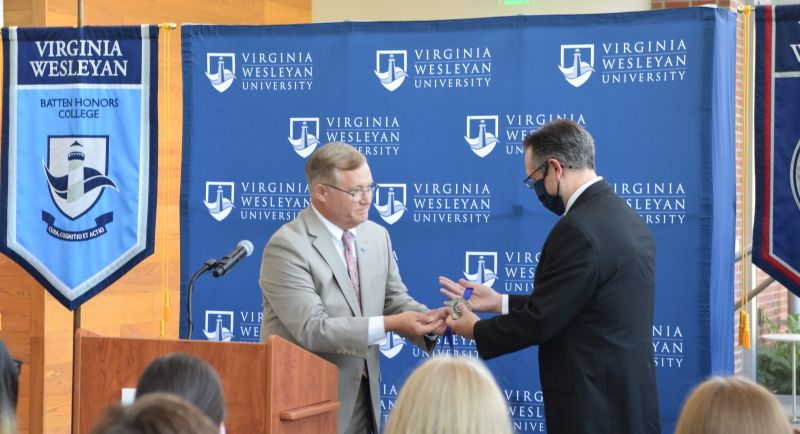 President Miller also presented Dr. Travis Malone, in his first year as Dean of the Batten Honors College, with his Dean's Medallion.
"May you wear this medallion with pride during campus regalia events," he told Dr. Malone, "and may its weight remind you of the hopes and expectations of the Batten Scholars here today and all of the Batten Scholars who are to come."
Dr. Malone then presented the students with a challenge to uphold the values and expectations of the program. Each of the students' names were called and they stepped forward to accept their pins from peer mentors in the program.
President Miller reminded the newly pinned scholars that much is expected from them during their time at the University and beyond.
"You represent diversity, intellectual strength, curiosity, imagination, and individual ambition," he said, "the best kinds of qualities that have always distinguished American higher education and will continue to do so long after you have completed your years here at the University. I congratulate you on your enrollment in the Batten Honors College, and wish you tremendous success and enjoyment in the months and years ahead."
Watch the Batten Honors College Recognition Ceremony in its entirety on the VWU Digital Broadcasting Network.
.