Batten Honors College Convocation 2022
Dr. D. Derek Aday of the Virginia Institute of Marine Science encourages students to open their minds to new, strange and different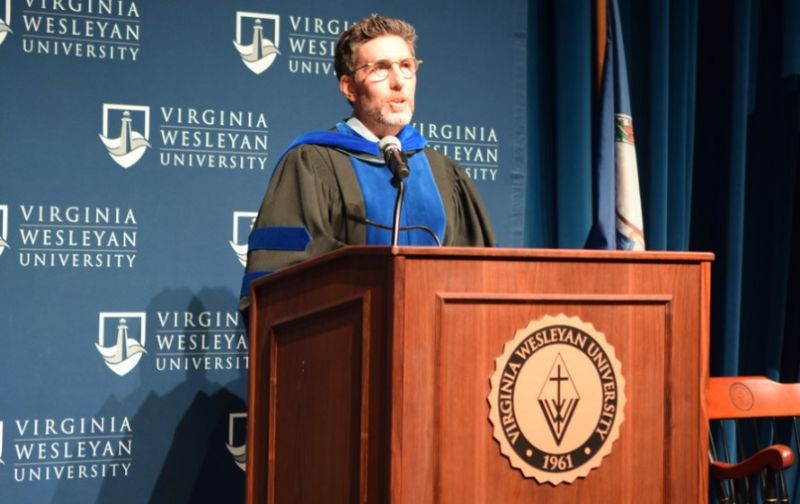 University News | September 12, 2022
Photo Gallery: Batten Honors College Convocation 2022
"This is a pretty apt time to ask yourself what writing you'll do in the unwritten chapters ahead," Dr. D. Derek Aday, Dean and Director of the Virginia Institute of Marine Science at The College of William & Mary, told Virginia Wesleyan's newest Batten Honors College students on September 8, "And what I want to say to you, is that you are needed."
Dr. Aday served as keynote speaker for the Batten Honors College Convocation, an occasion that has grown from an intimate recognition ceremony at the program's founding in 2017, to a larger convocation format that brings together the program's full capacity of 160 Batten scholars and other members of the campus community. The event takes place each September in the Goode Fine and Performing Arts Center on campus.
"You have the talent and intellect to be present and impactful in this space," Dr. Aday continued. "Added to that, you have the benefit of great teaching and mentoring to develop that talent and direct your intellectual pursuits. And you have a community and country that is ready for—that needs—your dedication, ideas, and energy."
An environmentalist whose research focuses broadly on aspects of aquatic ecology, conservation biology, fishery science, and environmental toxicology, Dr. Aday shared stories from his own journey and what led to his current career path. He encouraged students to make the most of their time in the Batten Honors College, being uncomfortable and opening their minds to new, strange and different. Shared connection of the human experience, he said, is the antidote to a society of difference and division.
Following the keynote address, President Miller presented Dr. Aday with Virginia Wesleyan's prestigious Wesley Award for outstanding leadership and vision in education, climate science, and coastal issues.
"We are so proud to have you and the Virginia Institute of Marine Science as friends and partners for our University and the Batten Honors College program," said Dr. Miller.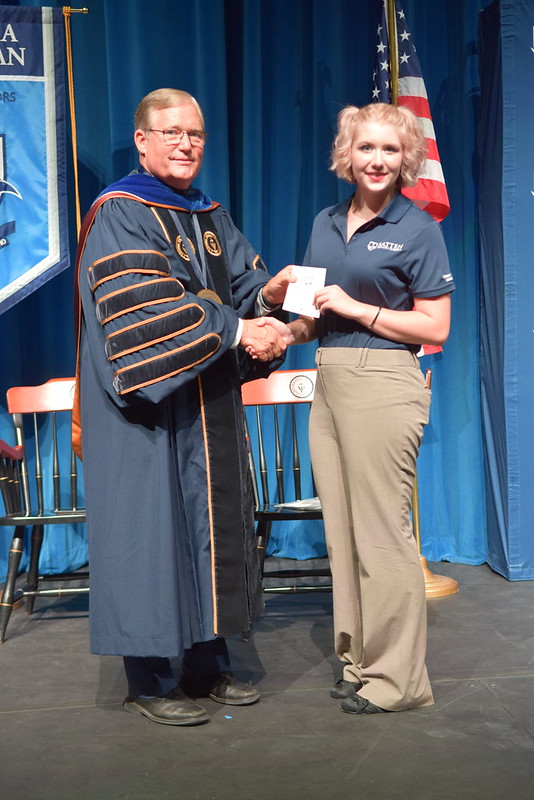 Dr. Susan Larkin, Vice President for Academic Affairs, then initiated the traditional pinning ceremony, symbolizing a challenge to students to uphold the values and expectations of the program. The ceremony represents the completion of the scholars' orientation, matriculation, and full integration as members of the University community.
The highly selective Batten Honors College has quickly become a national niche program of the University. It was created with the intent to graduate gifted students across the professional spectrum who will commit to a single avocation: saving a planet and population threatened dangerously by climate change and environmental degradation. It is gratefully named for Virginia Wesleyan Trustee Emerita Jane P. Batten and her late husband, Frank Batten, Sr.
During his State of the University address in August, Dr. Miller noted that VWU's endowment grew to $126 million in the 2021-22 Academic Year, including an $80.3 million endowment for the Batten Honors College. All endowment funds are invested in an environmentally friendly portfolio with Brown Advisory of Baltimore, supporting the adoption of long-term investment strategies that create an equitable, low-carbon, and regenerative economy. The Brown Advisory Foundation has also made a contribution to establish a student-managed investment fund at Virginia Wesleyan.
Learn more about the Batten Honors College and watch the convocation in its entirety on the VWU Digital Broadcasting Network.