Batten Honors College Welcomes Fifth Class
The newest class of scholars participated in its formal Matriculation Ceremony on August 20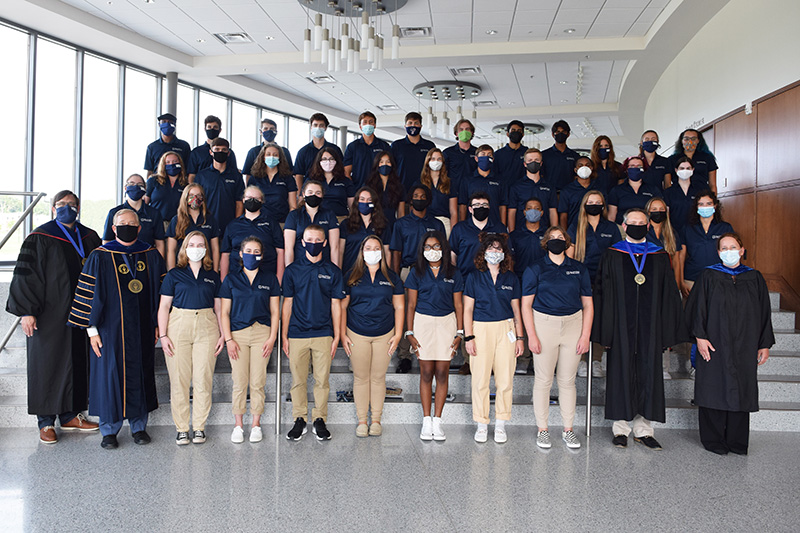 University News | August 20, 2021
Photo Gallery: Batten Honors College Matriculation Ceremony 2021
Virginia Wesleyan University's highly selective Batten Honors College welcomed the newest class of scholars to campus Friday (August 20) with the traditional Matriculation Ceremony in the Goode Fine and Performing Arts Center.
"Today each of you becomes an important part of our story, and you will contribute more than you may realize to the legacy of Virginia Wesleyan University," President Scott D. Miller told the students. "Never again will you have such an unparalleled environment in which to expand your horizons, take calculated risks, and find new passions—to chart a meaningful purpose for your life and for our society, culture, and the natural environment."
Following remarks from Dr. Miller and Dr. Travis Malone, Dean of the Batten Honors College, each of the students came forward to pen their names in the matriculation book. The signatures mark the students' commitment to be responsible and contributing members of the Batten Honors College academic community and to realize the full potential of their own unique gifts and abilities.
Launched in fall 2017, the highly selective Batten Honors College quickly became a national niche program of the University. It was created with the intent to graduate gifted students across the professional spectrum who will commit to a single avocation: saving a planet and population threatened dangerously by climate change and environmental degradation.
The Batten Honors College is gratefully named for Virginia Wesleyan Trustee Emerita Jane P. Batten and her late husband, Frank Batten, Sr. It enrolls a total of 160 scholars—80 receive full-tuition scholarships and 80 receive the equivalent of two-thirds tuition.
Earlier in the day during his State of the University address, Dr. Miller noted that VWU's endowment grew to $123 million in the 2021-22 academic year, including an $80.2 million endowment for the Batten Honors College. In keeping with the most significant of the three pillars for the Batten Honors College, the BHC funds are invested in an environmentally friendly way, including the adoption of long-term investment strategies that create an equitable, low-carbon, and regenerative economy.
The newest class of scholars boasts a collective high school GPA of 4.16 (on a 4.0 scale) and an average SAT score of 1353. Students hail from all over the country—Delaware, Florida, Hawaii, Kentucky, Maryland, New Jersey, New York, North Carolina, Pennsylvania, Virginia, Washington, and Wyoming.
"Your potential for success is unlimited," said Dr. Miller, "and Virginia Wesleyan University is the place to achieve it."
View the Batten Honors College Matriculation Ceremony in its entirety on the VWU Digital Broadcasting Network.