Black History Month at VWU
Virtual and campus events pay tribute to the significant roles of African Americans in our society
University News | February 1, 2022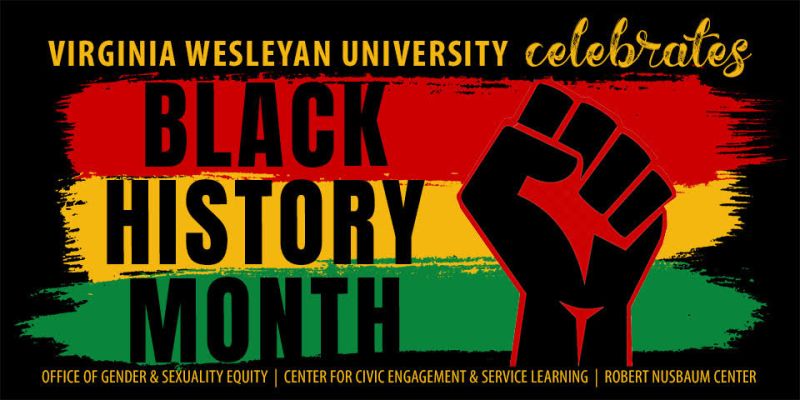 The annual observance of Black History Month, also known as African American History Month across the United States, pays tribute to generations of African Americans and the significant roles they have played in shaping our nation's history and society.
According to the U.S. Census Bureau, American historian Carter G. Woodson established Black History Week (then called "Negro History Week") nearly a century ago. The event was first celebrated during the second week of February 1926, selected because it coincides with the birthdays of both Abraham Lincoln (February 12) and abolitionist/writer Frederick Douglass (February 14). That week would continue to be set aside for the event until 1976 when, as part of the nation's bicentennial, it was expanded to a month. Since then, U.S. presidents have proclaimed February as National African American (Black) History Month.
The nationally recognized theme for Black History Month 2022 is "Black Health and Wellness," which considers activities, rituals and initiatives that Black communities have engaged in to be well.
Throughout this special month, Virginia Wesleyan will host numerous events and activities, both virtually and on campus, in honor of Black History Month.
Mark your calendars, Marlins!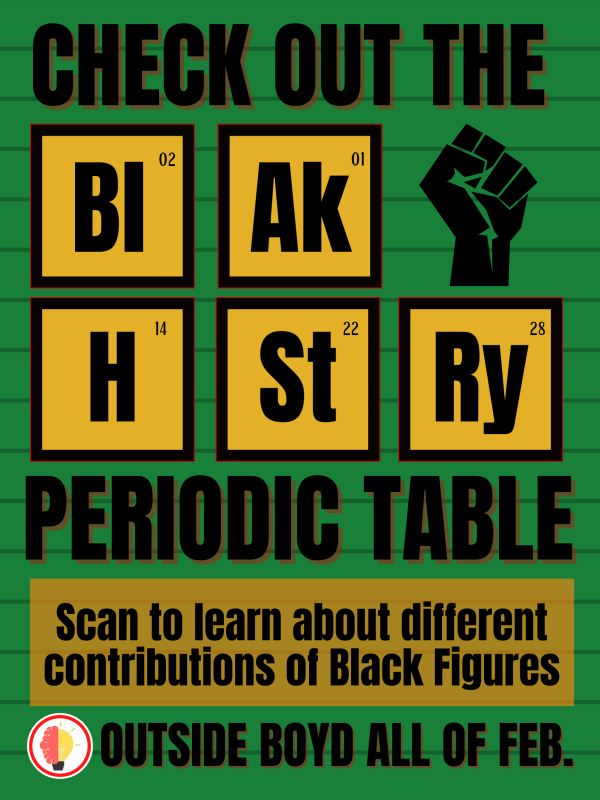 Student Activities' "Off the Hook" opens this special month with a Black History Periodic Table just outside of Boyd Dining Center near the Harbor Grill. All month long, the campus community can scan QR codes to learn more about Black historical figures and their important contributions to history.
On February 3 at 8 p.m., "Off the Hook" hosts Slam Poetry Night, via Zoom, featuring Joan 'Lyric' Leslie, an author, slam poet and back-to-back Queen of the South Poetry Slam Champion and storyteller whose work journeys through self-discovery and self-love while incorporating a fair share of humor and wit. Her book, "My Blackness Rhymes with Joy," highlights experiences with love, healing, justice and rhe reclamation of Black joy through it all.
On February 3 at 11 a.m. in Kramer Lounge, students will have the opportunity to explore "How Racism Impacts Mental Health" in a support group setting hosted by the Health Center.
Also on February 3 at 7 p.m., Wesleyan Engaged is hosting an online event with Aurora Public Library. "An Evening with George Elliott Clarke, internationally-renowned power, novelist, playwright, screenwriter, and scholar who has written the book, "Where Beauty Survived." Participants must register to attend.
On February 8 at 7 p.m., Wesleyan Engaged hosts the MOCA Jacksonville event, "Black Art Matters," a lecture with Kalup Linzy, whose work is in the Studio Museum in Harlem, Whitney Museum of Art, Museum of Modern Art, and the Metropolitan Museum of Art. This event is online and registration is required.
On February 8 at noon, the Africana Studies Program, Office of Gender & Sexuality Equity, and Robert Nusbaum Center will host "The Overlooked Voices of Hurricane Katrina: The Resilience and Recovery of Mississippi Black Women" in the Susan S. Goode Fine and Performing Arts Center on campus. Dr. Ophera Davis, VWU's visiting scholar in the university's new Africana Studies Program, will bring new voices to the forefront as black women from Mississippi share their stories and strategies of survival and recovery before, during and after Katrina. The event will be live streamed.
Also on February 8, the National Portrait Gallery and D.C. Public Library host a virtual conversation about love, second chances, and the power of a great torch song, as they analyze Ella Fitzgerald and discuss the book, "Seven Days in June," by Tia Williams. Registration is required for this online event.
On February 9 at 4 p.m., the Innovative Lives programs sponsored by the Smithsonian's Lemelson Center for the Study of Invention and Innovation is hosting Nathaniel Mathis, an inventor, barber-stylist, and winner of international hairstyling competitions. Mathis popularized afros and cornrows, hairstyles synonymous with Black identity and empowerment. Registration is required for this online event.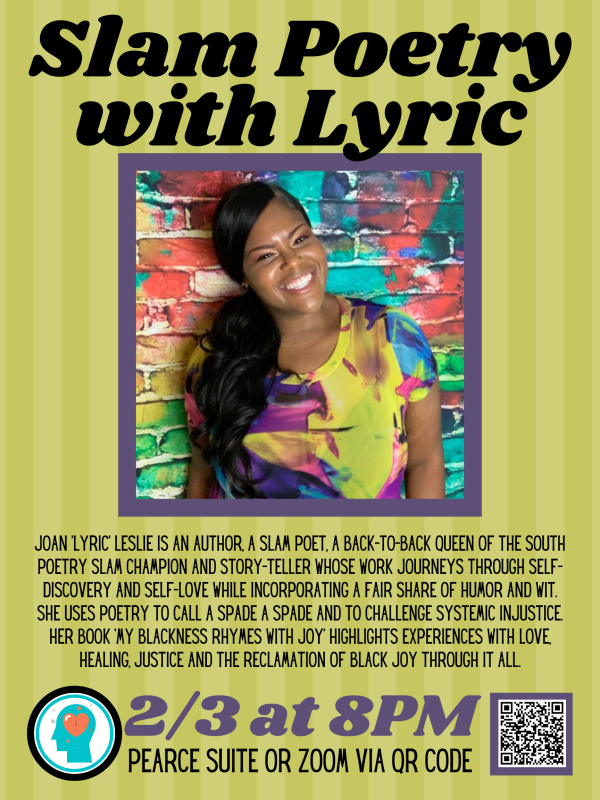 On February 10 at 1 p.m., Dr. John Mulford will present in Blocker Auditorium on the topic of using Business Development Centers and entrepreneurship to encourage economic development in African countries.
Also on February 10 at 5 p.m., the National Portrait Gallery will partner with the Smithsonian to discuss how historical objects from their respective collections speak to today's social justice issues. Presenters will explore how artwork can build empathy and open the possibilities for connecting people near and far. Register for this online event to receive the link to attend-- which will be sent 24 – 48 hours in advance.
During the week of February 14 – 18, the Office of Global Engagement will sponsor "Taking Black History Month Abroad." Visit a display in the Jane P. Batten Student Center of famous Black people who have undertaken a study abroad experience. Learn about who they are, where and when they studied abroad and why they are famous.
On February 15, the celebration of Black History Month continues with "Paint by Number" sponsored by Off the Hook. Stop by Harbor Grill to pick up a Black icon to paint. Did you know that painting by number causes us to slow down and engage in a creative activity that contributes to a sense of calm?
On February 15 at 6 p.m., Grand Rapids Community College is hosting LaTosha Brown, a 2019 fellow with the Institute of Politics at Harvard University and co-founder of Black Voters Matter. Register for this virtual event.
Also on February 15 at 7 p.m., the Division of Diversity, Equity and Inclusion at the University of Alabama is hosting Lisa S. McNair, the oldest living sister of Denise McNair—one of the four girls killed in the infamous 1963 bombing of the Sixteenth Street Baptist Church in Birmingham, Alabama. Register for this online event.
On February 17 at 5 p.m., Mindset Strategies, LLC is sponsoring "Let's Talk. . . Conversations on Race, Equity, and Belonging." Register for this virtual event.
On February 22 at 7 p.m., the Division of Diversity, Equity and Inclusion at the University of Alabama will host Ashley M. Jones, the Poet Laureate of the State of Alabama. Register to attend this online event.
Also on February 22, Student Activities will host (virtually) National Pan-Hellenic Council's, "Do's and Dont's Panel." Stay tuned for more details.
On February 24 at 8:30 p.m., Off the Hook will host "Black History Month Bingo" in the Harbor Grill in the Jane P. Batten Student Center.
On February 25 from 10 – 2 p.m., VWU Student Activities sponsors the True Black History Museum, a traveling Black History exhibit with artifacts dating from the late 1700s to the 21st century. The museum includes more than 1,000 authentic artifacts with original documents from historic figures such as Booker T. Washington, Mary McLeod Bethune, George Washington Carver, Rosa Parks, Frederick Douglass, Angela Davis, President Barack Obama, and many other great African Americans.
The culminating activity to honor Black History Month at VWU will be a Candlelight Vigil on February 28. The outdoor event will pay tribute to victims of racial and gender violence.