Board of Trustees Elects New Member, Appoints Secretary
YMCA President/CEO Anthony Walters Joins Board, Mavis McKenley Named Officer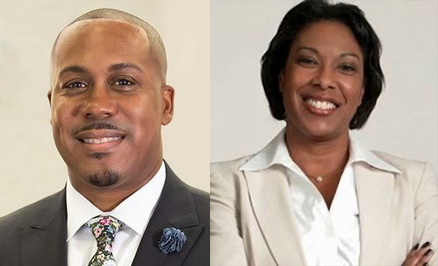 University News | January 6, 2020
Anthony Walters of Chesapeake has been elected to the Board of Trustees at Virginia Wesleyan University, and Trustee Mavis McKenley of Norfolk has been named secretary, according to Board Chair John F. Malbon. Walters is President and CEO of the YMCA of South Hampton Roads, and McKenley serves as Vice President and Trust Officer at AMG National Trust Bank.
Virginia Wesleyan University is a private, non-profit institution governed by a self-perpetuating Board of Trustees. Board members are elected on the basis of commitment to the programs and purposes of VWU. The Board establishes the broad guidelines of philosophy and institutional purpose and names the president to carry out their guidelines. The VWU Board has 31 elected members with the President of the University, Resident Bishop of the United Methodist Church, two District Superintendents of the UMC, and Alumni Council Chair serving ex-officio.
Anthony Walters
Anthony Walters is President and Chief Executive Officer of the YMCA of South Hampton Roads. He previously served as Chief Strategy Officer at the YMCA of South Hampton Roads, leading hundreds of volunteers and facilitating growth and expansion efforts through mergers with the YMCA of Portsmouth and the YMCA of South Boston/Halifax County. Walters also worked for the YMCA of Greater Charlotte and as a high school English teacher with Durham Public Schools in North Carolina. He is a TowneBank Leadership Alliance Board Member, a member of Norfolk State University's Foundation Board, President of the Norfolk Alumni Chapter of the Save Our Youth Foundation, Civic Leadership Institute Class of 2020, and a proud member of the Norfolk Alumni Chapter of Kappa Alpha Psi Fraternity, Inc. Walters holds a bachelor's degree from Norfolk State University.
Mavis McKenley '11
Mavis (Escoffery) McKenley is Vice President and Trust Officer at AMG National Trust Bank, and is also certified as an Accredited Estate Planner (AEP), Certified Trust and Financial Advisor (CTFA) and a Certified Financial Planner (CFP). McKenley also serves on the Board of Trustees for the Norfolk Public Library, and previously served as president for her local estate planning council and as board president for Samaritan House, an area nonprofit that provides advocacy and services to victims of domestic violence and homeless families. In addition to those roles, she spent two terms on the Virginia Wesleyan University Alumni Council. She earned a B.A. in business from Virginia Wesleyan's Adult Studies Program in 2011 and enjoys tennis, painting, and spending time with her son and her husband of over 30 years, Wayne. She and her family reside in Norfolk.