Capstone Student Experiences Focus of Inaugural Port Day
VWC community gathered Dec. 6 for a new academic event to be held semi-annually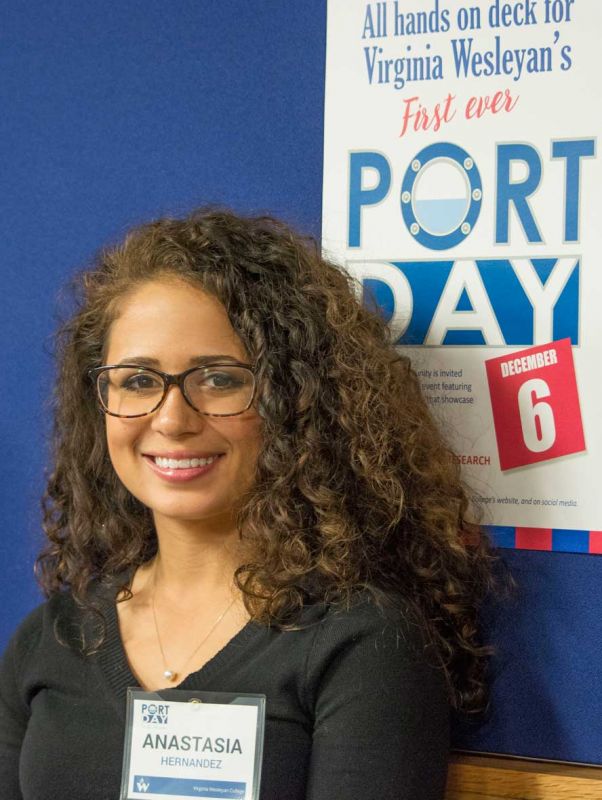 Featured News | December 7, 2016
View gallery of Port Day Photos (by Janice Marshall-Pittman)
By Leona Baker
More than 75 Virginia Wesleyan College students presented to fellow students, faculty and staff about their experiences with undergraduate research, internships or semester study away as part of the College's first ever Port Day on December 6. Port Day will be held at the end of each semester going forward.
Port Day is a campus-wide, conference style event with concurrent sessions in multiple locations throughout the day. No classes or athletic events are held on Port Day. Student presentations on the inaugural Port Day included posters, speeches, PowerPoints, special panels and more. Students represented all three academic schools and a variety of majors and experiences on campus, in the community and around the world.
Psychology major Anastasia Hernandez '17 (pictured) presented a research poster in Hofheimer Library entitled "Gun Safety or Gun Control: The Relationships among attitudes Towards Weapons Aggressive Tendencies, and Students' Self-esteem." Other presentation topics ranged from "Dashboard Creation and User Data Analysis" (Mathematics) to "Germany: Lessons from My Semester in Munich" (German Studies and Business).
Port Day is organized by VWC's Lighthouse: Center for Exploration & Discovery and a special Port Day Committee. It is also one of the premier initiatives of Virginia Wesleyan's 2015 Quality Enhancement Plan, See Change — Sea Change. Lighthouse Executive Director Sara Sewell notes that Port Day reaffirms Virginia Wesleyan's commitment to academic excellence and student success.
"Port Day embodies Virginia Wesleyan's commitment to providing students with opportunities and support that guide them to academic, professional, and personal success," says Sewell. "Virginia Wesleyan takes pride in its student-centered curriculum whereby faculty closely mentor students from their first days on campus all the way through their senior projects."
This new tradition is a signature Virginia Wesleyan event, designed to demonstrate and promote the academic achievement of students and allowing the entire campus community to learn about their work and celebrate their accomplishments. The day is also be an important opportunity for other students who would like to learn how they can undertake a capstone experience at Virginia Wesleyan. The next Port Day will be May 4, 2017. Learn more about Port Day.