Catch Up or Get Ahead During Summer Session 2019
Explore, accelerate, online or on campus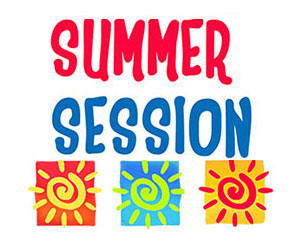 University News | April 18, 2019
From Art to Oceanography, opportunities for learning abound for Summer Session 2019, including two sessions online!
This Summer Session is for everyone, whether students are behind in coursework or working to graduate early, there are five sessions offered so they can catch up or get ahead. Summer Session 2019 provides an opportunity for students to engage in specialty courses, complete General Education requirements, or advance in their majors.
Students can also take a break from the traditional course load, as it is a prime time to study away in destinations like the Amazon, Germany or Alaska. There are also plenty of internship and externship opportunities to take advantage of in the local community. In addition, students can engage in independent research with a faculty member, without distraction from other coursework.
Associate Professor of Biology Deirdre Gonsalves-Jackson is also the director of Summer and Winter Sessions at Virginia Wesleyan. She says that Summer Session is a great opportunity for students to focus on one class and devote a great deal of time and dedication to the course material, noting that the online option for delivery of courses presents increased flexibility for busy summer schedules.
"The benefits of taking online classes are tremendous!" says Gonsalves-Jackson. "Students can travel, return home or live on campus while enrolled in an online course. The flexibility that online courses provide students (and faculty) allows for greater mobility and freedom to study and complete assignments in any setting."
Associate Professor of Psychology Taryn Myers is teaching a course, PSY 350 Psychology and the Law, online this summer. Myers says that this course is a popular elective for psychology and an allied course for criminal justice. She noted that students enjoy learning about how psychological theories explain legal issues as well as the diverse roles that psychologists serve related to the law. During the course students critique TV shows and movies on their representations of the issues we discuss, and students complete a 10-hour service learning project at the organization of their choice.
"I think the online format can help us reach students who would not usually be able to take our courses," noted Myers. "In particular, psychology and criminal justice majors who would like to work ahead on their majors can benefit, even if they do not live in the area. I like the fact that this will be in the summer, when students in theory will have more time for the service learning component."
Summer Session 2019 begins on May 20 and runs through August 23. Session 1 (May 28 – June 24) is four weeks long; Session 2 (May 28 – August 16) is 12 weeks; Session 3 (July 8 – August 16) is six weeks; and Session 4 (May 20 – July 5) and Session 5 (July 8 – August 23) are both online for seven weeks.
"I encourage all students who want to graduate in a timely fashion and focus their studies during a quieter time of the year to consider enrolling in summer session," said Gonsalves-Jackson.
More information and the full schedule for Summer Session 2019 is online.