Share this Story
Center Transformation
New leadership announced for Center for the Study of Religious Freedom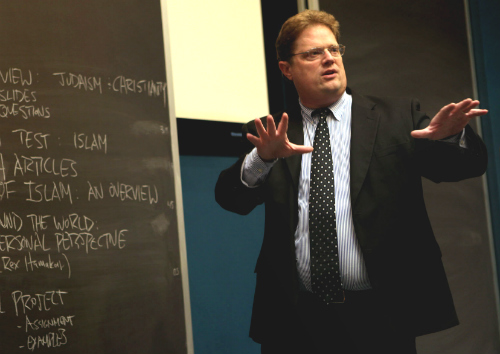 News Release | September 9, 2014
Long-time Virginia Wesleyan College faculty member Dr. Craig Wansink has been appointed as the new Joan P. and Macon F. Brock Jr. Director of the Center for the Study of Religious Freedom (CSRF). Created in fall 1996, the CSRF is a resource for education, respectful dialogue, and mutual understanding relating to issues of religion and faith perspectives. Wansink will lead the College's plans to modernize the Center along with Kelly Jackson, who joins the CSRF team as Associate Director and Dr. Eric Mazur, who will serve as Fellow for Religion, Law, and Politics.
"The goal of the CSRF is to equip students to be leaders and citizens who recognize how the reconciliation of religious differences creates the most meaningful opportunities for civil solutions to difficult and urgent problems," Wansink says. "Our challenge is to do so in ways that are both exciting and meaningful for our students and the broader community."
Wansink has studied at universities in Japan, Jordan, Germany, and Israel and holds his Ph.D. from Yale University. He has been a professor of religious studies at VWC since 1993 and has received national and international recognition for his research on the "Supersizing of The Last Supper," on veterans and religion, and on ancient Roman prisons. He has been an ordained Presbyterian minister since 1987, served as a Fellow for the Harvard University Pluralism Project, and served for 13 years on the Board of Trustees of his alma mater, Morningside College.
Jackson is a graduate of VWC who previously served at the CSRF from 1998-2005. For the last nine years, she has served as Director of Community Engagement at WHRO Public Media. Mazur is Gloria and David Furman Professor of Judaic Studies at VWC and previously served as Chair of the Department of Religious Studies at Bucknell University.
The reorganization of the CSRF creates new and unique opportunities for increased student involvement, curriculum-based programming and dynamic community partnerships that support the Center's mission. Among other events this semester the Center will host speakers on Islam, sponsor the One Love Festival, and host a lecture via Skype from Amman, Jordan on health care and Palestinian refugees.

THE MIDDLE EAST AFTER THE ARAB SPRING
Thursday, September 25 at 6:30 p.m.
VWC's Jane P. Batten Student Center (Convocation Center)
There are more than two billion Muslims in the world today. What do we know about their religion, their conflicts and them as individuals? As the Middle East continues its tumultuous and tragic trajectory, and Muslim extremists groups extend their grip throughout the African continent, is there any hope for a dialogue or understanding between East and West? What lies ahead for Muslims and non-Muslims around the world? Why should we care? Dr. Marc Lynch, Director of the Institute for Middle East Studies at George Washington University, will address these questions and more as part of a national series, "Understanding the Muslim World," sponsored by the World Affairs Councils of America and supported by a grant from the Carnegie Corporation of New York. It is also the kickoff event of the Greater Hampton Roads World Affairs Council 2014-2015 Distinguished Speakers Series and is being held in cooperation with the Center for the Study of Religious Freedom. This event is free for VWC faculty, staff and students, but attendees must register at stores.hrwac.org. For more information, contact Kelly Jackson at kjackson@vwu.edu or 757.455.3129.