Clarke Hall: Modernization Supports Growth
Phase I Upgrades include redesigned classrooms and new technology
University News | April 4, 2022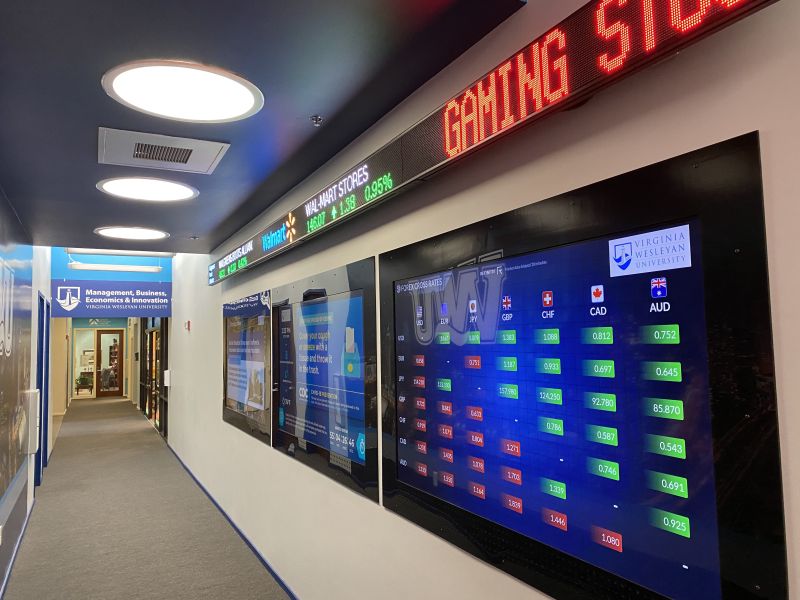 Step into Clarke Hall on the Virginia Wesleyan University campus and you'll quickly discover that it is not business as usual. A new look and state-of-the-art technology has resulted in redesigned classrooms and spaces and improved instrumentation.
The upgrade is the first of a two part process that will be completed in 2023, said Dr. Scott D. Miller, President of the University. Phase one, which included modernization and upgrades to six "major" spaces in Clarke Hall, were completed in January 2022. The second phase, to include additional instrumentation and classroom modernization, will likely be completed during the 2022-23 academic year.
"The management, business and economics program (department) has grown significantly during the last five years," Dr. Miller noted. "Both in person and online programs, offered for credit and non-credit, have grown in size, quality and impact and we have become a preferred provider for the regional business community."
Offered jointly through VWU's D. Henry Watts School of Professional Studies and VWU Global Campus, courses and professional development programs are now available in person on campus, online via VWU Global Campus, and off-site at The Hive in Virginia Beach Town Center, and various local businesses. The Hive is a partnership between VWU, Virginia Beach Economic Development, the Hampton Roads Workforce Council, and Tidewater Community College.
Constructed in 1998, Lambuth M. Clarke Hall has traditionally served as the "Academic Center" of the University, housing academic administration offices, Center for Exploration and Discovery, Beazley Technology Center, Learning Center, and business classrooms. The renovation now also includes a new Faculty Collaboration Studio near the main entrance.
The upgrades were initiated to provide state-of-the-art facilities to support Virginia Wesleyan University's growing business and workforce development and job training capabilities. "We have terrific faculty in the MBE/Workforce programs," Miller said. "We needed to provide new centralized space for them to collaborate and new technology to support them and grow these initiatives."
Miller stated Virginia Wesleyan moved from college to university status in 2017. With that came a graduate program in business and a variety of online programs. He added that at the start of the COVID-19 pandemic, during the Governor's (then Gov. Ralph Northam) state at home order, over 8,000 learners from Coastal Virginia enrolled in non-credit programs to prepare them to reenter the workforce. "Many had been retrenched, furloughed or wanted change. I was pleased to see us meet that need," he said.
The success of the initial offerings attracted the attention of Taylor Adams, Virginia Beach Deputy City Manager/Director of Economic Development, who noted that 72 percent of those registered were from Virginia Beach. Adams and Miller discussed ways that a collaboration between VWU/VPED and the HRWC could benefit the Virginia Beach Community.
Funding was acquired in the fall of 2021 putting the planning process in motion. Renovations were designed by NetTek of Norfolk in collaboration with faculty from the MBE department. NetTek is a full-service technology solution provider who works with businesses and senior management to create efficiencies offered with today's latest computer technology, according to John Almeter, President of NetTek.
The renovations and improvements were funded through a series of gifts and grants from private sources.
In addition to the Faculty Collaboration Studio, the main corridor on the first floor now feels more like a high-tech global business center. A fresh color scheme and artwork depicting the Town Center of Virginia Beach, the Waterside area of Norfolk, and the skyline of Tokyo Japan—home to a collaborative center of the University (LUJ/VWU Global, Japan). A lengthy live stock market ticker display message board and three 75" high definition video screens share the latest financial news, VWU information, and an interactive world map.
A Business and Technology Hub, which doubles as a cyber security lab, with 24 new computers, test benches and moveable furniture creates a café style space conducive to collaboration. Instructors have access to a new workstation and 50 inch monitor and 8 foot glass whiteboard with dual projectors.
The new Innovation Theater features additional instructional technology which includes presentation monitors, dual laser projectors on two motorized 12-foot projection screens, a 75-inch touch screen monitor and a light board with a fixed livestream camera for enhanced lectures and interviews.
"The One Button Recording Studio offers a simple solution for creating instructional videos with minimal set-up," said VWU Chief Information Officer Gregory Skinner. "The light board associated with the dual-monitor projector can be described as a digital chalkboard; it allows faculty to face their audience while writing on a glass board. The image from the board is flipped and projected on one of the projectors alongside any other material instructors choose to display."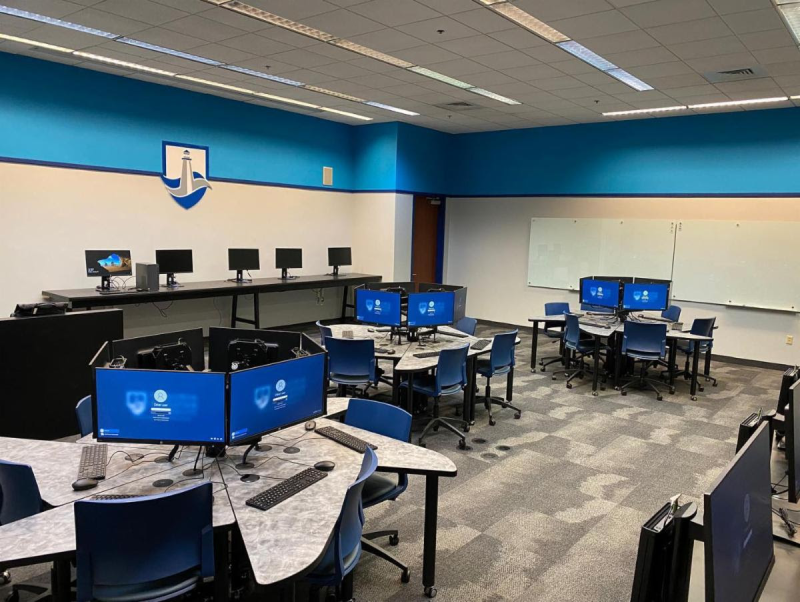 Skinner leads staff in the Malbon Center for Technology, who have been providing demonstrations of the new equipment and tours of the updated space for faculty.
"The interactive projectors provide instructors with the ability to display and annotate presentations, documents, or web pages directly from the board with a touch of hand or electronic pen; no navigation from the computer required," noted Skinner.
The state-of-the-art classrooms provide faculty with tools to integrate technology into their teaching and create more engaging learning experiences for students. The One Button Recording Studio, Skinner said, provides faculty a way to integrate the "flipped classroom" pedagogy into their instruction. Instructors can film videos for students to review before class at their own pace, while preserving class time for more in-depth, collaborative work.
On the second floor, two classrooms were also modernized. One will serve as the Pearson Testing Center providing certification exams to students and the local community. The second classroom serves as a broadcast studio for virtual classroom learning. The room is equipped with interactive projectors, a light board with a fixed camera to face the audience.
"The MBE faculty are very pleased with the upgrades," said Dr. Michelle Vachris, Professor and Chair of Management, Business and Economics and Director of the Master of Business Administration program. "The enhanced presentation technologies add to our ability to facilitate learning in these welcoming spaces."
Dr. Ben Dobrin is the Dean of the D. Henry Watts School of Professional Studies, and Dr. Deirdre Gonsalves-Jackson is the Dean of VWU Global Campus. Larry Belcher is the Director of Enrollment, VWU Global Campus, and serves as the recruiter for both programs.
Learn more about VWU's business department and continuing education offerings through VWU Global Campus.