Share this Story
Commencement for the Class of 2022
Virginia Wesleyan celebrated its newest graduates on May 14 in TowneBank Arena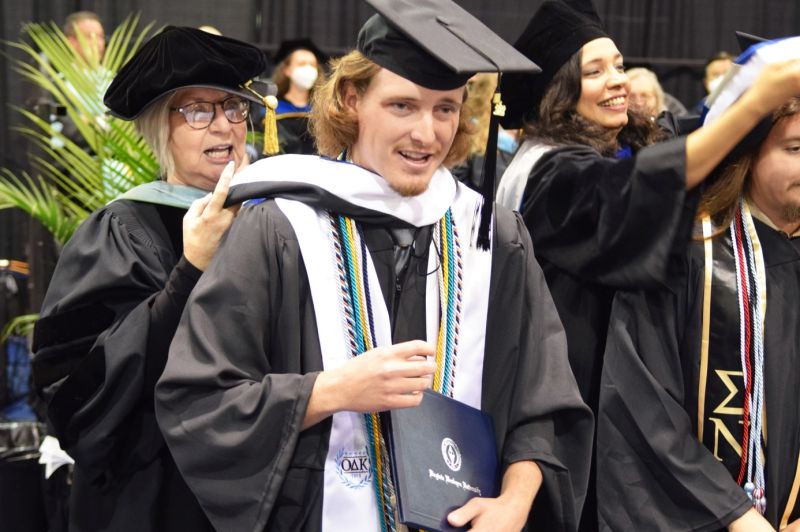 University News | May 14, 2022
Photo Gallery: Commencement Ceremonies 2022
Virginia Wesleyan University celebrated its Class of 2022 on May 14 with the annual Commencement Ceremony in TowneBank Arena in the Jane P. Batten Student Center.
"As you leave these beautiful campus grounds, I know you have dreams for your path ahead," VWU President Scott D. Miller told graduates during his welcome remarks. "Hold on to these dreams. Some will grow, some will change, and some will be left behind. But know that for any dream to come true, you have to work for it."
"Your dream of graduating today didn't just happen," he continued. "You planned for it. You sacrificed for it. And you worked hard for it. The dreams that truly matter to you will be the ones you work for, and I wish you all the best as you embark on your journey to make those dreams come true."
Following his remarks, Dr. Miller introduced Commencement Speaker S. Bernard Goodwyn, chief justice of the Supreme Court of Virginia. Chief Justice Goodwyn encouraged graduates to dream big, and to use their newly earned degrees as keys to unlock the doors to their aspirations.
"You must decide for yourself what you want out of life," he said. "You must decide for yourself what success means. I want you to understand and to know that whatever the success that you seek is, you have all the tools necessary to achieve that success, if you believe in yourself and you persist in seeking your goals."
President Miller and Vice President for Academic Affairs Dr. Susan Larkin then conferred degrees upon students earning a Master of Arts in Education, Master of Business Administration, Bachelor of Arts, Bachelor of Science, Bachelor of Musical Arts, and/or Bachelor of Social Work. Graduates of each academic school proudly crossed the platform to receive their diplomas as cheers celebrated their promising futures.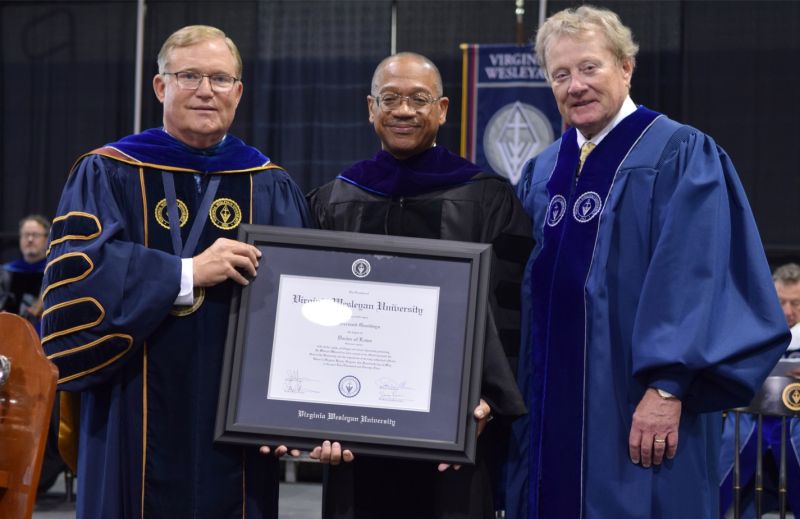 The University also presented Chief Justice Goodwyn the degree Doctor of Laws, honoris causa; John F. Malbon, outgoing chair of the Virginia Wesleyan University Board of Trustees and retired chairman and chief executive officer of PAPCO, Inc., Doctor of Humane Letters, honoris causa; and Susan S. Goode, outgoing vice chair of the VWU Board of Trustees, Doctor of Arts, honoris causa.
Three distinguished Virginia Wesleyan faculty members received awards during the ceremony. The 2022 Samuel Nelson Gray Distinguished Teaching Award was presented to Dr. Deirdre Gonsalves-Jackson, dean of VWU Global Campus and associate professor of biology; the Birdsong Service and Community Engagement Award to Kathy Stolley, professor of sociology; and the United Methodist Church General Board of Higher Education and Ministry 2022 Exemplary Teacher Award to Dr. Bill Gibson, retiring professor of political science.
The ceremonies concluded with the University's Alma Mater led by Dr. Bryson Mortensen and Virginia Wesleyan Vox Vera, and a benediction from Baccalaureate Speaker Rev. Beth Givens, pastor of Haygood United Methodist Church.
"Now is your chance to make the most of your life," President Miller said. "A chance to consider not only what you want to be but who you want to be… Congratulations to the Virginia Wesleyan University Class of 2022 on your arrival at this special occasion. Good luck and Godspeed as you savor this milestone."
Baccalaureate Service
Virginia Wesleyan University's Baccalaureate Service took place on May 13 in the Brock Theatre of the Goode Fine and Performing Arts Center. The sermon, "Love Is All We Need to Know," was delivered by Haygood United Methodist Church Pastor Rev. Beth Givens, who was also presented with the University's prestigious Wesley Award. Erin Highsmith '22, recipient of VWU's 2022 President's Leadership Award, delivered a student reflection. Wesleyan Vox Vera, led by Dr. Bryson Mortensen, performed a pre-service concert.
Batten Honors College Capstone Ceremony
Also on May 13, the Batten Honors College recognized graduating seniors who have completed the honors college requirements during a special Capstone Ceremony. Lindsay White '22 delivered a keynote address, and all graduates were presented with a Batten Honors College medallion to wear during the Commencement Ceremony. The medallion represents the graduates' accomplishments as well as their participation in this elite community of scholars.
Army ROTC Commissioning Ceremony
The traditional Army ROTC Commissioning Ceremony took place May 14 in Hofheimer Library, where new VWU graduate Dakota Felkins-Beach was commissioned into the Medical Corps, U.S. Army Active Duty. The Commissioning Oath, Pinning of Gold Bars, and First Salute/Silver Dollar Ceremony followed opening remarks from Lieutenant Colonel Camala Coats, professor of military science, and Scott D. Miller, president of the University. The Marlin Company, previously the Marlin Detachment, was established at VWU in February 1998 and operates as part of the Monarch Battalion.
Ceremonies were livestreamed and will be archived on the VWU Digital Broadcasting Network. View the full programs for the 2022 Commencement Ceremony, Baccalaureate Service, Batten Honors College Capstone Ceremony, and the Army ROTC Commissioning Ceremony.

Lifetouch Special Events captured photographs of each graduate who crossed the dais during Commencement. Photos may be purchased at events.lifetouch.com/vwu. Questions may be addressed to specialevents@lifetouch.com or 800.505.9496 Monday-Friday 8 a.m.-6 p.m. EST, or online at contact.lifetouch.com. There is no obligation to purchase photos.