Competition Begins for Batten Honors College Fourth Cohort
The first of three competition weekends took place November 16-18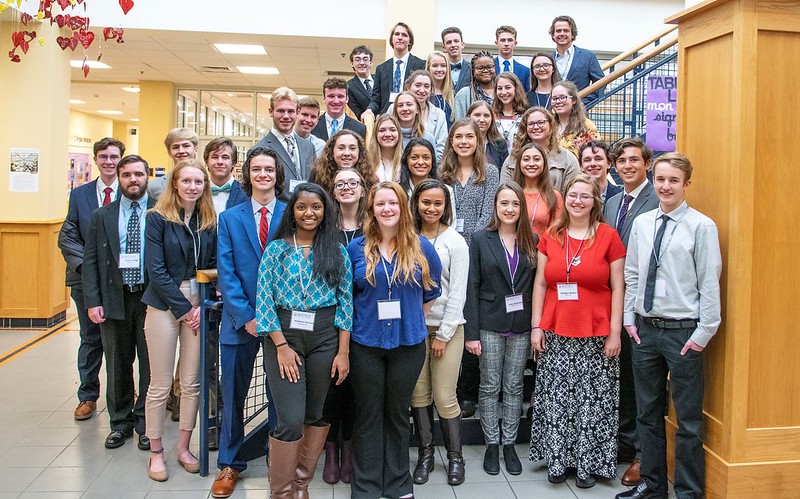 University News | November 18, 2019
Photo Gallery: Batten Honors College Competition (November 2019)
Prospective Batten Honors College students visited Virginia Wesleyan November 14-16 to compete for a space in the elite program's fourth cohort. Additional competition weekends will take place in February and March.
The first cohort of Batten Honors College students arrived in fall 2017 in conjunction with the opening of the Greer Environmental Sciences Center. The program fully or partially funds 40 new academically talented students each year and, with the addition of the fourth cohort, will grow to 160 students.
The competition began with an evening welcome reception at Slover Library in downtown Norfolk and continued Friday and Saturday with presentations, interviews, campus tours, class visits, and panel discussions. Participating students and their parents also attended a reception Friday evening at the Virginia Aquarium & Marine Science Center in Virginia Beach.
Twenty students are selected each year to receive the Batten Fellowship, a prestigious scholarship renewable for four years and covering the full amount of tuition plus funding for an international study-away experience during the junior or senior year. The Batten Honors College also recognizes the academic merit and leadership potential of an additional 20 Shumadine Scholars, who receive scholarships equal to two-thirds tuition. This selective academic program is made possible by generous support from Virginia Wesleyan University Trustee Emerita Jane P. Batten H'06 and her late husband, Frank Batten, Sr.
Through small class sizes, personalized instruction and especially vigorous faculty-student interaction, the Batten Honors College is designed to prepare leaders and environmental stewards. The curriculum explores diverse disciplines within the natural sciences, humanities, social sciences, and mathematics.
Learn more about the Batten Honors College