December Graduates Recognized
University holds annual recognition ceremony and reception December 8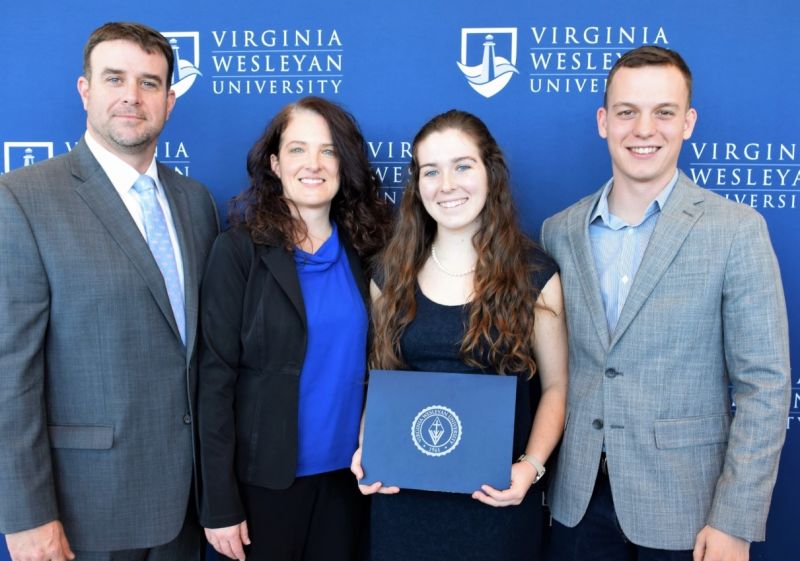 University News | December 8, 2019
Photo Gallery: December Graduates' Recognition Ceremony
Fifty-five students were recognized at the December Graduates' Recognition Ceremony and Reception on December 8 in anticipation of completing their degree requirements at the end of the fall semester. Held in the Susan S. Goode Fine and Performing Arts Center, the event brought together families and friends, faculty and staff, and other distinguished guests to pay tribute to the students' achievements.
Virginia Wesleyan University President Scott D. Miller welcomed attendees and congratulated the graduates. He shared gratitude for those who have supported the students' efforts and acknowledged the dedicated faculty for their skilled teaching, advising and mentoring, which provided invaluable guidance in helping the students to achieve their educational goals.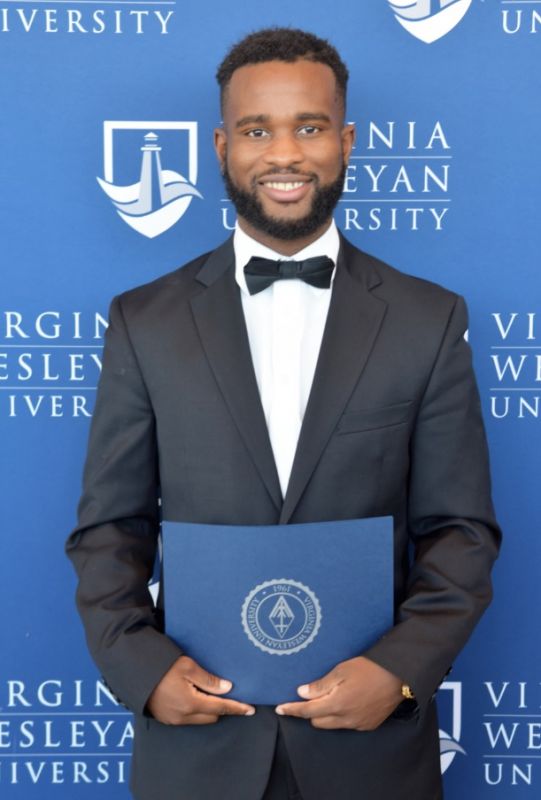 "Wherever your paths lead, remember that after today you will no longer be Virginia Wesleyan students," Dr. Miller said, "but for the rest of your lives, you will be Wesleyan alumni, joining the distinguished men and women whose experiences at Virginia Wesleyan continue to inform careers and contributions to society."
"We encourage you to return to campus early and often," he continued, "and to keep us informed of your life developments. We always promise you a warm Virginia Wesleyan welcome when you come home to us."
As is University tradition, the faculty recipient of the 2019 Samuel Nelson Gray Distinguished Teaching Award served as the keynote speaker for the event. Dr. Travis Malone, Dean of the Susan S. Goode School of Arts and Humanities and Professor of Theatre, encouraged graduates to consider adopting a life motto, citing wise one-liners from "Star Wars," Shakespeare, Aesop, and even "The Lion King."
"Brief lines, sayings, taglines, and mottos can be found throughout all human civilizations," Malone said. "They not only describe, but also inspire and make meaning. And we humans are meaning-seeking creatures. We perpetuate these sayings. We even go so far as to attempt to live by them."
Malone offered to lend his own motto—"Be Brilliant"—if the graduates have yet to find their own.
"Remember that just as you have shined here in our classes and on our campus—continue to shine," he said. "VWU and the faculty are what you have grown beyond. We will watch your careers with great interest. Hold fast to your motto. From this point forward and in all you do, 'Be Brilliant.'"
Following the individual recognition of each student, VWU Alumni Council member Alisa Crider '10 addressed the newest Marlin alumni, inviting them to pursue lives and careers in a spirit of service, leadership, achievements, and contributions of many kinds. She encouraged them to stay connected to their alma mater as they join the ranks of more than 10,000 Virginia Wesleyan graduates.
"Sharing a unique bond with all Virginia Wesleyan students, past, present, and future," said Crider, "we alumni welcome you as new graduates, and we stand with you as you celebrate this milestone event. Our experiences with Virginia Wesleyan will forever connect us to you, and together to our alma mater."
The event concluded with the singing of the Virginia Wesleyan Alma Mater, led by Dr. Bryson Mortensen and members of the Vox Vera student choir. A reception followed the ceremony in the Eleanor and Henry Watts Grand Lobby and Gallery.
A recording of the December Graduates' Recognition Ceremony will be archived on the VWU Digital Broadcasting Network. Mid-year graduates are encouraged to participate in Virginia Wesleyan's formal Commencement Ceremony on May 16, 2020.