Election 2020
Marlins Vote promotes voter registration, issues education, and volunteerism
University News | November 2, 2020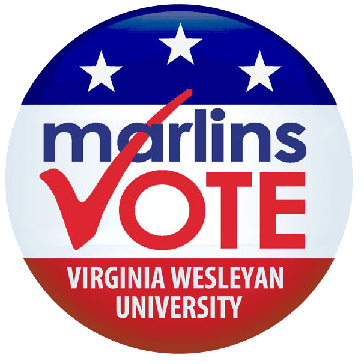 In preparation for Election Day 2020 on Tuesday, November 3, Marlins Vote, Virginia Wesleyan's campus election engagement initiative, has taken the lead in promoting active citizenship for students.
According to the nonprofit "Votes Count," one of the biggest reasons citizens don't vote is because they don't have all the information they need about when, where and how to vote.
As an enterprise of Wesleyan Engaged: Center for Civic Engagement and Service Learning, Marlins Vote is the student-led organization responsible for promoting information about voter registration, issues education, and volunteer opportunities. The organization typically designs a variety of academic and social activities to encourage students and the broader campus community to become active participants in the electoral process at the local, state, and national level.
"The 2020 election year has been unique to say the least," said Brian Kurisky, Executive Director of Civic Engagement and Service Learning and Chief Diversity Officer. "Due to the COVID-19 pandemic, registering students to vote has been more challenging. In years past, we would host a voter registration table in the dining hall; this year, however, in order to follow safety protocols, we have had to adapt our processes to include more virtual messaging and strategies that involve faculty in disseminating information. We've also connected with more national organizations' events to engage students and let them know that their voice matters."
VWU students Dakota Felkins-Beach, President of Marlins Vote, and Ashley Roehrman, President of Marlins Go Green, have taken the lead in organizing activities during this election year by helping students register to vote, making sure students have transportation to vote early and in-person, and in assisting them in requesting absentee ballots.
In addition to voter registration efforts, the campus community is also a part of the ALL In Campus Challenge, which focuses on fully engaging students in electoral participation. Through this effort, students have had opportunities to participate in community debate watch parties and have had access to more virtual resources, including webinars and curriculum enhancements.
On election day, Wesleyan Engaged will also provide shuttle transportation for students to and from VWU's polling site, helping to ensure that all eligible Marlins vote!
Visit the Wesleyan Engaged: Center for Civic Engagement and Service Learning webpages for more information about Election 2020, including up-to-date information about the candidates, constitutional amendments in Virginia, and absentee ballots.