Share this Story
Emilee Caldbeck: Merging the Worlds of Psychology and Marine Conservation
2019 Graduate Stands as Testament to Power of Interdisciplinary Ingenuity
University News | September 11, 2023
In the world of marine conservation, a field often dominated by biologists and environmental scientists, Emilee Caldbeck stands as a testament to the power of interdisciplinary ingenuity. The Virginia Wesleyan University 2019 graduate, with a rich academic background that intertwines psychology and marine biology, is carving out a unique niche at the Georgia Aquarium in Atlanta, where her deep understanding of cognition and behavior finds applications in the care and training of marine mammals.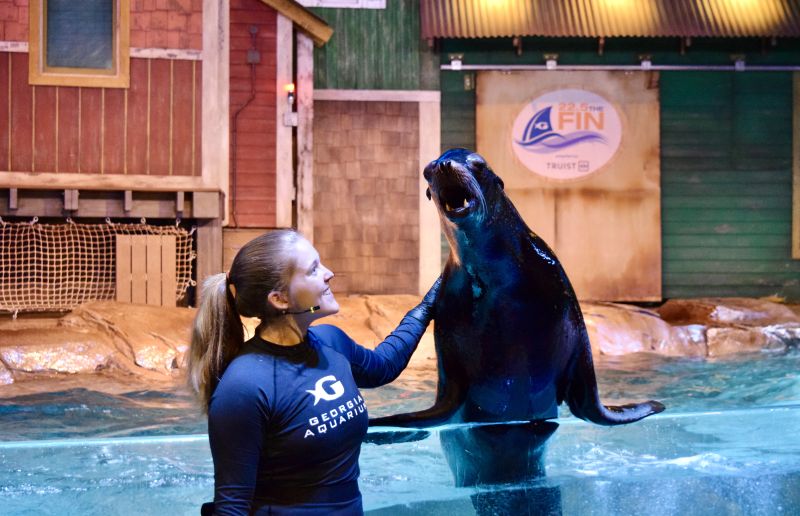 The road to merging psychology with marine biology is not one traditionally traveled. But Emilee, fortified with a curiosity ignited during her psychology classes, realized that the study of behavior and cognition could intertwine with that of marine animals.
According to Dr. Taryn Myers, Chair of the Psychology department at VWU, Emilee was nothing short of an outstanding student, adeptly balancing her psychology work with supplemental studies in biology. Emilee's remarkable research project, where she studied social learning in stingrays, stood out as a hallmark of her time at the university. Not only did she win an award for this innovative research, but she also established a strong foundation for her future career.
Internships and Career: Learning and Leading in the Field
Emilee's educational journey continued with an enriching internship at the PAWS Wildlife Hospital near Seattle. There, she delved deep into the world of wildlife care and rehabilitation, gaining invaluable skills and insights that would steer her towards a fulfilling career at the Georgia Aquarium.
Now, as an assistant trainer working with pinnipeds at the Aquarium, Emilee applies the behavioral principles she learned during her studies to her daily work. She has had the opportunity to work with a range of marine life, from dolphins and belugas to seals and sea lions, making a noticeable impact in their conservation and understanding.
Future Aspirations: A Continuous Journey of Learning and Sharing
Looking ahead, Emilee harbors a simple yet profound aspiration: to keep the passion alive in her work. She envisions herself sharing the wonder of California Sea Lions with others, aiming to influence a larger audience through conferences and educational opportunities.
Through her journey, Emilee Caldbeck showcases the significant strides one can make when traditional boundaries are crossed, paving the way for a richer and more nuanced approach to marine conservation. It is a clear testimony to what is possible when passion meets innovation in the quest to safeguard our ocean's magnificent inhabitants.