In Appreciation
Larry Hultgren, VWC's longest-standing faculty member, among dedicated employees honored April 23 at annual Employee Appreciation Reception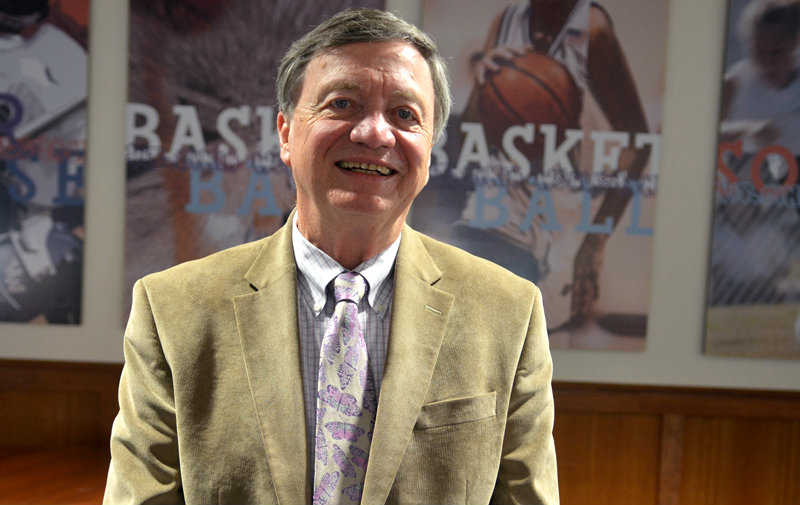 By Staff | April 27, 2015
Among the honorees at the annual Employee Appreciation Reception held April 23 was one of Virginia Wesleyan's most beloved and well-known professors, Larry Hultgren. This academic year marks the 45th year of teaching for the philosophy professor, VWC's longest-standing faculty member. Hultgren also serves as director of the College's PORTfolio Program.
"Dr. Larry Hultgren is truly a gentleman and a scholar at the height of his career," said Travis Malone, associate professor of theatre and chair of the Division of Humanities. "His humility, good grace, and calming presence have provided much needed levity and leadership over the years."
Hultgren was honored along with 27 other Virginia Wesleyan employees with years of service ranging from 10 to 35 at the reception held in the Pearce Hospitality Suite. Honorees enjoyed hors d'oeuvres and cake as they were recognized by VWC President Billy Greer and Human Resources Director Karla Rasmussen.
"Today we honor those faculty and staff who have dedicated themselves over time to the mission we embrace," said Rasmussen. "We come from a variety of backgrounds and experiences. We have different gifts and strengths, different positions and responsibilities…yet we function within VWC as one community committed to a mission of education and service."
Congratulations to the following employees for reaching noteworthy career milestones:
2015 Employee Honorees
10 Years
| | |
| --- | --- |
| Soraya Bartol | Associate Professor of Marine Biology |
| Richard Bond | Batten Associate Professor of History; Director of the General Studies Program |
| Victor Dorsey | Sergeant, Campus Security; Shift Supervisor |
| Christine Hall | Associate Director of Communications; Graphic Design Manager |
| Sheri Higgason | Development Assistant for Gifts |
| Marea Hyman | Associate Director of Student Counseling |
| Craig Jackson | Associate Professor of Psychology |
| James Losey | Gardener |
| Travis Malone | Associate Professor of Theater and Chair of the Division of Humanities |
| Kathleen Reese | Adult Studies Program Academic Adviser and Outreach Coordinator |
| John Rudel | Batten Associate Professor of Art; Coordinator of Art Exhibitions |
| C.J. Sholler | Assistant to the Director of Security |
| Betty Spence | Housekeeper |
| Harold Stallings | Housekeeper |
| Kathy Stolley | Professor of Sociology; Associate Dean for Innovative Teaching and Engaged Learning |
| R. Cathal Woods | Associate Professor of Philosophy |
20 Years
| | |
| --- | --- |
| Sandra Billy | Director of the Center for Sacred Music |
| Benjamin Dobrin | Professor of Social Work |
25 Years
| | |
| --- | --- |
| Elaine Dessouki | Assistant Professor of Management, Business and Economics |
| Judith Tinsley | Executive Administrative Assistant |
| Joyce Young | Housekeeper |
30 Years
| | |
| --- | --- |
| Leslie Hines | Administrative Assistant; PORTfolio Program |
| Diane Hotaling | Director of Community Service |
| Carol Johnson | Associate Professor of English |
| Cheul Kang | Professor of Management, Business and Economics |
35 Years
| | |
| --- | --- |
| J. Michael Hall | Lambuth M. Clarke Professor of English |
| Sharon Wilson | Associate Registrar |
46 Years
| | |
| --- | --- |
| Larry Hultgren | Professor of Philosophy; Director of the PORTfolio Program |