Empty Bowls Charity Event Returns on April 10
VWU partners with the Ceramic Designers Association to raise funds for local charities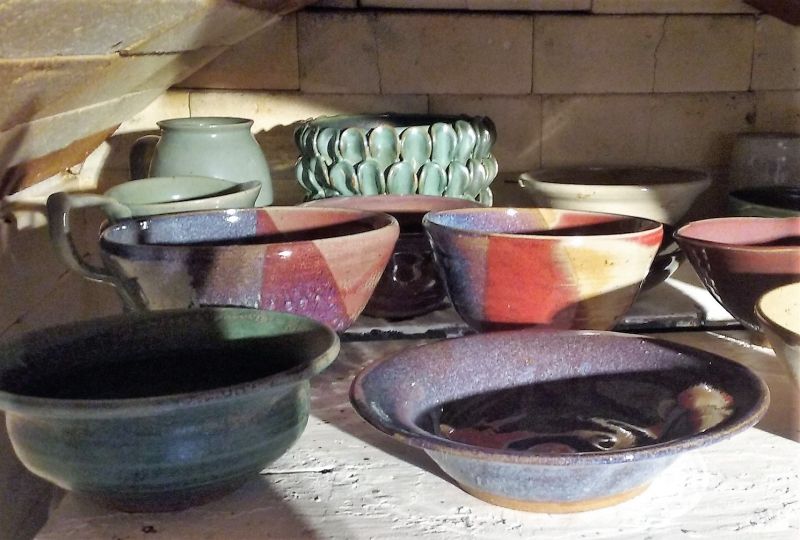 University News | March 31, 2022
Empty Bowls is back! The event returns this year after a hiatus caused by the COVID-19 pandemic.
The 22nd Annual Empty Bowls Charity Event will be held in Virginia Wesleyan University's CMAC in the Batten Student Center on Sunday, April 10 from noon to 3 p.m. The event, organized locally by the Ceramic Designers Association (CDA), has been hosted by Virginia Wesleyan for 21 of the 22 years it has been in existence in the Coastal Virginia community.
The Empty Bowls project is an international grassroots movement held annually in many communities to help raise both money and awareness in the fight to end hunger. The very first local Empty Bowls Charity Dinner was in 1998 at Holy Family Catholic Church. Needing a larger venue, in March 1999, the event moved to Virginia Wesleyan for the first time, thanks to the efforts of VWU alumna Susan Alexander Mizell '80, and it has been hosted at VWU ever since.
This year, handmade soup bowls crafted by local artists will be sold for $25 and $10. In addition, there will be an Art Gallery Sale featuring pottery and art work donated by CDA members and other artists. Food will not be served this year due to continued safety precautions associated with COVID-19.
In addition to providing the venue, Virginia Wesleyan has supported the event by providing volunteers and active participation from the campus community. VWU Professor of Art Phil Guilfoyle, a member of CDA, has offered January Term courses that resulted in VWU art students contributing their handmade pottery bowls to the event. He has also performed potter wheel demonstrations at the event in the past, contributed his works to the silent auction, and donated bowls.
"This year, I have made bowls to donate to the event and so have VWU students," said Guilfoyle. "This past February I hosted a 'Bowl Roll' in the VWU studio on a Saturday and about 13 CDA potters came to help make more than 65 bowls. Then we met the next week and glazed them, and I fired them in the new VWU gas kiln."
Guilfoyle says that he and students had also made bowls back in spring 2020 for the Empty Bowls dinner that had to be cancelled.
"I had stored all of those bowls until this spring and now they too will be available for purchase at this April's event. That amounts to 30 or 40 bowls made by me and my students," noted Guilfoyle.
The event is free and open to the public. All proceeds will go to support local charities which include the Foodbank of Southeastern Virginia, Judeo-Christian Outreach Center, Help and Emergency Response (H.E.R.) Shelter, Oasis Social Ministries, Samaritan House, and Union Mission.
"We look forward to hosting Empty Bowls on our campus each year," said Guilfoyle. "In addition to showcasing the talents of local artisans, including VWU students, it brings people together to support local community organizations in raising awareness and money for combatting hunger. Through this annual project, the students are learning a skill that they can apply to help someone else. They can use their talents to support a vital cause and help serve those in need in our community."
The Ceramic Designers Association is a group of local ceramic artists and potters dedicated to clay. The diverse group of artists, from emerging potters to professionals, create works of art from the basic elements of earth and water. Their support and participation in local art shows, charitable events and workshops contribute to the cultural life of the Hampton Roads area.
Learn more about the 2022 Empty Bowls Charity Event and the Ceramics Designers Association.