Excelsis: A Batten Honors College Publication
Spring 2021 edition includes features written by scholars in the program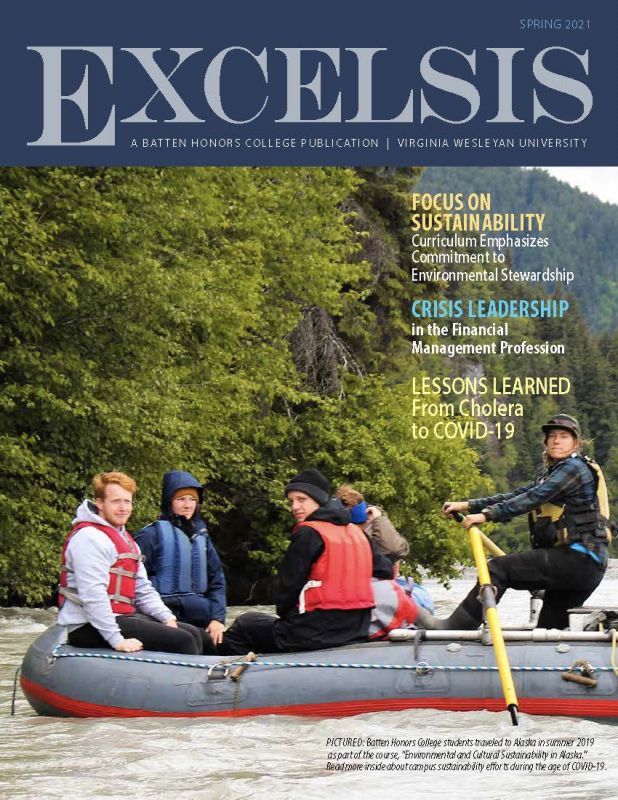 University News | March 31, 2021
The spring 2021 edition of Excelsis, a publication by the Batten Honors College of Virginia Wesleyan University, is now available online. The latest issue includes eight features written by Batten scholars on topics ranging from crisis leadership to research on campus sustainability.
Features in the latest edition include:
"Remember Their Voices, Insight Into An Internship With A Non-Profit Organization," by Katherine Ramsey;
"Crisis Leadership in the Financial Management Profession," by Bianca Atkinson;
"Students Research Campus Sustainability and Adapt to COVID-19 Challenges," by Connor Merk;
"Represention Written Wrong," by Jennifer Vega;
"Lessons Learned from Cholera in the 1800s to COVID-19 in the 2000s," by Amruta Karkare;
"An Intermission of Leadership," by Phoebe Cox;
"Sophomore Experiences Virtual Inauguration Program," by Charlotte Weinstein; and
"Applying Mathematical Modeling to Public Health Decisions," by Abby Peterson.
The Batten Honors College inspires, engages, and prepares academically talented students to become leaders, environmental stewards, and impactful citizens in the global community.
Read the spring 2021 issue of Excelsis.