Faculty-led Trip to China an Interdisciplinary Global Experience
Grant for Saving China's Cultural Heritage project provides unique opportunities for students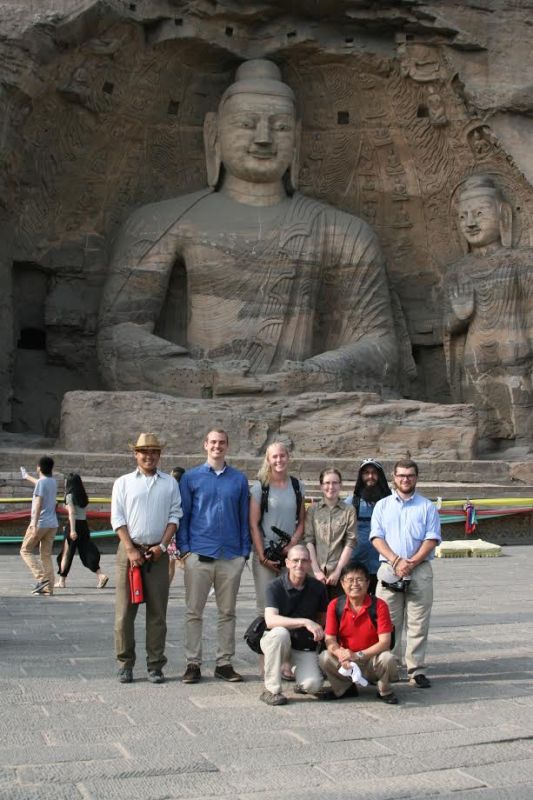 Featured News | November 16, 2016
By Laynee H. Timlin
In early 2016, the ASIANetwork Freeman Student-Faculty Fellows Program (SFF) awarded Professor of Philosophy Steven Emmanuel and Professor of Computer Science Zizhong Wang a grant for their project: Saving China's Cultural Heritage – Balancing the Goals of Preservation and Development at Wutai Shan and the Yungang Grottoes.
The grant enabled the Virginia Wesleyan professors to create an experience for students that connected the study of Chinese culture with the important contemporary issues of pollution and economic development. They did so with a focus on efforts to preserve two important religious heritage sites located in China's Shanxi province: Wutai Shan and the Yungang Grottoes.
During the summer of 2016, Emmanuel and Wang traveled to China with their Virginia Wesleyan student fellows: Brian Hanna-Sauro'17 (computer science), Nicholas Hipple'17 (business), Victoria Laughlin '17 (computer science), Ching Lee (earth and environmental science), Robert McComb '17 (political science), and Alana Peters'18 (communication). Each member of the team was charged with taking the lead on an aspect of the project connected to their field of study and personal interests.
In Shanxi province, the students began conducting documentary-style interviews with various stakeholders—government officials, researchers, members of the Buddhist monastic community, local residents, business owners, and visitors—as well engineers involved in the work of preservation. The VWC team collected photographic images, documents, and audio and video clips. They also wrote the scripts for their video narrations.
VWC communication major Alana Peters says that the experience allowed her to apply skills she's learned in her major to real life scenarios. "I had a blast capturing footage of ancient Chinese heritage sites. I also enjoyed working through language barriers to interview the native Chinese and interact across cultures." As a result, she's considering adding depth to her VWC academic experience by including study of a second language.
The students also met faculty members and students from Taiyuan University of Technology, where they attended formal presentations of research on relics preservation, toured working labs, and had opportunities to ask questions and engage in discussion with the researchers there.
Under the mentorship of Professor Wang, computer science students like Brian Hanna-Sauro gained hands-on experience designing and implementing a database system and writing a mobile application to interface with it. Their work was a collaborative effort with their Chinese colleagues and mentors.
"From a career perspective, international collaboration is a valuable skill and I believe I made some important acquaintances in my field during my visit," says Hanna-Sauro who despite having traveled the world in the Navy gained new insight through the trip. "No matter where you go, you will find people just trying to live their lives in peace. That's one thing we all have in common."
The other members of the team were involved in thinking through the organization and presentation of the collected materials. Professor Emmanuel guided the students in the collection, editing and archiving of photographic images and video content. Students like business major Nicholas Hipple looked at the project to identify and understand cultural differences.
"There can be differences among the various regions of the world," Hipple says, "but the reality in which we exist demands that virtually every business (from locally owned start-ups to Walmart) have some interaction with customers, suppliers, and business partners around the world."
The results of the VWC team's research has been captured in a self-contained database system designed and developed by the students for the purpose of educating people about the two sites, their cultural and religious significance, and the challenges involved in preserving them. The database contains educational information about each site as well as an extensive collection of digital images and a documentary film.
Since returning from China, the students have had opportunities to share their research with members of the VWC Board of Trustees, and they plan to do a poster board presentation at the 2017 ASIANetwork conference and to share their contributions to the project at the 2017 International Conference on e-Learning, e-Business, Enterprise Information Systems, & e-Government.
According to Professor Emmanuel, "The opportunity to conduct research with students abroad is extremely rewarding. There is tremendous value in short-term, intensive, faculty-led projects that immerse students in a different culture and focus their attention on important global issues."