Share this Story
Fall 2023 Edition of Excelsis Features Inspiring Stories of BHC Scholars
The latest publication of the Batten Honors College is now online
University News | November 17, 2023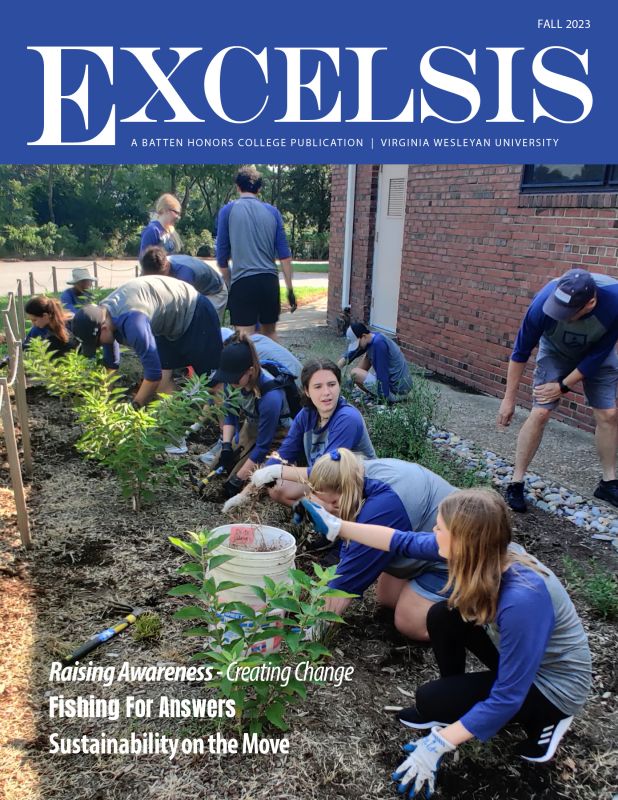 The fall 2023 edition of "Excelsis," a publication of the Batten Honors College of Virginia Wesleyan University, is now available online. The latest issue includes a letter from Dean of the Batten Honors College Dr. Travis Malone, features by the scholars, student achievements, BHC events, interviews with BHC scholars, and an alumni spotlight.
Fall 2023 features include:
"Raising Awareness, Creating Change," by Aiden Foley;
"Life is a Beach in Alicante, Spain," by Rhian Tramontana;
"Seize the Opportunity," by Cara Caruso;
"Surveying Freshwater Ecosystems," by John Wampler;
"Fishing for Answers," by Sasha Saxon;
"Sustainability on the Move," by Jessica Wilson;
"Honing in on Housing Assistance," by Sam Silvia;
"Reflections from an SGA President," by Eddie McDonald;
"Getting to Know You," interviews with Aiden Croghan, Calee Lukowski, Kendall Abercrombie, and Milo Schuehle; and
"Alumni Spotlight" featuring Ryan Westpfhal '22.
The Batten Honors College inspires, engages, and prepares academically talented students to become leaders, environmental stewards, and impactful citizens in the global community.
Read the fall 2023 issue of Excelsis.