First Formal Mid-Year Commencement Celebrates Graduates
The VWU Global Campus Commencement Ceremony took place December 18 in TowneBank Arena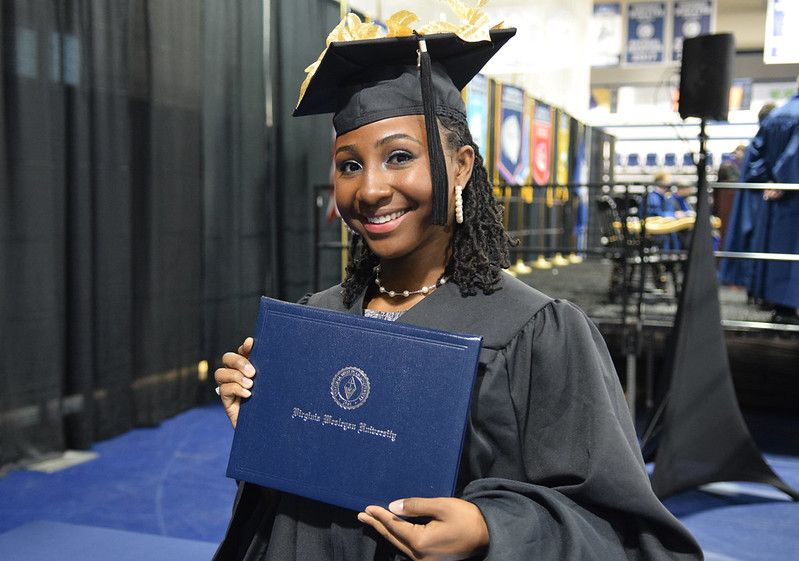 University News | December 18, 2021
Photo Gallery: VWU Global Campus Commencement Ceremony 2021
Virginia Wesleyan University hosted its first formal mid-year graduation on December 18. The VWU Global Campus Commencement Ceremony took place on campus in TowneBank Arena in the Jane P. Batten Student Center.
"We're proud and excited to have grown to become an institution to support a mid-year Commencement ceremony with the chance to celebrate these distinguished graduates closer to the completion of their coursework," Dr. Scott D. Miller, President of the University, told graduates in his welcoming remarks.
In previous years, the institution held a reception for students completing degree requirements in December. The idea to formalize the program arose when graduate and online programs with multiple start and finish points were introduced and the institution moved to University status in 2017. The event is now billed as a VWU Global Campus event, but any student having fulfilled graduation requirements since the preceding May is eligible to participate.
Following his welcome remarks, Dr. Miller introduced commencement speaker Mavis McKenley, a VWU graduate, member of the University's Board of Trustees, and vice president and senior trust officer at AMG National Trust Bank.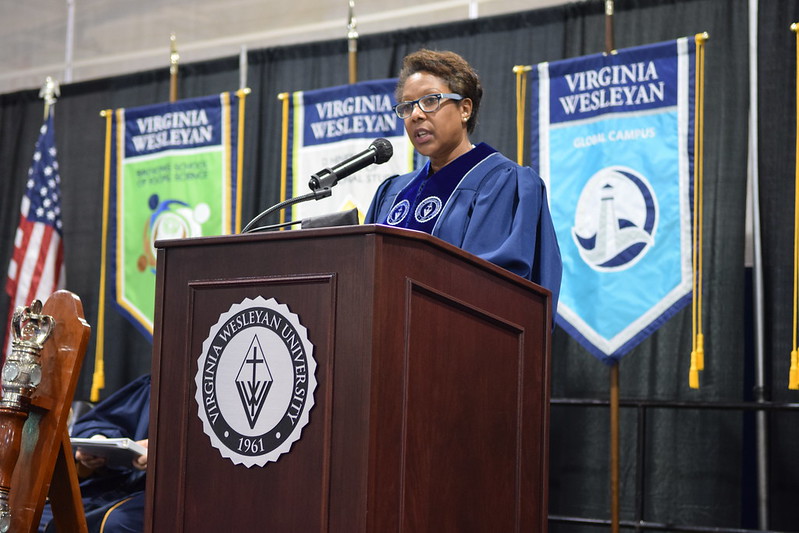 McKenley, who completed her own bachelor's degree in 2011 as part of Virginia Wesleyan's adult studies program, spoke of the obstacles and rewards of pursuing a degree as a working adult with a family. She challenged graduates to consider, "What is your story?"
"When you begin to think about telling your story," she said, "you should start with asking what your life was like before you began your journey. Then think about what inspired you to make that change and begin your path to pursue your degree making yourself a priority."
She commended the graduates for their accomplishments and urged them to be vulnerable when sharing their journeys.
"Your story as a leader can influence, teach, and inspire others," she said. "It also builds connections. Don't be ashamed to share your missteps or mistakes. These mistakes will teach you more than your successes. Be proud of your path. Know your story and be prepared to share it."
Following her address McKenley was presented with the University's prestigious Wesley Award honoring her outstanding service, contributions, and faithfulness to Virginia Wesleyan.
President Miller and Vice President for Academic Affairs Dr. Maynard Schaus then conferred degrees upon students earning a Master of Arts in Education, Master of Business Administration, Bachelor of Arts, Bachelor of Science, or Bachelor of Social Work. Graduates of each academic school proudly crossed the platform to receive their diplomas as cheers celebrated their promising futures.
The ceremony concluded with the University's Alma Mater led by Serena Smith '21 and Virginia Wesleyan Vox Vera, and a benediction from Dr. Craig Wansink, Joan P. and Macon F. Brock, Jr. Director of the Robert Nusbaum Center and Professor of Religious Studies.
"We are so proud that you are part of the Virginia Wesleyan family," he said. "Go forth and do well; but more importantly, go forth and do good."


The VWU Global Campus Commencement Ceremony was livestreamed and will be archived on the VWU Digital Broadcasting Network. View the full Commencement program.
Lifetouch Special Events captured photographs of each graduate who crossed the dais during Commencement. Photos may be purchased at events.lifetouch.com/vwu. Questions can be addressed to specialevents@lifetouch.com or 800.505.9496 Monday-Friday 8 a.m.-6 p.m. EST, or online at contact.lifetouch.com. There is no obligation to purchase photos.