First Four VWU Global Students to Graduate at VWU Commencement
Students transferred to Virginia Beach campus after completing associate's degrees at VWU Global's Tokyo campus
University News | May 8, 2023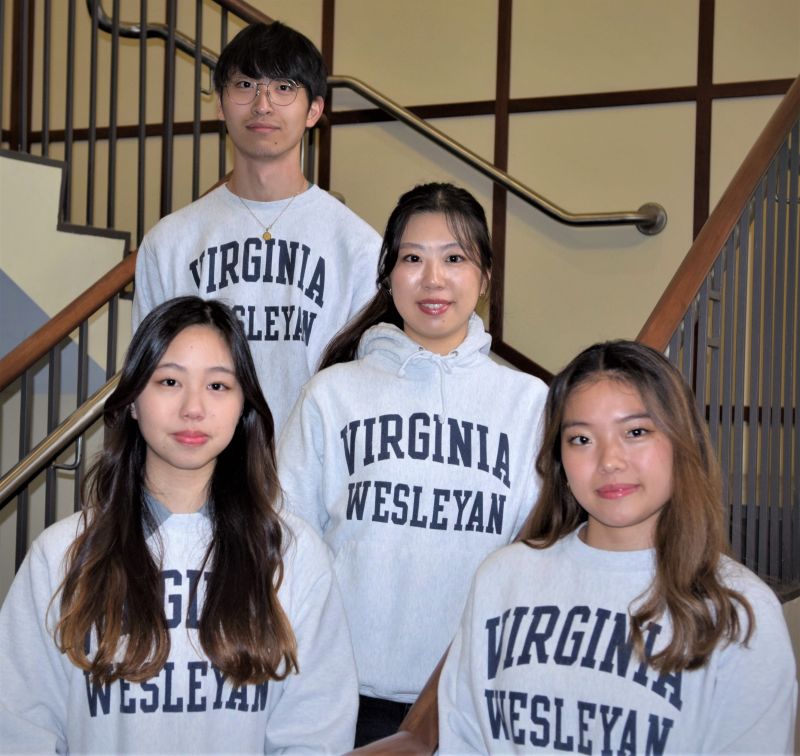 Virginia Wesleyan University's 2023 Commencement Ceremony, set for Saturday, May 13, will include the first four students to graduate through VWU Global's partnership with Lakeland University Japan (LUJ). Coincidentally, all four students—Momo Higuchi, Reo Nagayama, Moeno Sawai and Risa Yanagita—chose business as their major.
The partnership was established in 2020, when VWU and Lakeland University of Plymouth, Wisconsin, agreed to jointly operate a campus in Tokyo with the name "Lakeland University Japan and Virginia Wesleyan University Global." The agreement partnered VWU with an institution that teaches 400 students from 30 countries in an English-speaking associate's degree program. LUJ is one of only two approved American universities in Japan and is fully accredited by the Higher Learning Commission.
Before opting to complete their bachelor's degrees at VWU Global's Virginia Beach campus, the four students from Japan graduated from Lakeland University/VWU Global's two-year program on the Tokyo campus. Below, they reflect on their time here.
Why did you decide to leave Japan to attend a university in the U.S.?
Momo Higuchi: I always wanted to see the world outside of the country, and studying abroad was one of the best ways to do that.
Reo Nagayama: I wanted to gain experience and sensibilities that are different from others.
Moeno Sawai: I have wanted to study abroad since I was in high school so, I chose Lakeland University where I can study and prepare for classes in English while earning an associate's degree. I decided to transfer to university in the U.S. for a bachelor's degree after I graduated from Lakeland University.
Risa Yanagita: I always wanted to study abroad to improve my English skills and connect with people with different cultures or backgrounds. I felt like I was in a cage sometimes when I was in Japan, but now I am enjoying this freedom here in the US!
Why did you choose Virginia Wesleyan?
Momo: When I was deciding to go to the main campus of LUJ, which is in Wisconsin, they started the partnership with VWU, and I got excited about the new choice, as well as the beach city.
Reo: There were no Japanese people here at first, so I thought it would be perfect for studying at an American university.
Moeno: The biggest reason was that VWU is a new sister school of LUJ. I also had the main campus of Lakeland in Wisconsin as one more option, and it was a difficult decision but I considered the location and environment. VWU is close to the beach and Virginia Beach's weather is really similar to Japan. Also, I am part of the first group from LUJ, so I thought that would be a challenge for me to start new school life with only a few Japanese people.
Risa: I went to Lakeland University Japan for two years and earned an Associate of Arts degree. Then when I was deciding whether I should transfer to Wisconsin where Lakeland's other campus is or go to another university, Virginia Wesleyan University started working together with Lakeland University Japan. I wanted to go to a university that didn't have many Japanese students so that I can interact with local people, and I thought going to Virginia Wesleyan would give me a lot of opportunities for me to improve my English skills, interact with local people, and experience cultures or events that cannot be experienced in Japan.
What did you major in at VWU and why?
Momo: Business Administration and Management, General, because I can use the skills everywhere.
Reo: My major was business at VWU because I wanted to do internship in the U.S.
Moeno: I majored in business. I am interested in marketing and advertising, so I chose Business major.
Risa: I majored in business because I always wanted to work globally. I think it is important for anyone to understand how the business works; for example, what type of marketing strategies should be used in this particular situation or what is a cause and effect relationship of this economics. We have the Marlin Business Conference, a business conference hosted by business students, every semester, and it helped me to get to know business more.
After graduation, what is your next step? Graduate school? Starting your career?
Momo: I am doing Optional Practical Training, working in the catering department on campus, which is where I am interning currently.
Reo: I will work in the U.S. after graduation.
Moeno: Currently, I am working at the dining on campus as a marketing intern at Sodexo, and I will continue to work there after I graduate. I am gaining a lot of new experiences every day. Also, I have started to consider graduate school as one of my future paths. I have not decided yet, but I hope to make good future decisions from the experiences here.
Risa: I will start my Optional Practical Training in June at the Enrollment Office on VWU campus. Basically I will continue things I have done for my internship at the office and will do new stuff that is more focused on international students' requirements.
What aspects of VWU did you like the most?
Momo: The small size of the amount of students. Many students know each other, and once you get out of the room you hear some friendly hi immediately.
Reo: I like that I can interact with many people, including international students.
Moeno: I like the people and environment of VWU. People here, such as students, professors, and staff, are really nice. I feel they are very friendly and kind, and that would be an advantage of a small campus.
Risa: I really liked the close-knit environment and friendly atmosphere!
What aspects of Coastal Virginia did you like the most?
Momo: The beaches are so accessible, and depending on the beach you go to, you can enjoy the fun atmosphere with the tourists or a calm and relaxing atmosphere.
Reo: I like the most that I can enjoy marine activities easily.
Moeno: I like the beach and weather here. There's a lot of nature, and other places to enjoy. I have still many places that I have not gone to yet. I would like to explore more if I have a chance.
Risa: It was so nice that we can go to the beach when the weather is good! Also, Virginia Beach is a tourist spot, so there are a lot of shops and restaurants. The weather is pretty similar to my hometown so it was easy to adjust.
Did anything about your time here at VWU cause you to change your path or life plan?
Momo: Yes! The diverse society of the U.S. made me want to see more parts of the world so much!
Reo: I won't change my path, but I've been able to get more confidence in it by spending time here.
Moeno: The time spent here definitely broadened my perspective for future paths. Before I came here, I had not considered working in the United States after graduating from the university, but now I think I would like to stay here for my future career. That would change my path a lot. I don't know about my future yet, but I hope the experiences here in the United States will be utilized in my future paths.
Risa: Yes, I can say that my near future goal has changed. As a first group of students from Lakeland University Japan, we did not have any information about campus life or outside of campus. We are the ones who explored and found new things in Virginia Beach and on campus from student perspectives, so two other girls who came here together and I thought that it would be nice to share our campus life and information around campus. We started posting a lot of information on our JP Marlins Instagram, and it turned out that LUJ and VWU offered to let us make a presentation during the VWU/ LUJ Online Information session. I also started being part of VWU Enrollment and VWU Global Campus Instagram as my internship.
What guidance would you give to incoming VWU students?
Momo: Keep communicating with people around you. I met so many amazing people here, and sometimes I would have been struggled without them. It is great to communicate with new people, and, of course, to care about and keep in touch with the people you already know.
Reo: Enjoy your VWU life! That's is the tip to succeed your studying abroad. If you want to experience true American university life, come to VWU!
Moeno: When I came to America, I experienced both fun things and hard things. When I faced difficult situations, I lost confidence and felt hesitant to open up and socialize with others. However, I would like to say do not hesitate to reach out to other people since you came to study abroad and spend time here. If you ask for help, people help you a lot, and that improves yourself—and your English. I had a great school life here at VWU, and I am very glad to be a Marlin. I made a lot of memories and precious friends. I hope incoming VWU students will have wonderful school life in VWU.
Risa: People here are so nice, so do not be afraid of asking for help.
Learn more about Lakeland University Japan/VWU Global.