Share this Story
Focus on Faculty: Deirdre Gonsalves-Jackson
Love of teaching and mentoring students drives this marine biologist
University News | October 9, 2018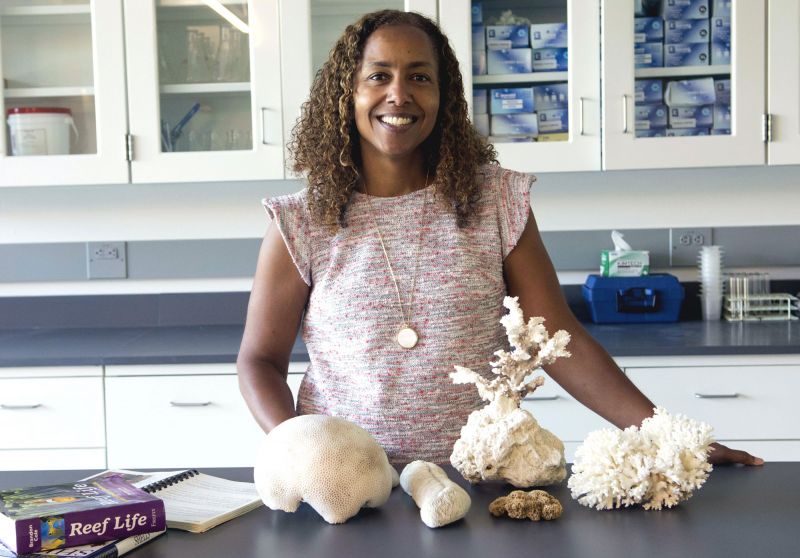 For Deirdre Gonsalves-Jackson, Associate Professor of Biology and Director of Winter and Summer Sessions at VWU, one of the most fascinating things about her field is scuba diving. Though she says that these days she's limited to snorkeling, but it's a close second, especially in the Caribbean. Gonsalves-Jackson has been a member of the faculty at VWU since 2006, teaching courses such as Tropical Marine Ecology, Marine Invertebrate Zoology, Natural History of the Chesapeake Bay, Oceanography, Principles of Biology, and Marine Invertebrate Evolution. Her husband, Craig, is also a professor at Virginia Wesleyan—in the psychology department.
She received her Ph.D. from the Florida Institute of Technology. A pre-doctoral fellow studying Panama mollusks, she previously worked at Randolph-Macon Woman's College in Lynchburg, Virginia, where she did her undergraduate work. Her professional accolades include four National Science Foundation grants and she is working on a fifth.
Gonsalves-Jackson says that her experience at VWU seems to have gone by in the blink of an eye and that it is hard to believe she's been here for 13 years. During that time, she believes that the University has changed tremendously, but at the same time it's still the same place that first attracted her more than a decade ago. Her love of teaching, mentoring, and working with students shines through all she does and she really enjoys collaborating with VWU colleagues, both in science and in other disciplines like math and education. And she absolutely loves being a part of all the changes that have taken place at Virginia Wesleyan.
What brought you to VWU?
My husband Craig and I were new Ph.D. graduates searching for jobs at the same college, which can be a bit of a challenge. Wesleyan was a perfect fit for the both of us since there was an opening for Craig as a social psychologist, and its location, within miles of the Chesapeake Bay and the Atlantic Ocean, was ideal for a marine biologist. This was such a plus for me and allowed me to study and research marine mollusks without having to travel great distances.
What did you want to be when you were growing up?
Growing up I never, ever considered marine biology. It just wasn't something I was exposed to as a child. I was always interested in math and engineering. I always thought I'd be a biomedical engineer.
How did you land where you are?
My first exposure to higher education was as an undergraduate student. I went to a small liberal arts college similar to VWU. I loved the environment! At that time I knew I wanted a terminal degree, I just wasn't sure which one. I had a biology professor there (Dr. Doug Shedd) who was such an inspiration to me. Not only did I take great classes with him, but I babysit for his kids and really got to see how a professor's lifestyle could be. As a mentor, he really opened my eyes to what the other type of "doctor" looked like.

How would you describe your teaching style or philosophy of education?
Student centered, engaging, hands-on. Lots of field trips! Textbooks are great and useful, but being in the field (or the ocean) really has a positive impact on student learning—and it's fun!
What does it take for a student to be successful in your class?
Being engaged, asking questions, and putting in the hours outside of class studying all of those scientific names!
How do you most want students to remember you?
Excited and fascinated by science.
What do you consider to be indicators of a successful career/life?
The ability to persevere and be resilient. Getting through the tough classes and rough times in life. Never give up or short change yourself.
Current projects/research?
I just completed the NSF-funded STEM Scholars program with colleagues and it has initiated additional collaborations with colleagues. We're planning on applying for funding for a new STEM-related program on campus.
Interests and Hobbies—what floats your boat?
Literally, being on a boat!
How do you like to spend your time?
I enjoy being busy with work and raising three kids. After that I enjoy porch time with friends, just catching up and having great conversations.
Greatest discovery?
A new sea slug species!
If you weren't a professor, what would you be?
An English/Spanish interpreter in Central America.
What else would you like others to know?
As a marine biologist, I try to emphasize to students how much we depend on plastics in our daily lives—which can pollute our oceans—and how we should all try and leave the lightest ecological footprint.
Deirdre Gonsalves-Jackson was recently featured in a Virginian-Pilot article, "Meet some of today's 'Hidden Figures' in Hampton Roads," as one of four local women in STEM careers.