Share this Story
Focus on Faculty: Dr. Joyce Howell
After a stellar 38-year career at VWU, the long-time professor of art history plans to retire after this semester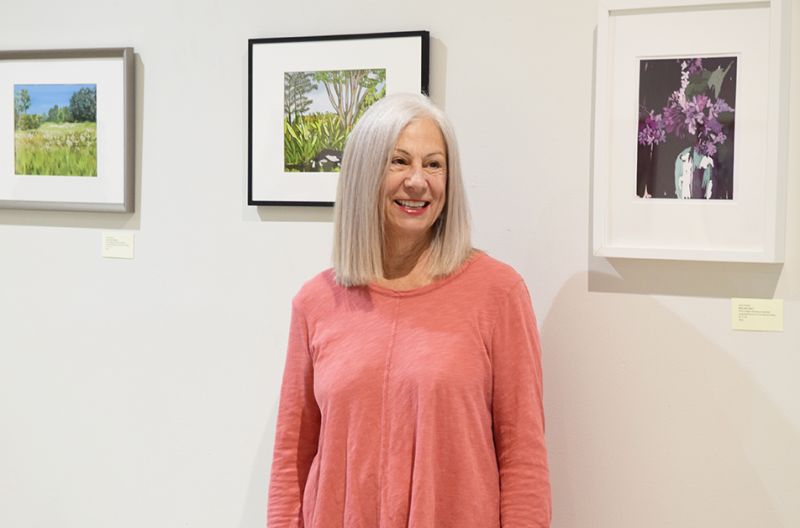 University News | March 15, 2023
For 38 years, Dr. Joyce Howell has shared her passion for art history with students at Virginia Wesleyan University. Her dedicated tenure at VWU will end after this semester when she retires from teaching.
Howell's stellar career at Virginia Wesleyan began in 1985 when she was hired as an adjunct member of the faculty. Since that time, she has supported VWU by serving in numerous key leadership roles ranging from art historian to chair of the accreditation committee. Most importantly, she has made an indelible impact on the lives of thousands of students.
Described by her students as "passionate, enthusiastic, knowledgeable, and communicative," Howell inspires them to find their own purpose and passion.
"She's a great expert in her field," said senior Houda Touchen, "and I genuinely appreciate her ability to share her knowledge and expertise with us. The most unique thing is that Dr. Howell is not just a professor, she's a mentor to her students, taking an interest in their success and providing mentorship and guidance throughout their academic careers."
Howell earned her bachelor's, master's, and doctorate degrees from the University of Virginia (UVA). As an undergraduate at UVA, she double majored in history of art and religious studies and was a member of Phi Beta Kappa, the nation's most prestigious academic honor society and a rare honor. She was one of the several hundred women who were the very first females admitted to the College of Arts and Sciences at UVA in 1970.
She is the author of numerous reviews and articles written for professional journals and books, including her recent, "Element-and-Principles Instruction, Perceptual Drawing and Paul Klee's Pedagogical Sketchbook," in the International Journal of Art and Design Education.
An interview with Professor of Art History Dr. Joyce Howell:
What first brought you to VWU?
I had just gotten back from living in Paris where I was researching my dissertation on Eugène Delacroix's self-education as a draftsman. The art historian who had been teaching here as an adjunct was leaving town, following a spouse to a job in the Midwest. I filled her position, taught as an adjunct from 1985 until 1989, when a tenure track position for an art historian was created. I got the job.
What roles/positions have you held at VWU?
One year I was the interim vice president for academic affairs, but other than that I've been an art program faculty member. I've always been involved with the University's collection of the paintings of my former colleague, Barclay Sheaks. As an alumna of the University of Virginia, the VWU Honor Code is quite meaningful for me, and I chaired the Honor Council here in the early years of the VWU Honor Code. I'm very mindful of the big picture of higher education, and have come to recognize the crucial role played by regional accrediting agencies—like ours, the Southern Association, or SACSCOC—in the sustainability and quality of our educational endeavor. They ensure the power is with the education professionals, like us—not government bureaucrats. So, I have been instrumental in the VWU accreditation reviews, and I've also served on SACSCOC committees reviewing other institutions.
What's the best/most fascinating thing about your field?
Cézanne. Seriously, it's the mysterious power of images. They aren't real, right? Yet, who could rip up, or deliberately destroy a photograph of someone you love without hesitation? What's up with that?
What are your current projects or research and professional interests?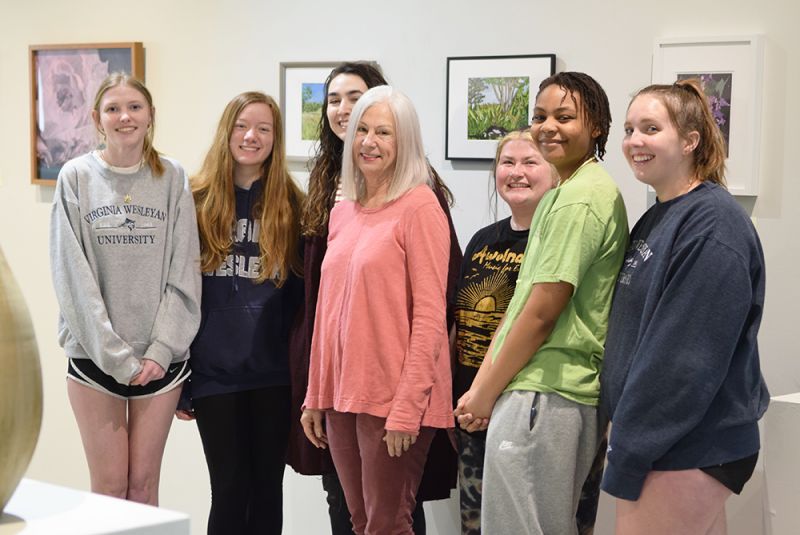 The broad framework of my research has been the history of art education and studio instruction. Our daughter, Charlotte, is a television scholar who teaches in the College of Communications, Boston University. She and I collaborated on a study of Bob Ross' show, the Joy of Painting. The argument was how the show functions as "comfort TV," and my part of that argument was about Ross' teaching method in the context of the history of art education. Our article was accepted for publication by the journal (JCMS) of my daughter's professional organization, the Society for Cinema and Media Studies. It's very cool for me to have completed a scholarly collaboration with her and also to have published outside my own field.
Best advice to share with students to help them prepare for the future:
Learn to thrive under criticism. Find something that makes sense to you when you read it, and then teach yourself to write like that. When you get into a conflict, ask questions instead of making statements.
How do you most want students to remember you?
I hope they will feel at home when they go to art museums or other places where one finds art and architecture. If that happens, their pleasure and interest in looking will grow throughout their lives. They will thereby obtain the habit of seeing through someone else's eyes. I love the passage in the fifth volume of Proust's "Search for Lost Time" about what we obtain by seeing through the eyes of a visual artists. "A pair of wings, a different mode of breathing, which would enable us to traverse infinite space, would in no way help us, for, if we visited Mars or Venus keeping the same senses, they would clothe in the same aspect as the things of the earth everything that we should be capable of seeing. The only true voyage of discovery, the only fountain of Eternal Youth, would be not to visit strange lands but to possess other eyes, to behold the universe through the eyes of another, of a hundred others, to behold the hundred universes that each of them beholds, that each of them is; (my emphasis)."
Additionally, I hope they will remember that I saw them, and convinced them that they were smarter than they imagined they were.
What do you consider some your greatest accomplishments?
I'm not great, but I am very proud of being a university professor, so I have worked very hard at quality and professionalism. To me, that's more important. I would also very much like to score more points against our son Walter in tennis. That would be an achievement.
What will you remember most about your years at Virginia Wesleyan?
My VWU home, the art department. And, alongside that comfort, the way my students always helped me get out of my comfort zone.
Anything else you would like to share about your career at VWU?
We are so fortunate to have this landscape where coming to work every day gives you the benefits of forest bathing. As soon as you pull in, it's astonishingly beautiful to see and feel.
Favorite quote: Most anything Muhammad Ali said. "Float like a butterfly, sting like a bee. His hands can't hit what his eyes can't see. Now you see me, now you don't. George thinks he will but I know he won't. I'm young, I'm handsome, I'm fast, I can't possibly be beat."
Favorite food: Candy and Club Sandwiches
Favorite place: Blue Ridge Mountains
Favorite song/music: I don't know if they're my favorites, but I think the tango "Por Una Cabeza" and Satie's "Gymnopédies" got me through the pandemic.
Favorite movie: There are so many, but from recent releases I'd pick the comedy "Nop"e and the tragedy "Banshees of Inisherin." I like Shakespearean extremes.
Favorite hobby: My new Wacom drawing tablet. Also, I take long walks listening to audio books of literature I've always been curious about.
What are your plans for retirement?
Less work, more tennis. I look forward to the new patterns that will emerge in enjoying the long-time loves of my life (Hank, our children Charlotte and Walter, and my bonus daughter Mary Katherine), and the two new ones: Zion, age 4, and Eden, 7 months.

When the curtain closes on the spring semester and degrees have been conferred for the Class of 2023, Howell will begin that next chapter. We wish her well!