From Wesleyan to the White House
Vox Vera student choir to perform as part of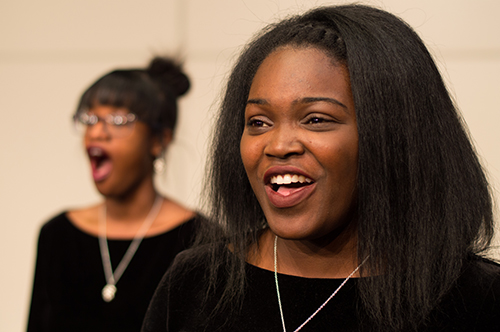 University News | December 6, 2018
The Vox Vera student choir, led by choral director Dr. Bryson Mortensen, will make its way from Wesleyan to the White House on December 18 to perform as part of the "Christmas at the White House" series.
"It's a great honor to be invited to sing at the White House during the holiday season," says Mortensen. "I'm excited to share the great music we are making at Virginia Wesleyan with all of the visitors to our nation's capital."
According to its website, the White House will host more than 100 open houses and receptions throughout the month of December, and more than 30,000 visitors take part in public tours.
Twelve VWU students will travel to Washington, including Myles Baynard, Morgan Boyd, Dante Copeland, Aleigha Johnson, Robert Jones, Adam Kurek, Yaminah Lewis, Marissa Phillips, Thomas Reinhold, Jackson Simmons, Serena Smith, and Jennifer Vega.
"I am grateful to be able to perform such an important concert with great peers and friends," says applied music major Serena Smith '21. "I'm proud that we have a reputation that reaches so far."
The students have rehearsed three days a week since early October, perfecting their renditions of "Silent Night," "Still, Still, Still," "Away in a Manger," "In the Bleak Midwinter," "A Cradle Hymn," "O Come, O Come Emmanuel," and more.
Though the White House performance is closed to the public, those interested in catching a concert preview are invited to attend VWU's "Sing We Now of Christmas" on Friday, December 7, at 7:30 p.m. and Saturday, December 8, at 2:00 p.m. Performances will take place in Hofheimer Theater, and it is recommended that tickets be reserved in advance at vwuperformances.ludus.com.